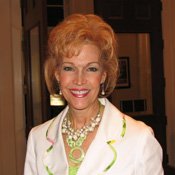 Next Tuesday, June 2, Jacksonians will go to the polls once again, this time for the general elections and all the marbles in the races for mayor and council seats. Former Mayor Harvey Johnson, Jr., who won the Democratic runoff election May 19, will face four Independent candidates:
* At 35, Robert Amos is the youngest candidate on the ballot, but has professional experience in many fields.
* David Archie has been on Jackson ballots many times, and he brings an activist's temperament to the race.
* Local entrepreneur Charlotte Reeves prides herself on being a longtime Jacksonian, as well as her civic involvement and leadership.
* Rick Whitlow is another familiar face to Jacksonians: he's a familiar local news and sports caster, and he also ran in the 2005 mayor's race.
Republican George Lambus will also be on the ballot for Jackson mayor.
In City Council races, Tuesdays elections will decide winners in two wards: In Ward 6, Independent Samuel Kazery faces Democrat Tony Yarber; in Ward 7, incumbent Margaret Barrett-Simon, a Democrat, faces Republican Ponto Downing and Independent Luther Latham.
In other Jackson wards, candidates are running unopposed: Incumbent Republican Jeff Weill, Ward 1; Democrat Chokwe Lumumba, Ward 2; incumbent Democrat Kenneth Stokes, Ward 3; incumbent Democrat Frank Bluntson, Ward 4; and incumbent Democrat Charles Tillman, Ward 5.
Make sure to read the candidate interviews, linked above, news and opinion about Jackson's local political scene on the JFP Political Blog, and then vote on Tuesday, June 2.
Previous Comments
ID

148279

Comment

One of the MOST interesting or should I see bewildering things about the candidates I have noticed is Charlotte Reeves has dropped her Republican affiliation. I wonder why? Is she buying into the notion a non-Democrat can't get elected in Jackson? Please.

Author

AyurvedicMom

Date

2009-05-30T12:38:30-06:00
ID

148289

Comment

The race is already over. Nothing to see here.

Author

Jeff Lucas

Date

2009-06-01T05:59:04-06:00
ID

148347

Comment

Do you not think Lambus has a chance? The republican party wouldn't be solidly behind him philosophically, morally, politically, socially, culturally, financially, religiosly and heart-wise if they thought otherwise. He's their kind of guy. I'm worried he might win!

Author

Walt

Date

2009-06-02T05:37:42-06:00
ID

148355

Comment

I'd actually like to see everyone drop their party affiliation for municipal and county elections. Party politics has virtually no use in running local government. It would also save money. Skip the party primaries and just hold a non-partisan election for everyone. If one of the candidates does not get 50% + 1 of the vote, then you hold a run-off. This would eliminate one, possibly two, election days. There's no reason for Jackson to hold 3 elections over a 4 week period.

Author

James Hester

Date

2009-06-02T11:36:24-06:00
ID

148368

Comment

#148 at Belhaven ca. 2:30. Turnout appears to be comparable to first round of Democratic primary, which is very good news. Have had morbid, irrational fear that turnout would be low, disgruntled 39211 voters would actually make up majority of electorate, and we'd end up with Mayor George Lambus for the next four years. That now seems unlikely--but just to be sure, let's all show up and vote if we can.

Author

Tom Head

Date

2009-06-02T15:22:08-06:00
ID

148369

Comment

Ayurvedic, I would suspect that Reeves has fallen out of love with the Republican Party over the past 8 years but wanted to be on the ballot in case Melton somehow ended up as the Democratic nominee. This is the second time that Johnson and Reeves have faced off in the general mayoral election. She was the Republican nominee in either 1997 or 2001 (I'm thinking 2001).

Author

Tom Head

Date

2009-06-02T15:25:12-06:00
ID

148370

Comment

I hear you, Tom. We've unceremoniously ignored Lambus. I suspect Belhaven is turning out for Barrett-Simon. I have to vote when we finish here, so I'll see how it's going in Fondren. It is an anticlimactic election day compared to the first two, huh?

Author

DonnaLadd

Date

2009-06-02T16:00:11-06:00