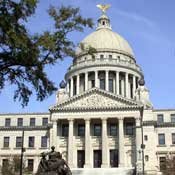 The Mississippi Legislature is spending about $19,000 a day with little or nothing to do, for the most part. Lawmakers have finished all of their business for the current session, with one glaring exception: the budget for the 2010 fiscal year, which begins July 1, 2009, a little more than four weeks from today. But that task is not yet in the hands of the full 174-seat House and Senate; behind closed doors, a handful of members on a special negotiating team is doing all the work.
Earlier this month, Gov. Haley Barbour estimated that Mississippi's 2009 mid-year revenue hole was $363 million, with a $480 million shortfall for 2010. Those gaps have already prompted the governor to propose numerous program cuts, including a 5 percent across-the-board cut for all state agencies. In January, the House passed a bill requiring sale of the governor's $4 million jet, which costs $1,900 per hour to use, according to the Sunshine Review. It's not clear exactly what became of that bill.
The gap between the House and Senate versions of the budget currently stands at $103 million, according to The Commercial Dispatch. Lawmakers expect that federal stimulus funds will make up some of the revenue shortfalls, although they disagree over how much and for how long. Of the $2.8 billion allocated for Mississippi, Barbour is refusing at least $56 million targeted for increased unemployment benefits. Republicans are loathe to spend all of the funds targeted for 2010 in the coming year, and some want to squirrel away funds from the annual tobacco-settlement payment in anticipation of the recession lasting through 2011.
"The issue is, are we willing to make difficult choices today in order to avoid some impossible dilemmas in 2011," Senate Appropriations Committee Chairman Alan Nunnelee, R-Tupelo, told the Associated Press.
Democrats, meanwhile, are saying that not spending the money in the coming year will force hundreds of layoffs in education and health care that the state can ill afford, and are looking to the states reserve funds to provide immediate relief.
"We don't know what 2011 is going to be," House Appropriations Committee Chairman Johnny Stringer, D-Montrose, told the AP. "If we're going to have to lay off people, let's wait until next year. At least they'll have time to be looking for another job."
Although there is little evidence of progress for a budget agreement, Lt. Gov. Phil Bryant has told the Senate that today is a turning point and that "progress is being made," according to The Clarion-Ledger. State agency budgets cannot be decided until the Legislature passes a new state budget, and school districts, especially, are anxiously awaiting a decision from the capitol to make hiring decisions for the next school year.