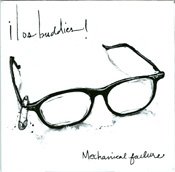 "Mechanical Failure" from local favorites ¡Los Buddies! features scratchy guitar and angsty vocals that lend themselves well to the upbeat, fun, rock sound of the six-track album.
The CD opens with the track "Destructo," which could easily be interpreted as a bitter confessional to a significant other. "Blame it on me / you know you'll get it right / always on me / no, I'll never get it right," the song sarcastically touts as if talking to a Little Miss Know it All. With quick, raw guitar riffs and powerhouse drumming, this song sets the mood for the rest of the album.
Other highlights include "No More Ghosts," whose only lyric is the title of the song repeated over and over again—almost yelling—over spiraling guitar and deep, haunting bass lines. "(God Hates) Sad Clowns" is perhaps one of the more intriguing tracks on the CD. It has an upbeat tempo—mixed with a little Counting Crow-esque chill—and seems to be directed at the typical Negative Nancy who just won't shut up about his or her infinite problems. The lyrics repeat things that happen "too much": "you travel too much" and "you talk too much," among others. The last track, "Libido," is a cry out to the person who "broke my libido," Freud's characterization of one's sexual and/or creative energy.
The production of "Mechanical Failure" is raw, which works for the genre the Buddies are aiming for, however, on some tracks it makes the lyrics difficult to interpret with often hushed vocals that are overpowered by instrumentation. The other con of this album is that it is only 16 minutes long; however, ¡Los Buddies! redeem this shortcoming with two entertaining QuickTime videos of the tracks "Guanajuato" and "Buster Keaton's Cow," which features mashed up clips of men in white jumpsuits and gas masks moving robotically around hazard signs.
Pick up the CD Thursday, May 28, at Hal & Mal's when ¡Los Buddies! take the stage with The Sleepwalkers and Russell Barksdale at 9 p.m. "Mechanical Failure" could easily become a summer favorite.