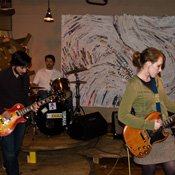 Joy Garretson was doing laundry when she had an epiphany. While walking down her stairs to wash clothes, she said playfully to her husband Gordon that she was going to put her bundle of laundry on the delicate cycle. Then it struck her.
"Ooh, that's a great band name," she said.
Delicate Cycle formed in 2003 with Joy and Gordon as its only members. The couple had just begun dating, and they soon realized they had a good thing--both romantically and musically. They began making music together, under the name The Virginia Slims, and also got married in 2005. After a short time, however, they realized the headaches that could come with being named for a product and began exploring other options.
The next year, bassist Bobby Anderson and drummer Woody Conwill joined the duo, and what began as a joking laundry reference quickly became the band's moniker.
On the porch at Sneaky Beans, the band members' energy is just as awkward and infectious as it is when they are performing. When I ask who influences their sound, they each have different responses. Gordon easily rattles off early R.E.M., The Smiths and Dinosaur Jr., while Joy frets and fidgets over how to answer. Then she relates that she was not allowed to listen to secular music while she was growing up and had to sneak what she could.
"I grew up in a super religious family and had to listen when I could. So then when I could finally listen to whatever on my own, I pretty much listened to everything," Joy says.
After admitting to the Indigo Girls, she also talks about listening to influences like Elliott Smith and Liz Phair. Joy then warms up more and gushes about how much she listened to Smith's "Either/Or" and then got into R.E.M.'s "New Adventures in Hi-Fi."
Conwill is partial to Rush and the prolific Robert Pollard, while Anderson loves Yo La Tengo and, as Joy says, "listens to lots of good stuff I haven't heard of." Listening to their songs, you will hear the influence of all of these songwriters come through, but the sound is wholly that of The Delicate Cycle.
The band focuses on jangly guitars and features Joy's charming vocals, which are warm and inviting with the edge that completes the mid-'90s rock throwback sound. Joy and Gordon share songwriting responsibilities and are endearing in relating the process. Joy begins each song as an acoustic folk song, which Gordon then "transforms into something heavier."
Of particular note is the song "We Are Birds," which makes you want to sway your body along as Joy sings, "Ba ba ba/oh oh/oh, we are, we are birds." Another notable track, "Ohio" was written after the two put on a festival of Haruki Murakami's films at home. Joy admits, "So, I've never actually been to Ohio, but it was a word repeated over and over in Murakami's films." It's an engaging radio track you'll sing along to without realizing you know the words.
Although they have not cut an album, yet, the band members say they anticipate recording one in the future. Until then, they regularly write and record songs—straight to Gordon's PC—and post them on their MySpace page. "We want to put out an album. I like the idea of free downloads, but yes, an album is coming," Gordon promises.
The Delicate Cycle will appear at Martin's May 28 at 9 p.m. with Quills. Visit http://www.myspace.com/delicatecycle.
Albums The Delicate Cycle has in rotation:
• "Full Moon Fever," by Tom Petty
• "Chutes Too Narrow," by The Shins
• "Rainwater Cassette Exchange," by Deerhunter
• "Alligator," by The National
• "Alien Lanes," by Guided By Voices