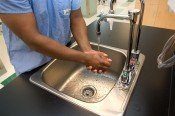 Cases of H1N1 swine influenza (also known as Novel influenza A) remain at the top of disease control efforts by the nations health agencies, including the Mississippi State Department of Health. While the Magnolia State was one of the last to confirm swine flu cases in the nation, the count in the state continues to rise. As of yesterday afternoon, the department has confirmed 13 cases in four counties.
All U.S. states have confirmed cases at this point, totaling 6,764 as of Monday, according to the Centers for Disease Control. The overwhelming majority of those cases have been mild, however 10 people have died, all with underlying health conditions exacerbated by the flu. Neither the number of cases nor deaths are extraordinary for a flu virus, however, unlike older, known flu strains, researchers have not developed a vaccination, yet.
As with any flu strain, the CDC and MSDH advise using basic hygienic precautions, including frequent soap-and-water hand washing, and covering your nose and mouth when coughing or sneezing. For more information, go to the MSDH Web site.