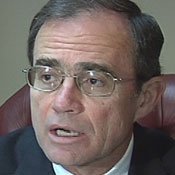 Voter ID died an ignoble death during the regular 2009 Legislative session when Senate Republicans killed a bill because it included a provision to allow early voting in Mississippi. Now, Mississippi Secretary of State Delbert Hosemann, also a Republican, is attempting to bypass the Legislature to pass voter ID through a referendum vote.
"I've been pushing voter I.D. I think people see it as a common sense thing to do and I really think that this initiative is something that will pick up steam in the summer and that we'll be voting on it a year from now," Hosemann told WTOK in Meridian.
Fellow Republican Lt. Gov. Phil Bryant has also been a proponent of the bill, which he says will curb voter fraud in the state, despite scant evidence that fraud has occurred.
Opponents of voter ID, including the NAACP, point out that the majority of voter fraud issues relate to absentee ballots, which voter ID would not help resolve. Opponents also say that voter ID would disenfranchise the elderly and others who don't drive, forcing them to obtain acceptable photo ID, and would intimidate other voters.
Hoseman has kicked off a petition drive on his Web site. He must collect 90,000 signatures evenly distributed between all four of Mississippi's congressional districts through October of this year to put the issue on the ballot.