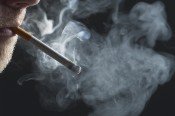 On Friday, a federal appeals court in Washington, D.C. agreed with a 2006 ruling to ban cigarette labeling such as "low tar," "light," ultra light" or "mild." The ruling found big tobacco guilty of racketeering and fraud, and said that the companies are deceiving the public about smoking dangers, according to The New York Times.
The suit found that cigarettes carrying the labels are no safer than others because of the way people smoke them. Tobacco companies will also have to publish "corrective statements" about the dangers cigarettes pose to the health of consumers, according to the story.
Meanwhile in Mississippi, Big Tobacco is lobbying the legislature to raise taxes on smokeless tobacco and cigarettes manufactured by companies not named in the state's 1997 settlement. According to the Associated Press Mississippi Gov. Haley Barbour--a former tobacco lobbyist--agrees.
"If these companies don't pay their fair share, then Mississippi is just subsidizing cheap cigarettes and snuff," Barbour told the AP earlier this month.
A similar tax has been proposed and rejected for the past six Legislative sessions. Lobbyists claim that the tax would raise $28 million in additional revenue, with $21 million coming from a 43 cent per pack tax on the smaller cigarette brands and $7 million from a 50 cent tax increase on smokeless tobacco products.