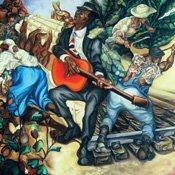 • Smith Robertson Museum
• $4.50 admission; $3 seniors; $1.50 children
Featuring art by Rik Freeman, "The Chitlin Circuit Review" documents the development of blues music and culture in the United States. Freeman's paintings are dramatic and surreal, like the blues, without sacrificing the raw, human characteristic of the culture. Based on actual events, the exhibit uses fictional characters to tell the story of the Chitlin Circuit, a network of clubs, juke joints and venues in the South where early black blues and soul musicians performed.