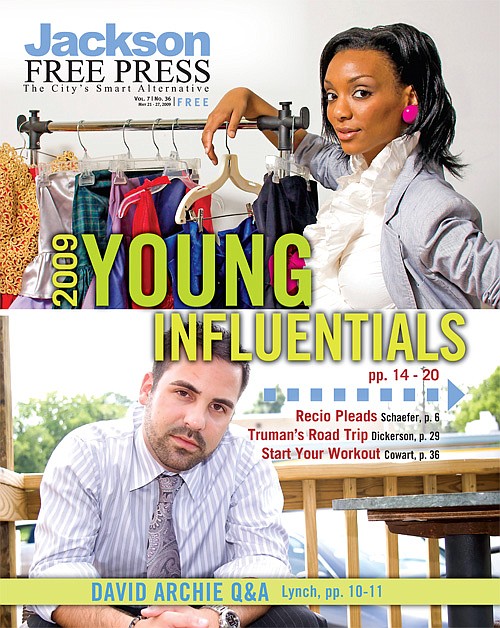 A new class of young and talented influential men and women is rising in Jackson. It is filled with professionals and dreamers who have a vision for themselves and their city, and work daily to move closer toward it. These young people are activists, artists, business and spiritual leaders and students. And they are all right here in Jackson. They are your neighbors, friends and acquaintances, and they inspire the people around them to be greater. These are the 2009 Young Influentials.
Click here to view a photostream of the young people who are making a difference in Jackson.
LAUREN NICOLE TAYLOR
FASHION DESIGNER, STYLIST, NEWS PRODUCER | AGE 24
Sophie McNeil
By age 24, not many people can say they have owned a modeling agency, launched a custom fashion line and worked as a producer for a local television station. Those people are not Lauren Nicole Taylor.
Born in Jackson, Taylor grew up making clothes for dolls from socks and pretending to create her own fashion line to show off her designs. With her mom's help, Taylor sketched her ideas, gave them to her mother and let her polish them.
Since those days, Taylor has grown up considerably, creating LaureNicole Modeling while she was still a student at Tougaloo College. This led her to launch LaureNicole, her fashion line, at the end of last year.
Taylor has put her fashion sense to good use, teaching modeling/acting classes and helping plan community fashion shows such as one at Wingfield High School, which supported a March of Dimes fundraiser.
"(I) just talked to the girls and told them about being ladies and being respectful of themselves. Because, you know, a lot of them don't hear it," she says. "Most of the time parents are gone all day, and when (the girls) come home from school they lock themselves in their rooms."
Taylor is also the producer for the 5 a.m. newscast for local ABC affiliate 16 WAPT News.
"I am the very first newscast everybody sees (in the morning). It's the newscast that gets the kinks, and you have to work the kinks out. So, I get them and have to comb them out. I set the tone for the day," she says.
Although Taylor juggles many projects, she says she isn't stopping any time soon.
"My plan is for LaureNicole to become an empire," she says with a smile.
STACY ANDREWS
PASTOR | AGE 37
Sophie McNeil
It's hard for me to think of many people with as much passion for Jackson as 37-year-old Stacy Andrews, pastor of The Journey. Even his two sons are named after the city. His son Parker is named for the city's first name, Parkerville, and his youngest child is simply named Jackson.
Growing up in North Mississippi, Andrews moved to Jackson in 1989 to attend Mississippi College. Just before leaving home, Andrews read an article on how to identify with the homeless. "It said to put baby oil in your hair, don't shower for a few days so you'll blend in, and then go live on the street," Andrews says.
Before moving into the MC dorms, he lasted four days as a homeless person in Smith Park.
After his experience, Andrews decided the church needed a way to respond to homelessness and poverty. Pondering a solution for 15 years, Andrews founded The Journey four years ago in Fondren.
The Journey now meets Sundays at 6 p.m at Hal & Mal's for worship service, and members meet in small groups across the city during the week.
Along with meeting Sunday nights, Andrews also helps orchestrate a Share a Meal event every Sunday afternoon at High Street Park. Journey members are encouraged to bring a meal for themselves and for a homeless friend.
"A lot of the people we connect with would probably not even be able to connect to a large, more institutional church," he says. "I love the story in the Bible about the 99 and the one (sheep), and the shepherd leaving and going after the one. That's more, I think, for us what success is: connecting with someone that may not connect somewhere else."
LEAH RUPP SMITH
COMMUNICATIONS AND LEGISLATIVE STAFF OFFICER | AGE 24
Melia Dicker
Although she is only 24, Leah Rupp Smith has seen the lawmaking process from two angles: first as a reporter for The Clarion-Ledger, and now as part of the legislative and communications team at the Mississippi Department of Education.
A native of Louisville, Ky., Rupp Smith studied journalism and political science at Miami University in Ohio where she edited the college newspaper. While there, Rupp Smith learned of a news reporter opening at The Clarion-Ledger. She flew down to Jackson, interviewed and got the job. Two weeks after graduation in 2006, she moved.
"I didn't know anyone," she says. "It was definitely a leap of faith."
After a year of covering Hinds County news, Rupp Smith moved into legislative reporting. She covered the 2008 Senate session for The Clarion-Ledger, which she found fascinating. "Jackson is just a really newsy town," she says.
In April 2008, when the legislative session ended, Rupp Smith accepted a job in the Mississippi Department of Education's Office of Legislative Services. With a team working in both public relations and legislation, she ensures that state education funds are making a difference in schools. She also drafts bills and communicates with lawmakers, media and the public about education policy.
Even in her new role, Rupp Smith draws on her journalism background. She created a twice-weekly newsletter to inform teachers and the families of 500,000 Mississippi public school students about how education policy affects them. It is published on the Department's Web site and is distributed in the state's 152 school districts.
While realistic about the challenges of Mississippi public education, Rupp Smith is hopeful that schools will improve with the whole community behind them.
Rupp Smith is grateful to her mentors for their guidance, saying: "It gives you confidence to do great things when you have great people behind you."
AUSTIN RICHARDSON
ARTIST AND FOUNDER OF ONE TO ONE STUDIO | AGE 23
Melia Dicker
When you meet Austin Richardson, you might guess from his dreadlocks and oversized T-shirt that he is an artist or skateboarder. What you might not realize, however, is that at age 23, he has brought new life to Jackson's arts and music culture as founder of One to One Studio.
A Jackson native, Richardson originally envisioned One to One as "a crazy place where (artists) could make things." The idea grew into a cooperative arts organization that features Jackson's only commission-free gallery and performance space. The 9,000-foot warehouse, located in the Millsaps Arts District, also provides low-rent studio space for working artists. The name One to One is a play on the building's address, 121 Millsaps Ave., and signifies bringing individuals together through art.
After attending Millsaps for two years, Richardson "got tired of sitting around and talking about social change." He decided to take action, leaving college to create a communal space for Jackson artists. Richardson got a job as a welder and saved enough money to rent one room at 121 Millsaps in January 2007. In November, he rented the rest of the enormous two-story building and incorporated One to One. He currently lives onsite and oversees operations full time.
One to One might host a touring band one night and a mayoral candidate the next. Groups like the Mississippi Improv Alliance use the space for meetings and performances free of charge, and corporations can rent it for functions. In the adjacent gallery, where all proceeds go to the artists, T-shirts hang from the rafters, and paintings adorn the walls.
Richardson says One to One has made Jackson more vibrant by growing the arts culture and involving diverse residents in it. "Local musicians collaborate more often. College students leave campus to attend events in the community. … It's a lot more inclusive," he says of Jackson's arts scene. "People are attracted to that."
DEFECIO STOGLIN
ACTOR, POLICE OFFICER | AGE 35
Jackson R. Breland
His resume lists him as 6-foot-2-inches and 200 pounds, and Defecio Stoglin presents himself as a hulking, intimidating figure among a group of coffee drinkers in a crowded cafe. After only a few shared moments, however, Stoglin offers a broad smile and delves into his love of acting.
In 1990, Stoglin moved to Jackson from the blazing heat of Phoenix, Ariz.
"It's just as hot, but the southern hospitality is second to none," Stoglin says.
After graduating from Provine High School, Stoglin enrolled at Jackson State University. In an effort to boost his grade point average, Stoglin signed up for a theater class. While learning about the behind-the-scenes technical aspects of stage and screen productions, Stoglin became interested in acting, and later auditioned for a role in the play, "A Funny Thing Happened on the Way to the Forum."
"I got a leading role, and that was all she wrote," Stoglin says, chuckling.
Stoglin travels to Baton Rouge each Friday after work to take part in an acting class. He then drives back in the same evening for work the next morning. His job? A patrol officer for the University of Mississippi Medical Center Police Department.
"Some of the other officers joke with me and call me, 'Hollywood,' but otherwise, they are very supportive," Stoglin says. And though he occasionally portrays a corrupt cop, he is certainly not one while on duty.
"My acting teacher instructs us to inject personal pain into a role and relate to a character's issues. It's kinda scary when you dig deep into yourself," Stoglin says.
The 35-year-old actor has appeared in several movies including "Oh Brother, Where Art Thou," "The Work" and "American Violet," and he has a supporting role alongside Val Kilmer and Sharon Stone in the upcoming film "Streets of Blood," which is scheduled to open in July.
Stoglin hopes to keep acting and to secure more prominent roles. "I want to bring more movies to Mississippi," he says. "It's a beautiful state."
CASSANDRA WELCHLIN
COMMUNITY ORGANIZER AND ACTIVIST | AGE 36
Maggie Neff
I imagine that it would be difficult not to be enamored with Cassandra Welchlin once you've met her. The 36-year-old community organizer and advocate exudes humble confidence and serene wisdom that transcends her age.
A Jackson native, Welchlin earned her bachelor's degree in social work from Jackson State University in 1998, and became a case worker with Catholic Charities. While interacting with families and children in the field, Welchlin began to notice the disconnect between institutions and systems, such as the Housing Department and the education system, and how that conflict negatively affected individuals.
Working with mentally challenged children, Welchlin saw how schools were not equipped to deal with behavioral problems with her kids, starting a cycle in which the child missed school because of suspension, and thus caused the child's single mother to miss work. All the while, many of her case families lived in nearly uninhabitable homes.
"I began to see how my families weren't making a whole lot of progress, and there was this whole cycle that was continuing," she says. "So I began to say that there's something more to this process."
Welchlin studied the issue at Brandeis University in Boston, where she earned her master's degree in Sustainable International Development. After finishing the program, Welchlin's advocacy career led her back to Mississippi, and she accepted a job with Southern Echo working with black-owned businesses. She has since collaborated with the Mississippi NAACP, the Children's Defense Fund and Oxfam America as a consultant, and the Mississippi Youth Justice Project as director of public affairs.
Today, Welchlin is the director of southern programs for the Center for Social Inclusion. She interviews, builds relationships and gathers information to send to the New York-based office, detailing Mississippi education advocacy reform and black land loss.
Welchlin says she lives by the four principals of "justice, empowerment, truth-telling and accountability."
"Service has always been a really important part of me," she says.
FERNANDO RODRIGUEZ
BUSINESS OWNER | AGE 26
Ward Schaefer
The first time Fernando Rodriguez came to Jackson, he was 10 years old and on vacation from Guaynabo, Puerto Rico. His family stopped here for gas on their way from Memphis to New Orleans. Rodriguez's second trip to Jackson was under very different circumstances, and it has lasted 10 years.
When he was 19, Rodriguez entered Copac, a rehab program in Brandon, to treat his alcohol and drug addiction. After four months of treatment and a year of changing car oil and folding jeans at the Gap, he decided to go back to college.
"I knew that not all my neurons had been converted to morons," Rodriguez says.
Rodriguez applied to Millsaps College, entering as a non-degree-seeking student but working his way to a bachelor's degree in international business. Now 26, he just received his master's degree in business administration from Millsaps. In January, he started his first business, Recovery MAP, drawing on his own experiences in recovery and his work with substance abuse treatment programs.
Recovery MAP, which Rodriguez founded with a former boss, helps monitor people in their first year of recovery from substance abuse. The program complements other outpatient services, Rodriguez says, emphasizing face-to-face contact with recovering addicts and their loved ones.
Too often, Rodriguez says, people in recovery are "treated like the addict that they were, and not the person that's trying to recover."For the families of his clients, Rodriguez provides a "release from worry" and education about the psychology of addiction.
In his free time, Rodriguez is what he calls a "garden-variety adrenaline junkie," jumping at a chance to go skydiving, ride his Yamaha R-1 motorcycle or shoot guns. As much as he loves those thrills, though, he gets a more enduring pleasure from his work.
"Helping others is the only thing that brings true and lasting happiness," he says.
KELLY BOUTWELL
SOMMELIER, STUDENT | AGE 26
Melia Dicker
BRAVO! sommelier Kelly Boutwell is as far from a wine snob as one can get. Casual and genuine, she enjoys making wines accessible for anyone in Jackson who wants to learn.
As sommelier, Boutwell orders all BRAVO!'s wine and creates the Italian restaurant's rotating wine list. She recommends wine to diners and holds monthly wine tastings for the public. BRAVO! has made Wine Spectator's World's Best Wine List every year since 1997.
Boutwell had a roundabout path to the restaurant and wine business. Born in small-town Forest, Miss., she studied sociology, anthropology and classical studies at Millsaps. To pay her tuition, she waited tables at Que Sera Sera in Fondren.
She became familiar with BRAVO! owner Jeff Good and was struck by his innovative vision for Jackson. Hoping to work for him, she applied for a job at BRAVO!, but she didn't get it.
"I kept calling back until they finally said, 'OK, if you'll leave us alone, we'll give you a job as a hostess,'" Boutwell says.
Boutwell worked her way up at BRAVO!, and eventually Good asked her to co-manage the restaurant. Although she was only 22 and hadn't intended to stay in the restaurant business, she accepted the promotion. Boutwell began to learn about wine from Leslie McCarty, who directed BRAVO!'s wine program at the time, and Jackson wine broker Norm Rush.
"I was the youngest and always the one asking the stupid questions, which is fine because I don't really have any shame," Boutwell says.
Boutwell, now 26 and a part-time Millsaps graduate student, has made a point of demystifying the art of wine for Jacksonians. Tasting wine is "not an innate gift," she says. It's easy to learn to classify wines based on simple details, like color.
Above all, Boutwell says, drink what you like, including inexpensive wines, in good company.
ROSARIO BOXX
ASSOCIATE MANAGER, SENIOR EXPORT/IMPORT FOR LATIN AMERICA | AGE 38
Jackson R. Breland
On the sixth floor of the historic Woolfolk State Office Building, Rosario Boxx navigates through a maze of corridors as she passionately speaks about her job with the Mississippi Development Authority. As an import/export manager, Boxx assists Mississippi companies with expanding their operations to other parts of the globe, particularly Latin America.
A native of Peru, Boxx has also lived in Venezuela, Columbia and Chile. Her family moved often because of her father's job with a multi-national pharmaceutical company. She eventually became frustrated with the constant travel and told her father she was ready to make a final move: to America. In 1990, her father allowed her to head north, believing she'd come running back.
"He said I was too spoiled," she says, laughing.
Nineteen years later, though, Boxx is a proud American. Wanting to remain in a warm climate, Boxx chose to study English at the University of Southern Mississippi. While attending USM, Boxx met the love of her life, her husband, Tommy, and earned a journalism degree.
After teaching high school Spanish for several years, Boxx was ready for a new challenge. She began working toward a master's degree in business administration at Belhaven College, and graduated in 2000. By June, she was working for MDA in the Community Services division.
"I traveled to small and rural communities and helped them achieve a greater quality of life," she says.
In 2003, Boxx became a South and Central America trade specialist. "It is great to have a job where you represent the state of Mississippi," she says of her job. "A great pleasure."
AMBROSE TABB
STUDENT, ACTOR | AGE 16
Ward Schaefer
Ambrose Tabb is a student of human nature. Tabb, a junior at Jim Hill High School in Jackson, is only 16, but he has loved to act since performing in a fifth-grade play.
"I've always had this thing for understanding how we work," says Tabb, who also studied the media's portrayal of youth with other high school students as part of the Jackson Free Press Media Literacy Project last summer.
In April, he directed and performed in a production of George C. Wolfe's satire, "The Colored Museum," at Jim Hill. It was the first play at Jim Hill in 12 years.
"We had to spend a whole day of rehearsal sewing up the curtains because they had been torn for years," Tabb says. "It was rough, but it got done."
Faced with broken lights and sound equipment, and a largely untrained cast and crew of 20 students, Tabb had to make up for the school's dormant drama program with hard work. He wrote a two-week actors' training curriculum and found himself repeating the words of his speech and debate coach: "Dig deeper! I don't want to see you; I want to see your character!'"
Tabb has high hopes for his school's burgeoning drama program. He wants to put on two productions at Jim Hill next year, including one play written by a fellow student actor, and perform for children at nearby Isable Elementary.
His love of acting has also led him to a new career interest—Army psychology. Acting can be good preparation for understanding other people's problems, he says.
"When you're on stage, you're outside of yourself," Tabb says. "It allows you to escape psychologically, into some other realm where you can be someone you aren't every day."
CHRIS SPEAR
ACTIVIST AND COORDINATOR, CROSSROADS FILM SOCIETY | AGE 23
Ronni Mott
Chris Spear called me last spring after reading "The Case for Innocence," about the work of the Innocence Project, which represents wrongfully convicted people. Spear was planning a forum to raise awareness about wrongful imprisonment. Would we be sponsors? he asked.
The summer of 2005, the Slidell, La., native read about an innocent man released from Angola "with $10 and a shirt" in The San Francisco Chronicle.
"Reading about this guy who had been so pathetically treated by my home state just really kind of threw me," Spear says.
His "Innocent People" forum in March 2008 at Millsaps College, pulled together speakers from Innocence Projects in Louisiana and Mississippi, the ACLU, and Cedric Willis, a Jacksonian exonerated in 2006 after 12 years of imprisonment for a crime he didn't commit.
"I don't plan on saving the world by myself," Spear later wrote in the Millsaps Purple and White, adding, "I can plan on making a difference here, where I know it can help. ... So cynicism can just slither away."
As the Mississippi organization's volunteer Webmaster, Spear, 23, stays involved. "I was very pleased to be able to contribute a fair amount" this year, he says about his fundraising efforts, which were matched by another donor.
Now living in Belhaven, Spear graduated from Millsaps in '07 with an English degree, and today, he's executive coordinator for the Crossroads Film Society and Festival.
"I make sure all the gears mesh," he says.
An aspiring filmmaker, Spear has written a couple original scripts and wants to adapt some sci-fi short stories. Mississippi's writers also influence him.
"There's enough Welty and Faulkner, all kinds of stuff," he says. "I would love to do something about Mississippi."
After six years, Spear says he feels like a native.
"There's not such a suffocating mass of people in Jackson that anything you try and do in the community would be overlooked," he says, but enough "that you can actually make stuff happen."
Previous Comments
ID

147958

Comment

I'm so happy to see a piece on Ambrose Tabb. I met him last summer with the Jackson Free Press Media Literacy Project. He is a talented young man who is enthusiastic about working hard for his community. Congratulations Ambrose! I know you will go far.

Author

janinejulia

Date

2009-05-21T08:49:06-06:00
ID

147965

Comment

Me, too. Ambrose is great. And Maggie and her team put together a great line-up of Young Influentials this year; everyone be sure to check them all out.

Author

DonnaLadd

Date

2009-05-21T10:08:07-06:00