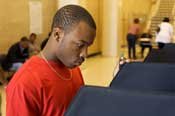 Polling areas in Ward 1 and 2 report moderate turn-out today.
Beulah White, poll manager at Precinct 81, Callaway High School, described turn-out as "kind of slow, but steady."
"It's been moderate. Not like in the past. We might be idle for five minutes, but then five or six people come in. Early voters came out in the morning to beat the rush, but created a rush." White told the Jackson Free Press, adding that turn-out, in her opinion was less than she'd expected, even for a run-off.
"I thought it was going to be more, because normally this precinct comes out. And I usually have between 1,200 and 1,300 voters. Right now I'm at about 500 voters," White said.
Bill Chandler, a poll watcher for Ward 2 council candidate Chokwe Lumumba, said his numbers revealed White's estimate to be almost the same as it had been during the Democratic Primaries.
"My numbers show we had 516 voters by 1:30 last time. This time we've had 485 at the same time, which is about the same," Chandler said.
Poll workers at Precinct 44, at New Jerusalem Church, had varying opinions on turn-out, with some claiming the crowd was half what it had been two weeks ago, and others claiming the lines were just as long.
Voters polled appeared to be voting along racial lines in those two wards, with black candidates showing a preference for former mayor Harvey Johnson Jr., and white candidates supporting Ward 6 Councilman Marshand Crisler. The trend matched the racial lines by which Jackson voters made their decisions during the primary, with white Republicans generally jumping ship to support Crisler.
In Ward 1, Republican voter Anthony Bryant said he was backing Crisler.
"After looking at all the facts and figures I feel he is the best candidate. I've looked at his website and his background," Bryant said. "His views on things don't always match up with mine, but his opinions on Jackson are in the right direction."
Precinct voter Liz Neely also said she was backing Crisler for mayor.
Joan Meeks, a black voter exiting the Precinct 44 polling station said she was supporting Johnson, however: "He's got experience, and I feel like the opposite candidate is not qualified, really. I think Jackson needs somebody with experience to move Jackson forward.
Johnson appears to maintain a strong showing in Ward 2, his home ward.
Pastor Isaac Young, an African-American who cast his vote at Precinct 81, said he was vehemently supporting Johnson.
"I voted for Johnson because of his experience. I remember the former mayor saying he was going to fix the roads and accusing Johnson of not fixing the roads, but I believe Johnson did a better job than any mayor we've ever had. He's a blessing to the community and that's why I voted for him," Young said.
Young, like the other voters polled, strongly denied that his vote was based on the racial division separating the two candidates: "My vote had nothing to do with race. If I felt Crisler was qualified I would have voted for him."
Previous Comments
ID

147794

Comment

Republicans shouldn't be voting in a democratic primary runoff anyway, i blame this on the hinds county democratic party for not running a democrat in the ward seven council primary.

Author

NewJackson

Date

2009-05-19T17:38:49-06:00
ID

147795

Comment

Hmmm. NewJackson brings up a good point. Republicans voting in a Democrat primary, using dirty tricks to try creating CHAOS in the party selection process? Sounds very familiar...

Author

Jeff Lucas

Date

2009-05-19T17:46:19-06:00
ID

147802

Comment

I dearly hope Johnson can overcome all the money, moneychangers, pimps, hustlers, takers and haters against him who don't have good reasons to be his enemies. Wouldn't it be nice to see what is likely right, and a nearly broke candidate win against all odds this time. After Frank, you would think few of us would take such chances any more. When the boy takes the girl out to dinner not because he likes looking at her and wants to get to know her better, but instead because he wants only to sleep with her and receive some payment for the charge of the dinner, that girl is in trouble. It's worse if she thinks she's going to partake in that meal free of charge or is willing to earn her meals in that fashion. Also, we know when you sell your soul to learn to play the blues, you better watch out for somebody trying to poison you. I'm predicting and hoping Johnson can win with his souls still in tact and belonging to only him, like he did the other times. If Marshand wins, good luck. Both candidates are Kaze, BaQuan and my fraternity brothers. Baquan, Johnson and I are ready for prime time. Not everybody is ready, but they're almost ready. We see what that other hip-hop mayor did in Detraoit got us. I had a dream last night and I dreamed Johnson won and his real enemies soon ran. Darkness, pestilence, great hunger and thirst followed them, until they ran outside and got on their knees and asked their god "why have you forsaken me. Their god (satan) said I have not forsaken you and have been building a room for you for your whole life. Soon we will be together, forever.

Author

Walt

Date

2009-05-19T18:45:02-06:00