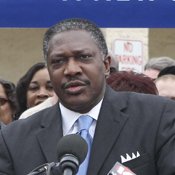 At a press conference this morning, mayoral candidate Marshand Crisler denied allegations, made in two new flyers supporting his candidacy, that his opponent Harvey Johnson bought the endorsement of state Sen. John Horhn, a former mayoral candidate. When asked about the flyers at a press conference he called to disavow negative flyers that appeared over the weekend, Crisler first responded, "I denounce any negative politics and that one in particular." When the JFP's Adam Lynch and Donna Ladd asked directly whether Horhn had ever offered to sell his endorsement, Crisler replied, "No." Reached around the same time, however, Horhn told the JFP that the Crisler campaign had tried to buy his endorsement, but he refused.
Horhn, who endorsed former Mayor Johnson on May 13, also denied selling his endorsement. "I haven't received a penny from either campaign, nor would I be interested in such," Horhn said. "Absolutely nothing."
He denounced the allegations, calling them "sour grapes" on the part of Crisler's campaign.
"They are the ones with the dirty hands," Horhn said. "They are the ones that have run a negative campaign against me personally for over a year. They are the ones who continue to do so after I'm no longer a candidate. The only thing I can think of at this point is that they're deathly afraid that my endorsement of Mr. Johnson is going to have an impact in this race."
One of the flyers circulating depicts a sinking ship, labeled the "S.S. Johnson," and a conversation on-board between Horhn and Johnson referring to Johnson keeping "(his) end of the deal." The flyer is sponsored by the "Committee For A Safer Jackson." A second, unattributed flyer specifies a supposed price range for Horhn's endorsement, "from a high of $50,000.00 to a low of $20,000.00." The second flyer explicitly states what Crisler denied this morning--that Horhn approached him with an offer to sell his endorsement:
"(Horhn) and his surrogates began to shop both the Cirsler and Horhn (sic) Campaigns to see if there was any interest in his endorsement to their campaigns in exchange for paying off his debts. ... Councilman Crisler immediately indicated that he was not interested and did not think any candidate should broker a deal that would entail selling out the people that contributed, voted and worked hard in their campaings (sic). Obviously the Johnson Campaign entered into an agreement or understanding for a fundraiser at a later date to ensure the votes of Senator Horhn for Harvey Johnson."
Horhn's response offers a dramatically different account, however, in which Crisler, not he, suggested the sale of his endorsement.
"I was approached by both campaigns and actively approached by the Crisler campaign," Horhn told the Jackson Free Press Monday. "A number of offers were made by the Crisler campaign, some of which were quite lucrative. ... The fact of the matter is that the Crisler campaign fell all over itself trying to recruit me to their campaign with promises of elimination of my campaign debt and a few other things. And for them to suggest otherwise is absolutely ludicrous. They put the money on the table. The Johnson campaign has no money."
Horhn would not specify how much Crisler's campaign had offered, saying, "I'm not going to get into all that." He did say that representatives from Crisler's campaign first approached him the day after the election.
"I made the choice based on who I thought was the best candidate and who would make the best mayor for the city of Jackson," Horhn said. "And based on this recent activity, it confirms for me that I made the right choice."
The pro-Crisler flyers appeared on cars outside churches Sunday morning, sources say. The S.S. Johnson flyer also showed up on Crisler's Facebook page Sunday night.
Previous Comments
ID

147626

Comment

How close are we to the runoff again?

Author

Ironghost

Date

2009-05-18T13:15:54-06:00
ID

147631

Comment

It will all be over soon, thankfully.

Author

Jeff Lucas

Date

2009-05-18T13:41:17-06:00
ID

147632

Comment

I'm sorry, why was this even printed or reported on? Does Horhn have proof of this? Who exactly made the offer? This is yellow journalism at its best. Hearsay! Sad, sad, hearsay. And, it really compromises the integrity of this paper to publish this without proof or a source other than Horhn. The most tragic thing to come of this race is to see Harvey selling his soul to win at any cost. At least in the last election there were shreads of proof as to the allegations against Melton and the detention center. Harvey may win tomorrow. Sure hope it was worth it. Johnson Free Press!

Author

Birdseye

Date

2009-05-18T13:43:06-06:00
ID

147633

Comment

Whoa! This is some deep stuff here. And I just said in another post that this race will get more ridiculous between now and tomorrow night.

Author

golden eagle

Date

2009-05-18T13:56:54-06:00
ID

147635

Comment

Birdseye, get your facts straight. Reporting on a conversation by *someone who actually had it* is not hearsay. Horhn talked about conversations *he* had, not conversations he heard about. Why aren't you equally upset about the lies put out by Crisler supporters?

Author

Ronni_Mott

Date

2009-05-18T14:00:52-06:00
ID

147636

Comment

From a copy-editing standpoint... I have to say that first graph is tough to read. I humbly recommend some tightening. If you read some of my own copy, of course, you'll understand why I say "humbly." Allegations? More cheap Jackson politics. Frank was, at least, entertaining....

Author

blogtw4

Date

2009-05-18T14:02:30-06:00
ID

147637

Comment

"They are the ones with the dirty hands," Horhn said. "They are the ones that have run a negative campaign against me personally for over a year. They are the ones who continue to do so after I'm no longer a candidate." I distinctly remember Horhn deciding not to run for Mayor during the last year. What is he saying here? Stories are getting tangled! Hmmm.

Author

Razor

Date

2009-05-18T14:09:42-06:00
ID

147639

Comment

Okay...I've gotten totally lost. I thought that Crisler was calling a press conference to denounce the fliers that were on our cars after we got out of church yesterday? That is what he indicated to me when I personally texted him regarding how distasteful I felt the bogus flyer, which was meant to appear to be from Harvey Johnson, was. Upon reading the flyer, you knew it could not have been. Marshand agreed that it was distasteful and that they did not come from him, and he would denounce them. Instead, he has called a press conference and came up with this, while at the same time using Barack Obama's message to precede a horribly negative campaign ad that is running on the radio station. It turned my stomach to have Barack's message become so distorted with these kinds of tactics. Barack DID NOT approve that message, I guarantee you. Marshand knows of our great respect and admiration for our President. Just his voice alone, got my attention. However, as I began to listen to the rest of the message I became so angry that I got a headache!! The nerve of this man...oops young man. This, my friend, is YOUTH! This is desperation! Quite frankly, it's downright embarrassing and I wish that his parents, whom he really looks up to, and his aunt, who had a big hand in raising him (so one of the commercials says) would pull this young man in and school him some more. He has gotten lost along the way. The ice is cracking and he's about to fall through. I hope that every Jacksonian, especially the ones over 40 - LIKE ME - take a stand for maturity, respect and responsibility. If this is YOUTH in action, no thank you!!

Author

GratefulJTE

Date

2009-05-18T14:14:13-06:00
ID

147640

Comment

Birdseye, Ronni is totally right. Why do folks in NE Jackson go absolutely insane every time there's an election? Elections in Jackson make elections in Chicago look clean and focused on the issues by comparison, and Chicago is practically Beirut when it comes to politics. Good grief!

Author

Brian C Johnson

Date

2009-05-18T14:17:06-06:00
ID

147643

Comment

Then where are the quotes from the Johnson campaign? They're silent throughout this. You have a third-place finisher saying the guy who beat him is a jerk. I suspect most voters place about as much stock in that as they would any time anybody loses. And you've got Councilman Crisler giving his side of the story. But where's our former Mayor? The Senator says he's "broke"--is he?

Author

David McCarty

Date

2009-05-18T14:23:30-06:00
ID

147645

Comment

Also--what "lies" were spread for a year? Frankly, as far as I've been able to tell--the Councilman was running (as was Sen. Horhn) against Frank Melton, not against the other challengers.

Author

David McCarty

Date

2009-05-18T14:26:18-06:00
ID

147646

Comment

Well, I will say that he heard incoming stuff about Horhn that could not be confirmed. So, I don't entirely disbelieve him on that point. And one thing said to us by the camp of another candidate (not Johnson) was that Horhn voted against MAEP. That turned out to be an utterly cynical rumor, debunked by Nancy Loome of The Parents' Campaign herself. We're working on getting comments from Johnson.

Author

DonnaLadd

Date

2009-05-18T14:31:14-06:00
ID

147647

Comment

David, what is it that you want Johnson to comment on? He can't comment on a two-person conversation between Horhn and Criser, after all, he wasn't invited. Is Johnson broke? Well, he said during the debates that Crisler has out-financed him 4 to 1.

Author

Ronni_Mott

Date

2009-05-18T14:37:17-06:00
ID

147649

Comment

Crisler has raised like a half a million dollars, right?

Author

DonnaLadd

Date

2009-05-18T14:42:14-06:00
ID

147650

Comment

The other thing that is important to note, David, is that Horhn did not call out the Crisler campaign on this, or go to the media. It was Crisler supporters who are distributing flyers saying that Horhn sold his endorsement to Johnson, presumably to try to discredit it to Horhn voters. (Crisler denied this happened, to his credit.) It was when Horhn was asked to comment on these truly horrendous statements about himself that he said that the Crisler campaign came to him, and spread lies about him for months now.

Author

DonnaLadd

Date

2009-05-18T14:57:18-06:00
ID

147651

Comment

Donna, I asked Horhn that point blank. His first response was that Crisler should get a life and then he said that Crisler had been campaigning negatively for over a year much of it centered around him(Horhn). Interesting to note: I had an off mic conversation with Representative Credell Calhoun today and I asked him how and why as an elected official he could personally help distribute all of this negative campaign material...I also told him that I had lost so much respect for him....in retrospect, I don't know how much respect I ever had for him. For the record the only response Calhoun gave me was "you are mad with me..and he had this blank stare/gaze in his eyes as if to say "I've been busted."

Author

Othor Cain

Date

2009-05-18T15:12:04-06:00
ID

147653

Comment

Othor, with all respect, man, I can't believe why you EVER had much respect for Credell Calhoun.

Author

Jeff Lucas

Date

2009-05-18T15:21:16-06:00
ID

147659

Comment

politics is a dirty game folks, like it or not. It doesn't make it it "right," but supporters are going to walk that razor's edge in every campaign cycle at every level, most often without the permission and/or approval from the candidate him/herself. I don't like the flyers coming from Crisler's camp personally, and indeed the junk from Wilson Carrol, but come on guys, it's campaign season and what do you expect? Take camapign mail for what it is----JUNK. The actions of the Mayor will ultimately prove more pivotal to the goal of Jackson's success, so let's let those actions speak the real word in the days to come. I have to believe that both Democratic candidates are watching the dialogue here and will learn how one segment of the city's readership do not appreciate the low-level yet oft-used tricks. But the ultimate success or failure does not lay squarely on the back of one Mayor. The new Council will play a role as well, but moreso, you people here will ultimately determine how progressive and successful Jackson can be, so i hope the passion in the above comments turn more toward the real goals of improving Jackson, and not in playing color commentary of what is a typical campaign season. Here's to Wednesday, whatever the outcome.

Author

GradyGriffin

Date

2009-05-18T15:39:09-06:00
ID

147662

Comment

Although this is not surprising, it is depressing to see the juvenile nature of the issues presented by the candidates. Don't they know that intelligent people live in the city and want to discuss the true issues at hand? I hate mudslinging because it accomplishes nothing. Anyone can hit below the belt, but not everyone can make a valid point or present a viable plan of action for the city. Can't we challenge our politicians to rise above this? Can't they get a true public relations professional to run their campaigns or possibly think for themselves?

Author

ggaswell

Date

2009-05-18T15:48:03-06:00
ID

147663

Comment

No, I can't accept that level of cynicism about campaigns, EatOut. This level of ugliness and lies hurts our city and our future, and each of us need to fight it and expose it every time we see it. It's not OK to say "It's just politics as usual." It wasn't OK in 2005, and it's not OK in 2009. And if a candidate allows this level of dirtiness to take over the campaign, it does not bode well for the administration. Again, I don't know how much of this Crisler himself was part of, but he has been unable to keep his campaign under control and to keep from alienating a good part of the city. A runoff strategy is not worth this kind of division.

Author

DonnaLadd

Date

2009-05-18T15:48:37-06:00
ID

147668

Comment

Crisler's problems seem to be coming from people who "want to help" more than he'd like. Oh, and at least you get to vote on a candidate that might actually work for you. In Chicago, you're not guaranteed that. ;)

Author

Ironghost

Date

2009-05-18T16:14:13-06:00
ID

147701

Comment

Again, if Horhn or this paper doesn't have any hard evidence that this conversation happened, then this is nothing but BS from a sore loser and a willing accomplice. Glad to know that the word of a fourth place loser is held in higher regard then the candidate who made the runoff and says that money was never discussed. I am shocked that this paper even printed the allegation. Pretty weak reporting. If it cannot be proved at some point Horhn (audio or admission) then this paper will owe Crisler and his campaign an apology. You pretty much owe him one now, but I don't think that will happen considering all the hysteria around here. But, if it keeps us from learning more about the issues facing Jackson then what do you expect. Go read your posts early in the election, you demanded that we focus on the issues this election. Now all you can do is focus on the fringe stuff that adds up a bunch of nothing in the end. I have learned next to nothing about the issues from the JFP. While you are busy tracking down all that silly stuff maybe you could have posted where the issues are discussed by the candidates around here?

Author

Birdseye

Date

2009-05-18T21:52:58-06:00
ID

147706

Comment

If there was ever an example of how not to run a campaigm it was this morning's Crisler news conference. I have been involved a many campaigns and know this is not how you should have handled the negative fliers. Crisler should have issued a news releas denying any involvement with the fliers,condemming them and then asking whoever was responsible for them to cease and desist from distributing them. He should have never offered himself to the media to be questioned about them. Stupid!Studid! Stupid!

Author

wellington

Date

2009-05-18T22:26:23-06:00
ID

147707

Comment

The JFP is focusing on the issues of this election. How much do you read (or not read)? The only problem is that these nasty, misleading mailers have diverted voters from the real issues. It would be irresponsible for the JFP or any of the local media not to report this. As for John Horhn, whether he is or isn't telling the truth remains to be seen and I'm sure the JFP will look into this to see if it passes the smells test. I'm also sure that this publication will get a response from Crisler campaign. But why should the JFP issue an apology if Horhn's allegations are not true? He put it out there and therefore, should be his responsibility. If the local electronic and other print media report it, should they apologize too?

Author

golden eagle

Date

2009-05-18T22:28:03-06:00
ID

147708

Comment

Birdseye, you can't miss the part where Horhn didn't come forward to reveal this on his own. He was approached after Crisler supporters distributed flyers (including posting on his Facebook page) saying outright that Horhn sold his endorsement and tried to sell it Crisler (which someone really close to the Crisler nerve center told us on background as well, but I won't reveal who. He knows). As one of the two parties in this, er, supposed transaction, Horhn gets to respond with his story about what really happened. You can believe his story or not, but neither the JFP or Horhn started this line of inquiry. Crisler supporters did -- on the windshields of car outside churches around Jackson Sunday a.m.

Author

DonnaLadd

Date

2009-05-18T22:35:55-06:00
ID

147709

Comment

As far as issues, Birdseye, the JFP has been discussing them and doing in-depth interviews with candidates about them for months. See full election coverage at http://www.jfpelectionblog.com. In recent days, though, it's all we can do to dodge lobs and complaints from Crisler supporters. As golden said, it is irresponsible to let all these dirty tricks happen without investigating them. So that is what, alas, we must spend the waning days of the campaign doing—covering a bunch of people actin' a fool. It's tiresome, and the best we can hope is that some people learn lessons from it.

Author

DonnaLadd

Date

2009-05-18T22:40:01-06:00
ID

147717

Comment

Hello everybody. People are hitting the streets early this morning. I have already been stopped by a bunch of eager young people offering big money to get me to vote the right way. They pushed the money deeply into my pockets as I protested saying I'm from Ridgeland and can't vote for the young fellow. They insisted they had plenty money and was told by their crime bosses to not return with a penny. Who do I return this money to as I'm a do-right man? I could be joking! I don't want any problems.

Author

Walt

Date

2009-05-19T05:13:44-06:00
ID

147731

Comment

Walt: Evidence or Silence. Your choice. :)

Author

Ironghost

Date

2009-05-19T08:39:01-06:00