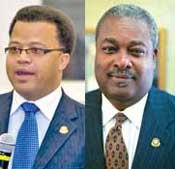 Councilman Marshand Crisler has a substantial edge in fundraising over former Mayor Harvey Johnson going into tomorrow's mayoral run-off election. Crisler raised $140,470 from April 26 through May 9, according to his latest campaign finance report, while Johnson raised $28,814.
Crisler's report is dated May 12, the deadline for filing pre-run-off reports, although the Clarion-Ledger reported that the city clerk's office did not receive his report for another day. Harvey Johnson's campaign filed its report today, though, almost a week after the deadline set by state law. Johnson campaign manager Walter Zinn blamed an "oversight" for the delay. He brought the report to the Jackson Free Press offices this afternoon.
Johnson's report shows the former mayor with $7,396 on hand. His largest single donation this period was $5,000 from Willie Wilson, founder of a minority-owned manufacturing and distribution company based in Illinois. Johnson also had contributions from Jackson engineer Robert Lunardini ($1,500) and retired physician George Schimmel ($1,000).
Crisler was his own largest individual donor, shelling out nearly $60,000 of his own for the campaign. Other large contributions came from engineer Rudy Warnock of Canton ($9,300), attorney David Nutt ($5,000) and and Jackson developer Yandell Wideman ($2,000), whose company, SouthEast Properties, is developing parts of Metrocenter Mall. Crisler reported $57,590 cash on hand.
Crisler has raised $431,784 this year, while Johnson has raised $132,788.
The [Clarion-Ledger has made PDFs of both candidate's campaign finance reports available online.
Previous Comments
ID

147674

Comment

i'm sure you guys at JFP are laughing about this, but it is really low class to continue to run the old photo of Marshand Crisler above. if you guys were supporting marshand and another paper did this you would cry foul. it's a double standard you should be ashamed of. And, no, this is not petty. it's your intentional posting and continued posting of this afro photo of marshand that is petty.

Author

FriendsofJackson

Date

2009-05-18T18:51:36-06:00
ID

147676

Comment

Friends, are you kidding me? You're gonna get your panties in a wad over a photo? If you're gonna criticize the JFP for endorsing Johnson by criticizing the photo they use, you have a lot of other issues going on.

Author

golden eagle

Date

2009-05-18T19:00:57-06:00
ID

147677

Comment

Friends, I've told you repeatedly now, and I'm tired of the badgering and B.S. This photo is a file photo from last year; the one of Johnson is several years old, and I haven't heard a single complain. BTW, have you complained about the one the Ledger ran on page 1 yesterday that makes Johnson look like he has a disease. I didn't think so. And I'm not either. I don't have time for these games. Personally, it scares me that you have such an obsession with "afros." Maybe you should talk to someone.

Author

DonnaLadd

Date

2009-05-18T19:16:03-06:00
ID

147684

Comment

Ladd, don't be so argumentative. And why is it that comments you don't agree with are "B.S."? Give me a break. The difference in the photos is clear. And, no i didn't complain to C.L. because i don't read the C.L. Personally, it scares me that you cannot allow people who disagree with you to comment without your sarcastic remarks; i.e., "you should talk to someone."

Author

FriendsofJackson

Date

2009-05-18T20:21:09-06:00
ID

147688

Comment

Friends, you are badgering about the same photo over and over again like a madman. You want to say it's years old, and it was taken last year. You are freaked out about a so-called "Afro" on it. With due respect, you don't choose the photos we use in our paper. We do, and we don't sit and stare at them first to make sure public figures will like them. No media outlet does. The funny thing is I've allowed you to disagree over and over again on the same topic. Now, though, I'm done on it. Your concern about the "afro" that Mr. Crisler used to wear is noted; why don't you go talk to him about the way he appears in public if you don't like it. It's not our problem. And it's not a conspiracy. It's just a photograph. Stop being so paranoid about trivia.

Author

DonnaLadd

Date

2009-05-18T20:40:46-06:00
ID

147712

Comment

Why didn't someone ask Crisler wher he got $60,000 to put into his campaign? Believe me, every one I have talked to in the black community does not believe it is his money. So where did it come from? I hate this young black man is allowing his life to be ruined by the money changers fron NE Jackson and the suburbs. When every thing is aid and done he still has to live here.

Author

wellington

Date

2009-05-18T22:48:40-06:00
ID

147721

Comment

Why didn't someone ask Crisler wher he got $60,000 to put into his campaign? Believe me, every one I have talked to in the black community does not believe it is his money. So where did it come from? I hate this young black man is allowing his life to be ruined by the money changers fron NE Jackson and the suburbs. When every thing is aid and done he still has to live here. ____________________ Exactly. If anyone in Jackson believes Crisler had $60k in his back pocket to spend on a campaign they need serious and immediate professional help.

Author

blkjazz

Date

2009-05-19T06:13:46-06:00
ID

147733

Comment

blkjazz, all serious candidates borrow money on their campaign. He will pay it back with contributions. My bet, he received it from his bank. I think Harvey borrowed 100,000 from his bank (wife is top dog at trustmark) during the last election. No big deal to borrow money until contributions roll in. BTW ladd, it is a funny picture. You guys know exactly what you are doing, not coincidence. That photo is hillarious. GO Harvey!

Author

Principalman

Date

2009-05-19T09:14:41-06:00
ID

147734

Comment

If y'all understood how our photo database works, and how quickly editors have to grab photos, you wouldn't be pushing the conspiracy stuff. I'm surprised no Harvey Johnsonsupporter has complained about the ones we've used of him looking constipated. And some are several years old -- much older than that photo of Crisler that some of you are complaining about. One thing you seem to have accomplished, though, is pointing out that Crisler has had a makeover, which I hadn't noticed. Reminds me of Gore running for president and all that made over his earth tones. That was trivia then, and this is trivia now.

Author

DonnaLadd

Date

2009-05-19T09:53:48-06:00
ID

147736

Comment

Y'all need to get over yourselves with this photo obsession. The two criteria I used to select the two photos above is that they were similar in how the candidates faced and could be quickly sized alike. That's it. As the person who put the two photos together I am stating here conclusively and without prevarication that there was no conspiracy ... of any kind. I did it. That's why. Move on. If you dare come out from your anonymity FriendsofJackson, feel free to continue to call me a liar.

Author

Ronni_Mott

Date

2009-05-19T10:26:51-06:00
ID

147738

Comment

principleman what jackson bank would loan crisler 60,000 dollars but wouldn't loan Farish street developers money to close on some loans. It seems that the local banks, regions, trustmark or whatever other bank who is chaired by republicans from the suburbs who love and cant get enough of crilser's military service loan him the money in the hopes he would beat HJ.

Author

NewJackson

Date

2009-05-19T10:47:54-06:00
ID

147743

Comment

No one could ever have made me believe that this mayoral election would sink to the level that it has. I have been deeply appalled at Marshand Crisler and the campaign tactics that he did or did not approve of. How do you run a campaign and not know what your camp is sending out under your name? This is a direct indicator that the camp is gone wild. Somebody pulled the trigger and didn't tell him. This is also a precurser to what you can expect in his administration. I expected things to get a little testy but never to the lengths that it has gone now. I am appalled at that darned commercial, the one where Marshand has President Obama's speech at the beginning, then the ad goes on to berate Harvey Johnson and his tenure as mayor. I dare say that Barack Obama would be deeply insulted at the use of his voice on such a cut-throat message. You know I'm trying to make certain that that particular commercial reaches our President. That was dispicable and it made me ill. Mayor Johnson indicated that his plans were to run a positive campaign. I guess Marshand didn't want to play fair. He has thrown good judgement and a sound mind out of the window. What got me most is when they asked Marshand what was the difference between his campaign and that of Harvey Johnson's. His response was that he would be READY TO PULL THE TRIGGER! Ca-POW!! He just did!! Marshand and his camp have shot themselves in both feet! This is the worst crap I've witnessed on the local level. Just take the time to listen at the various radio stations. He has spots to fit every channel. I heard one on 90.1 that was equally as appalling as the one with Obama. It is GUTTERTICS!! More than anything, I was so proud of Eddie Fair, John Horhn, Faye Peterson, Brenda Scott, McLemore, Doug Anderson, 100 Black Clergymen and others who have come out in support of the Harvey Johnson for Mayor Campaign. This was right and responsible. We cannot afford to take a chance with the election of a hot-headed, out of control, ready to pull the trigger individual that I am now seeing, in what I once thought was a promising individual for the city. Sorry, I just don't see that now. After all of this rhetoric, stupidity and just really low-life campaign strategy, I wouldn't vote for Marshand in any capacity. Quite frankly, I know that even his supporters should be re-thinking their support of him. Be encouraged, do what is right and good. I appeal to every Jackson resident not to be fooled. Remember what happened before. We cannot be mislead again. We need a real man who isn't afraid to stand up for the right and good of all. Call him slow or calculating. I'd prefer a level head any day over someone who stands ready to pull the trigger and don't even know if the gun is loaded or not. You might want to first see if you're shooting with the right bullets. But of course, bullet-proof vests do come in handy. The Clarion-Ledger has endorsed Criser, the same paper that encouraged YOU to vote for the Honorable Frank Melton. The TV ads are popping every few minutes it seems, with that smirkey look of "I got this," from Marshand's camp. To me, the most credible endorsement has come from a source I never thought would do it: The Jackson Advocate. Alice Tisdale laid down any animosities for the good of the people. She took a stand and endorsed Harvey Johnson, as did the Jackson Free Press. I haven't seen a copy of The Mississippi Link, so I am not sure of their endorsement. This day, Tuesday, May 19, we have the opportunity to right a wrong. Let's put a strong and able leader back in place. We know that he is more than capable to lead this city in the way that it should be led. Whatever you do, please go to the polls and vote, even if you didn't vote in the first election. YOU CAN VOTE NOW. Let your vote be the difference. Vote Harvey Johnson for Mayor and help get Jackson BACK ON TRACK!! IT'S IN YOUR HANDS!!!

Author

GratefulJTE

Date

2009-05-19T11:09:19-06:00
ID

147749

Comment

principleman, while it is certainly true that many candidates borrow money, that does not mean Crisler did. Also, your facts relative to Mrs. Johnson are not exactly correct. Close only counts in horseshoes.

Author

blkjazz

Date

2009-05-19T11:24:07-06:00
ID

147753

Comment

An absolutely fantastic post GratefulJTE

Author

blkjazz

Date

2009-05-19T11:27:44-06:00