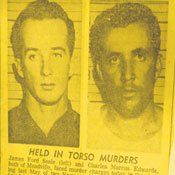 See full JFP coverage of the Dee-Moore case.
The full Fifth U.S. Circuit Court of appeals will hear arguments on Thursday in the trial of James Ford Seale, 73, an admitted Ku Klux Klan member. A lower court found Seale guilty June 2007 of federal kidnapping and conspiracy in the 1964 murders of Charles Eddie Moore and Henry Hezekiah Dee, both 19. Seale received three life sentences for his alleged role in the crime.
Seale's defense team won an appeal in September of last year based on the statute of limitations, and the Fiffth Circuit overturned the convictions. Seale, however, has remained in prison pending this week's en banc rehearing of the appeal.
According to testimony, the Klan suspected Moore and Dee of working with local civil rights groups. Divers located their badly beaten, drowned and decomposing bodies tied to a Jeep engine block in their search for missing civil rights workers Michael Schwerner, Andrew Goodman and James Chaney.