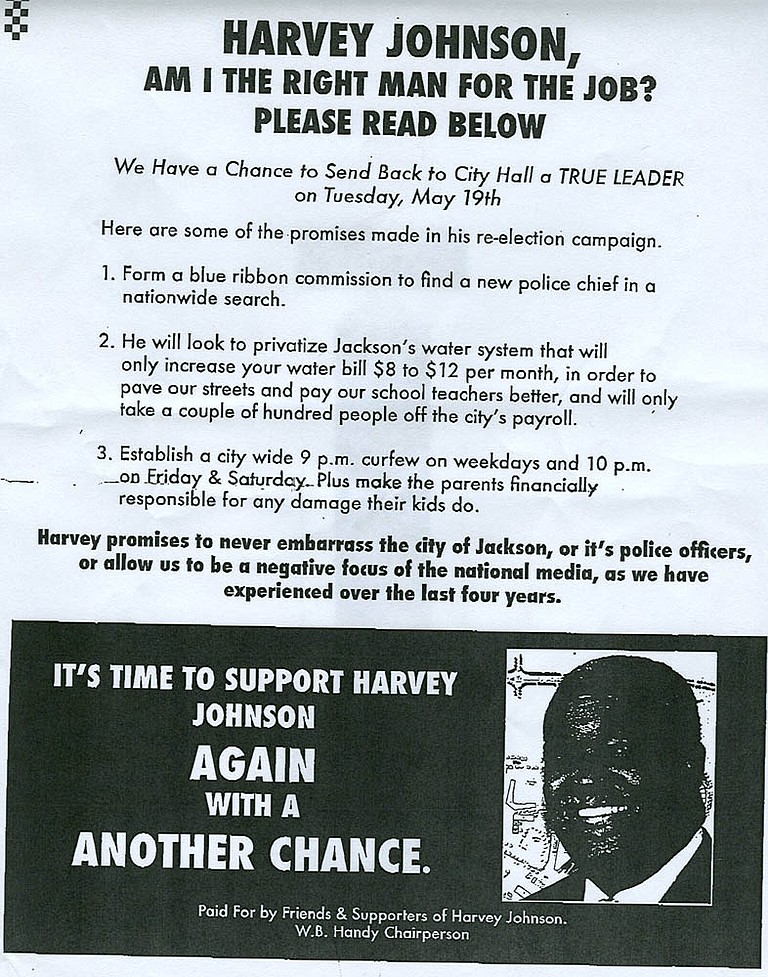 Church-goers in Jackson found a fake flyer on their windshields after church Sunday, pretending to be from former Mayor Harvey Johnson Jr., who is in a runoff with Councilman Marshand Crisler for re-election Tuesday. The flyer asks, "Am I the Right Man for the Job?" and then makes several promises, clearly designed to discredit the former mayor.
The flyer promises that "Johnson" will "form a blue ribbon commission to find a new police chief in a nationwide search"; "look to privatize Jackson's water system that will only increase your water bill $8 to $12 per month"; and the most absurd, "establish a city wide 9 p.m. curfew on weekdays and 10 p.m. on Friday & Saturday. Plus make sure the parents financially responsible for any damage their kids do.
The fake flyer is supposed "Paid For by Friends & Supporters of Harvey Johnson. W.B. Handy Chairperson."
At a press conference Monday morning in front of City Hall, Crisler disavowed all knowledge of this fake flyer, as well as one posted on his Facebook page Sunday that accused Sen. John Horhn of selling his endorsement to Johnson, credited to "Committee for a Safer Jackson," and one sent out to certain ZIP codes Friday by the Better Jackson PAC misrepresenting crime in Jackson under Johnson's tenure. The Jackson Free Press learned that attorney Wilson Carroll, an ardent support of Frank Melton in 2005, is the secretary of the Better Jackson PAC, but he would not reveal other members or donors. Neither group is registered with the Mississippi Secretary of State's office, and the Jackson City Clerk is searching for a registration in that office's files.
Today in Jackson, Johnson received a number of new high-level endorsements. One of them came from Doug Anderson of the Hinds County Board of Supervisors who said that the weekend flyer blitz convinced him to take a position in support of Johnson.
Previous Comments
ID

147671

Comment

This is truly an example of the HUNTER being captured by the GAME.

Author

justjess

Date

2009-05-18T16:44:30-06:00
ID

147673

Comment

Doug Anderson now supporting Johnson? Anderson was an ardent Melton supporter when Melton ran and ultimately defeated Johnson in 2005.

Author

golden eagle

Date

2009-05-18T18:39:37-06:00
ID

147675

Comment

some of these endorsements are really, really making me scared!

Author

FriendsofJackson

Date

2009-05-18T19:00:18-06:00
ID

147703

Comment

I truly feel sorry for Marshand Crisler. His campaign manager and supporters are putting him in an untenable position. If he loses the election his reputation will be so destroyed that he probably can never win another public office. The campaign manager will go back to Miami with her ill gotten money and his supporters will be lined up trying to court favor with HJ. Some of us "dumb locals" ( Ms Apa's term) tried to warn him but he would only listen to Apa, his campaign manager, as she planned his campaign. Believe me a lot of the people coming out for HJ now are former enemies of his who have no great love for him but their hatered of Crisler and the way his campaign has been run is why you see some of them endorsing HJ. Tomorrow will be very interesting. If these is a moderate turnout in the black community HJ is the new mayor. If there is a light turnout in the black community Crisler is the mayor. With a forcast of 78 and sunny it does not look good for Crisler.

Author

wellington

Date

2009-05-18T22:07:14-06:00