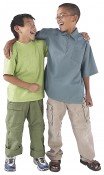 The Salvation Army of Metro Jackson is extending an invitation to over 200 local school children to attend Camp Hidden Lake in Lexington, MS, at no cost to the families.
"Most people relate The Salvation Army to Christmas and disaster, but our doors are open 365 days a year," Major John Showers said in a release. "Summer is a very busy time as we begin our camping season. It's a great way to get kids out of their routine and into new adventures, fellowship and self-discovery."
Sending a child to camp costs $200 each, and The Salvation Army is looking for sponsors to help. In addition to financial donations, clothing, swimsuits, blankets, pillows and hygiene items are needed for the children. Donations can be made out to The Salvation Army and dropped off to the Metro Jackson Corps at 110 Presto Lane. You can also call 601-982-4881 or log on to The Salvation Army Jackson Web site
"We hope to remain in the minds and hearts of the people in the Metro area," Showers said. "Without their help and prayers, we could not accomplish what we have and what we will continue to do."
The Salvation Army has been active in the Jackson area since 1906.