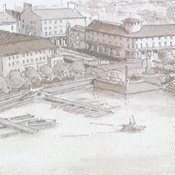 The battle over Two Lakes is back on. After years of infighting and millions of dollars spent on impact and engineering studies, the Rankin-Hinds Pearl River Flood and Drainage Control District board is still debating two different plans to dam the Pearl River and create a shallow lake between Hinds and Rankin counties. The two plans differ only in their size, with the Lower Lake Plan creating less lakeside real estate, flooding less Pearl River wetland and costing less money to construct. Both call for the inundation of wetlands and portions of LeFleur's Bluff State Park, including campgrounds and hiking trails at Mayes Lake.
Supporters of the smaller Lower Lake Plan met with the Control District April 29 to present an impact analysis of the more conservative plan, which the board approved last year. Advocates of the larger Two Lakes Plan will meet with the board this month.
The board, which now consists of Chairman Billy Orr, Pearl Mayor Jimmy Foster, Richland Mayor Mark Scarborough, Flowood Mayor Gary Rhoads, and Jackson business advocates Leland Speed, Socrates Garrett and Jimmy Heidel, stayed largely divided on the issue up until its 2008 vote supporting the Lower Lake Plan. Rankin County board members argue that the Two Lakes Plan is too expensive (the Army Corps of Engineers estimated costs up to $1.4 billion) and they lean toward expediency in maintaining flood control. Jackson representatives Garrett, Heidel and Speed favor the lakeside development touted in the Two Lakes Plan, however.
The Pearl River inundated a huge swath of Jackson and portions of Rankin County during the infamous 1979 Easter flood. Jackson suffered almost $200 million in damage that year, and critics warn that city mayors have continued to allow development within the flood plain, upping potential flood costs well over the $200 million mark.
Washington, D.C., consulting firm Economics Research Associates estimates the Lower Lake Plan to cost $605 million and expects the Army Corps of Engineers to provide $133 million for levee construction toward the project, with much of the rest coming from private, local and
state sources.
Two Lakes advocate John McGowan claims his project will only cost private investors $200 million, with the government pitching in $205 million for levees.
McGowan describes his Two Lakes Plan as more stable than the Lower Lake Plan: "A 200-year flood will only raise the surface of the lake about two feet, so you can have a home or business right down there on the water," he said. "The lake in this Lower Lake Plan is at such a shallow level that it's two feet below flood stage. ... It'll still have to be between two levees, so all that high-scale development they're talking about, all they'll ever be able to see are levees."
Garret said the new board could still go with either plan.
"None of us on the west side of the river were here on the board when that (2007) vote was taken. That's not, at this point, the preference of those of us who represent the Hinds County side," Garrett said. "We're trying to make sure that the plan we go with offers the maximum flood protection and the cost benefit as it relates to economic development."
The Two Lakes Plan involves flooding Pearl River wetlands "all the way back to the reservoir," McGowan said, which concerns naturalists who want to preserve Pearl River wetlands containing endangered species.
Byram resident Tom Pullen suggested that Lower Lake engineers consider lowering the lake's waterline by another three feet, which would preserve the campground and have the least impact on wetlands.
Waggoner Engineering employee Barry Royals said lowering the lake level would raise costs, however.
Environmental engineer Pleas McNeel said a complete levee system, meanwhile, is on hold until people stop fighting over which lake plan to adopt, and urged the board to get moving on something.
"For 13 years we've been looking at this," McNeel said. "… This is now the fourth study showing Two Lakes is either not economically or technically feasible. Each time McGowan has been able to convince the public to take another look, and at this point it's gone from the point of being a great idea to being obstructionist for flood control."