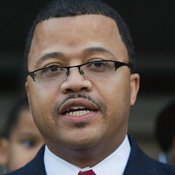 Also see: Full JFP City Election Coverage + Candidate Interviews
The recent Jackson Democratic mayoral primary eliminated more than a half-dozen candidates, leaving two candidates with seductive messages and strong name recognition.
Ward 6 Councilman Marshand Crisler and former Mayor Harvey Johnson Jr. kept almost perfect pace with one another as the primary returns came in. The final vote count showed Crisler earning 8,782 votes in the Democratic primary, while former Mayor Harvey Johnson Jr. garnered 8,964 votes, even though Crisler's numbers topped Johnson's.
As the city heads into the May 19 run-off between the two men—which will likely determine the next mayor—many people are trying to decide which man will be the steadier hand to help move the city forward. And many are trying to cull the reality from the rumor mill that always seems to go into overdrive days before important elections.
Crisler, The Military Mind
Crisler is a tough opponent. He is a 1986 Provine High School graduate, and is the son of two educators. He sidled casually into adulthood directly before the onset of what would become crack cocaine's big war with the city of Jackson in the 1990s, which marked a spike in the city's murder and property crime rate. Both issues would later affect his career tremendously. He went to Hinds Community College and majored in criminal justice for a while, but then took a sharp detour into the U.S. Marine Corps "to get more discipline," he said in a 2006 interview.
Crisler had originally wanted to go into the Air Force in 1987, but stomped angrily off into the Marine Corps after failing the Air Force test. He could have waited six months and taken the test again. His chances of passing it were actually quite high considering he was only five points away from the required score, but after the first letdown, he was disgruntled.
"I got bitter and took it out on the Air Force, instead of blaming myself, and went into the Marines," Crisler told the Jackson Free Press in 2006, adding that the Marines "make the Air Force look like a bunch of pansies."
He told his recruiter he "wasn't interested in going into anything but the infantry."
"I picked a winner for discipline," he later reflected.
Crisler was a Marine during the Persian Gulf War until 1992. Memorabilia from Crisler's military years papers the walls of his Council office, including a plaque recognizing his travels over the North Pole—or under it, depending on specifics. Crisler was honorably discharged from the U.S. Marines in 1992 and joined the Hinds County Sheriff's Department as a narcotics investigator. There, he routinely worked with the Mississippi Bureau of Narcotics, the DEA and the FBI in cross-agency law-enforcement partnerships.
Even while a deputy, Crisler enlisted in the Army National Guard and eventually serving 21 years in the armed forces.
Dodging a Bullet
Fresh out of the Marines, Crisler was only about 25 when he signed on with the Metro Narcotics Task Force in 1992, but the unit ran into controversy in 1993.
The mayoral candidate has spoken often of his April 1993 shooting—when he "took a bullet"—an incident for which his Web site says he received a meritorious award for valor for acts of courage and being shot in the line of duty. Hinds County Sheriff Malcolm McMillin, who had won the sheriff's seat in 1992, was considerably more clandestine about the incident back in 1993, however, and initially withheld Crisler's name from reporters as the deputy who was shot in the incident.
"He was doing undercover work, and I needed to protect his identity," McMillin told the Jackson Free Press.
A source familiar with the Metro Narcotics Task Force claims Crisler's unit had stormed Anthony Dixon's Metro Manor apartment on April 2, 1993, but it was "the wrong apartment" and contained no drugs. Dixon, according to reports, blasted Crisler in the chest with a jazzed-up .38 as he bounded through the door. The young deputy was wearing a bullet-proof vest at the time, which was not penetrated.
Former Hinds County Deputy Scott Turner, one of three law-enforcement officers serving on the task force alongside Crisler, later alerted authorities that members of the unit had planted evidence in cases, including Dixon's. WLBT recently reported that its archives contain a quote from Turner saying he had altered files on Dixon, wrongfully reporting that he had crack cocaine on his person at the time of his arrest.
"I stated the evidence was found in the defendant's right front pocket. The defendant in the case did not possess crack cocaine. All he did was shoot my partner in the chest," WLBT reported Turner saying of Dixon and his partner Crisler.
Authorities granted Turner immunity in the Dixon case so that he could weigh in on a separate April 23, 1993, incident involving the Metro Narcotics Task Force and Jackson resident Walter Lowe. The task force had responded to a tip that Lowe's home contained crack cocaine, although there may not have been enough on the premises to pose a solid enough case, according to Turner, who pled guilty in January 1994 of conspiring to violate Lowe's civil rights.
Turner worked with the FBI and the Civil Rights Division of the U.S. Department of Justice throughout their seven-month investigation of the Metro Narcotics Task Force. He admitted he falsified Lowe's arrest warrant, his affidavit and evidence tag, and went to prison in July 1994. But he got a lighter sentence in exchange for his testimony against a second task force member, Hinds County narcotics officer Danny Woods.
Turner told the court that Woods had a matchbox from Lowe's car lying on top of his desk and his desk drawer open. Woods had a knife and what looked to be chunks of crack cocaine and was "cutting pieces off it," according to Turner in a 1993 Clarion-Ledger story. Turner also testified that Woods told him to falsify the information in the Lowe case.
Woods, the former commander of the Hinds County drug unit, also got off light. A U.S. District Court jury convicted him of possessing crack in his office, but not for conspiracy to violate the rights of an arrested man and two counts of obstruction of justice. He served 12 months in federal prison.
Crisler, the third member of the task force, says he was not present when Woods allegedly tampered with evidence. A law-enforcement officer who was present, however, told the JFP that Crisler was one of seven people in the room at the time. The officer asked that his identity be withheld.
This week, Crisler denied that, however, saying he was not in the room because it was not his case. "We don't go together on all our operations. Whatever cases they were working, they were working. The only one in question with me was the one where I got shot. That was Turner's case. I just happened to be working on it. I happened to be the one going through the door," Crisler told the Jackson Free Press.
Crisler added that court records will show prosecutors did not think him involved enough in the scandal to ask him to testify. "No testimony, no indictment, no nothing. I didn't luck up. I was clean. When they look at the case report, and they find out you weren't there, then there's nothing they can ask you," Crisler said.
"It was a three-member team, and its (two) white members got convicted. I assure you, if the only black member of that team didn't get convicted, it can only mean that that black man had no trace of guilt."
Crisler has taken a leave of absence from the Hinds County Sheriff's Department to run for office. McMillin, who has endorsed him, said that he believed Crisler was not in the room based on court testimony.
"Marshand was not a part of that, and whoever this bitter ass is (who is making accusations) ought to come forth and say his name," McMillin said.
Crisler also served briefly in 1999 as Utica's first black police chief. He came on that January, but departed that same summer.
Moving On
The deputy moved into politics less than two years later. In 2001, he won the Ward 6 election against a white challenger—the first black councilman to represent that ward.
He came on as an eager, young politician and passionate speaker. He evokes the carefully timed sentence structure of a Sunday school Baptist preacher—the stirring kind who actually keeps you awake during service. When he really gets rolling, he sometimes punctuates his own statements with an inquiry, a type of mid-sentence test question: "When the lawyers come after the city for employing people who break the law, they'll come after—who?—the council that approved their pay, that's who."
Or, as he said in 2007 before a Battlefield meeting: "If you really want legislators to know that 40 percent of property in this city is untaxable because it's occupied by government and non-profits you have to—what?—go tell them about it, and do it in big numbers."
It's rare that a second-term councilman manages to grab the council's revered president seat, but Crisler won it with a majority vote prior to his 2003 Army Reserve marching orders. McLemore adopted the position in his absence. Crisler claims he and McLemore had a "gentlemen's agreement" that he would recover the seat after he got back from the Iraq War.
McLemore told the Jackson Free Press that he had no knowledge of the agreement, and a brief battle for the title ensued. Crisler forged a new alliance with freshman council members Charles Tillman and Frank Bluntson, along with McLemore's old nemesis (Ward 3 Councilman Kenneth Stokes), to achieve a majority in the presidential vote. McLemore claims the alliance was forged with the help of then-Mayor Frank Melton, who used Stokes, Tillman and Bluntson like puppets during his four years as mayor.
The vote that put Crisler back in the president's chair proved a rare vote against Crisler's traditional allies: Ward 7 Councilwoman Margaret Barrett-Simon, Ward 1 Councilman Ben Allen and McLemore. Then-Ward 1 Councilman Ben Allen shirked all committee assignments that year in protest. While not exactly a scorched-earth move, Crisler's tactic did leave the four-member voting bloc with a sting that lingered until the same bloc voted to make McLemore president in 2007. The pro-McLemore vote included Crisler this time, as well as Barrett-Simone, McLemore, naturally, and freshly minted Ward 1 Councilman Jeff Weill—who replaced Allen in a 2007 special election after Allen's lightning-quick retirement (for health reasons, he said then).
A Churning Bag of Nag
Crisler was one of the few voices of concern early in Melton's career of highly questionable moves, including his 2005 flurry of home and business raids. Melton had a habit of strapping on a fake police badge and cavorting around as a Jackson police officer, conducting unconstitutional raids in primarily minority-occupied sectors of the city. Crisler initially voiced no public complaints, though the sight of a badge-sporting Melton—who had never been trained in policing or graduated from a police academy—must have scratched at something fundamental in Crisler's cop soul. The mayor also used his influence to close down some of the city's nude dancing clubs, and Crisler fumed early on at the potential unconstitutional implications of the closures, and warned that the city was "toying with" the possibility of high-dollar lawsuits.
The councilman evolved an even more combative stance against what he viewed as the executive branch's incursions into the legislative branch of municipal government. Crisler was a news-cycle mainstay every year following 2005.
In 2006, when Melton tried to ban community access TV cameras from the council chamber, Crisler went on the warpath, joining a movement by the council's non-puppet members to cancel meetings to pay city bills until Melton came to his senses. The combative councilman also proved to be a serious opponent to Melton's disputed department head appointments, such as Melton's two-year attempt to seat interim fire Chief Todd Chandler, and tapping his swimming buddy Charles Melvin over Parks and Recreation.
Melton responded in both cases that he had no intention of picking another nominee to replace either of the two, and would let them linger as interim heads with department head pay. That was, until a majority of the council­­—including Crisler—approached the attorney general for an opinion shooting down the mayor's decision. Crisler was also one of the most persistent voices audibly protesting the administration's habit of obscuring the names of many contractors—many he \suspected to be friends of the mayor, and some with criminal records, to boot. Crisler also protested City Attorney Sarah O'Reilly-Evans' alleged defense of the administration's every decision, regardless of its absurdity.
O'Reilly-Evans offered more than one opinion favorable to Melton's agenda that was shot down by an attorney general's opinion. Once she even removed herself and subordinate city attorneys from council chambers at Melton's request, after the council demanded answers regarding the legitimacy of Melton's desire to create a whole new city division. After the city attorney walked out, Crisler and McLemore stoked arguments to pull financing from the city attorney's office until the administration hired an attorney to work exclusively with the council.
Crisler found himself on almost every media-saturated council decision opposing the mayor. He was, according to all observations, extremely consistent on that point.
The youngest councilman's antagonism extended to more subtle moves as well. O'Reilly-Evans deplored the Jackson Free Press, long a critic of Melton's tactics, and was particularly unresponsive to the paper's information requests after the paper reported in 2006 that O'Reilly-Evans' employment agreement allowed her to get paid twice for her work in preparing bond proposals—one salaried and one for billable hours up to 1 percent of the cost of any bond proposal. It's a valid contractual agreement, but one more often employed by small-town attorneys who are paid part-time, not full-time attorneys making $113,000 a year like O'Reilly-Evans.
The attorney saw the Jackson Free Press as an enemy early on, and when approached for quotes, O'Reilly-Evans often ignored Jackson Free Press reporters and avoided eye contact. If Crisler was conveniently walking by, however, the reporter could always ask him to ask her the same question. She'd glare for a moment, but then relent and answer a question posed by a representative of the municipal legislative branch of government—as the reporter smiled and took notes.
Crisler has racked up endorsements from leaders in the city's business community and got a ringing endorsement from his boss, Hinds County Sheriff Malcolm McMillin.
McMillin even surrendered his part-time post as the city's police chief because he planned to endorse Crisler over Melton, his boss, in the 2009 Democratic primary.
The Thing about Harvey
Ward 7 Councilwoman Margaret Barrett-Simon, who was not willing to make an endorsement for this story, said Crisler shares many characteristics with his opponent, Democratic mayoral candidate Harvey Johnson. Still, there are differences between the two.
"When I think of Marshand, I think of passion," Barrett-Simon told the Jackson Free Press. "When he first came on, it was clear that he was eager to learn the job and learned it pretty quick. Both of them are open and accessible. They share that. But Harvey is a planner by profession; he studies very carefully the issues and did a lot of work in the mayor's office that we're seeing today, the convention center complex being just one of those."
Johnson became the city's first black mayor after winning the 1997 election with about 70 percent of the vote. He defeated former Mayor Kane Ditto in the primary, then went on to stomp Republican Charlotte Reeves in the general election that year.
The former mayor's talent lies in scooping as much money out of federal coffers as possible. In fact, some of his allies claim he should wear a bandit's mask considering all the cash he pulled out of the Clinton and Bush administrations.
The Jackson State University projects planner enjoys pointing to developments around the downtown area as proof of his mayoral accomplishments. He takes pride in the scenic brick-laying of Farish Street as a sign of what can be accomplished through good planning, and points to the renovated Union Station, on Capitol and Mill streets. The station now holds the city's bus and train lines, and contains numerous office complexes, including the office of developer David Watkins, who is overseeing the re-development of the King Edward Hotel and the Standard Life Building, as well as Farish Street.
Earlier in his term, Johnson arranged for the temporary use of the Standard Life Building as headquarters for the Jackson Police Department, spurring a massive asbestos removal project and keeping the building viable until developers purchased the structure last year.
Johnson also grabbed federal money for the creation and expansion of the Jackson Metro Parkway, a winding corridor that connects Jackson State University with downtown Jackson. Johnson said he still plans to ultimately connect the corridor to Highway 18, in hopes of sparking investment in the vicinity of Jackson's aging Metrocenter Mall.
The former mayor claims to be the fastest shaker in the demolition and revitalization of neighborhoods throughout west Jackson, bragging that the city was on track with its program to tear down or rehabilitate 2,000 homes by the year 2000. He also boasts about renovating communities and streets, such as Westland Plaza redevelopment, (which now contains a McDade's grocery store) and a new neighborhood on Calhoun Street near JSU.
Above all, the former mayor pulled in cash for police work. The city made liberal use of federal COPS grant money to increase the city's police officer head count by about 100 officers during his two terms, and he brags of being the mayor who oversaw the most police academy graduating classes. His grant writers—money sponges themselves—worked with federal and state governments to pull cash for police gear, and he financed the in famous Mobile Command Center.
He also pulled down $1.3 million from the U.S. Department of Justice to help fund a Technical Operations Center in the Hinds County Emergency Center, adjoining the Eudora Welty Library. The center contains about 45 cameras trained on street intersections. When Melton came on, he padlocked the facility and transferred all employees associated with it. But in June 2007, Melton marched reporters back through the facility, bragging about it being the cornerstone of a new crime plan to counter the city's skyrocketing major crime rates, and praying nobody remembered Johnson lauding the facility during his administration. As it were, Johnson didn't laud it very heavily because he'd left office before it was completed. The room has the potential to hold more than 200 cameras, after all.
Melton beat down Johnson's attempt to take the mayor's office a third term, primarily because he championed himself as a frenzied crime-fighter. Melton's dynamism was indeed a striking contrast to Johnson's perceived plodding. Johnson was never able to convey the reality that major crime dipped considerably during his two terms as mayor.
FBI numbers show that the murder rate continued to drop between Johnson's eight years on the job. In 1995 the murder rate tallied at a total of 92 deaths. It steadily dropped from there. The second to lowest rate, in 2000, was 39. Johnson's final year in office, 2005, produced 38 murders, according to FBI statistics.
The murder rate under Melton, in contrast, crept up like a new millennium housing bubble. The murder rate for the city in 2007 was 51. In 2008, the city investigated 73 homicides, the highest since 1995. A 2008 report by FOX 40 broke the numbers down into an embarrassing chart explaining that Jackson, with its population of 175,000, averaged one murder for every 2,700 people. Mobile, Ala., in comparison, has a population of 191,000 and had 36 homicides in 2008, by November. The number, according to FOX, represents a 29 percent increase from a FOX 40 News study from four months earlier, but it still amounts to one murder for every 5,300 people in that city. Shreveport, La., with a population of approximately 200,000 and about 29 homicides by November 2008, averaged one murder for every 6,900 people.
FBI numbers also showed a marked decrease in violent crime, property and even vehicle theft between 1995 and 2007. Violent crime, which hit 2,667 incidences in 1995, continued to drop until its hit its lowest point of 1,225 in 2004. In 2006—a year that qualifies as belonging completely to the Melton administration—crime climbed up to 1,736 incidences.
The city has a habit of suffering a high bout of property crime, and 1995 was no exception. Property crime figures for that year tallied at 20,379 incidences. In 2004, near the end of Johnson's career, property crime logged in 12,270 incidences. Johnson could argue that his numbers lingered early into Melton's career, with 12,008 incidences in 2005, though the FBI registered the more familiar uptick in property crime by the end of Melton's first full year on the job—with 13,208 reported cases in 2006.
To be fair, Melton did manage to continue Johnson's trend of reducing the city's vehicle theft rate. In 1995, Jackson registered 2,078 vehicle thefts, dropping to 1,058 incidences in 2005. In 2007, however, the figure dropped even further to 902 incidences.
'Bad for Business'?
Despite his history with crime reduction, the rumor persists in the local blogosphere and watering holes that Johnson was, very generally, "bad for business." White voters, in particular, warn that Johnson is a lofty, aloof kind of city manager who complicated the process of vetting building permits, slowed development through his endless search for perfection and even locked some business people out of city contracts, possibly because of race.
The JFP has been able to pin none of these rumors to a real source willing to recount an actual example of Johnson's alleged behavior, even though one stalwart buzz suggests that the former mayor once told affluent Jackson developer Leland Speed that white people wouldn't be wielding the same undue influence over the predominately black city that they had in the past.
When asked last week if Johnson had ever said as much, Speed—a Crisler supporter who donated $2,000 to his campaign—would neither deny or confirm the rumor. He did praise the number of non-residential building permits the city had issued in 2007, under Mayor Melton.
"The city has exploded with development (since Johnson)," Speed said, pointing out that the city issued $29 million in non-residential building permits in 2006, but divvied out $257 million in non-residential building permits in 2007, an eight-fold increase.
Interim Deputy Director of Code Services Louis Armstrong said Speed's figures sounded accurate. "The city has experienced an explosion of growth, which manifests in the number of building permits we've issued," Armstrong said Monday.
Johnson said he believed the sharp growth in the value of building permits was likely considering all the development kicking in around the downtown area, and he was quick to claim partial responsibility for much of it.
"We've said all along that we planted the seeds for development in Jackson, and it's taken time for those seeds to sprout," Johnson said, explaining that part of those numbers include the development of the $82 million King Edward Hotel, a 186-room Hilton Garden Hotel with 64 apartments on the upper floors and parking for 187 vehicles. The high permit value also contains the $43 million Pinnacle, a nine-story, 194,000 square-foot office complex holding two prominent law firms, a bank and a realty company. Johnson said a 2004 study during his administration distinctly included planning for these two projects, among others.
"The other thing you need to look at is the average value of building permits during my administration," Johnson said. "We averaged about $100 million a year in building permits, and one year I think we even went up to $150 million.
Still, Johnson admits that the city initially haggled over the sale of the land that would contain the Pinnacle: "One of the things that held up the Pinnacle was that we were sure to get fair value for the land the Pinnacle was sitting on. We didn't want to just give that land away. We wanted to make sure the citizens of Jackson got their true value for that land."
The former mayor still denies any move to restrict white developers in the city, and points to developers like Mike Peters, Ted Duckworth, David Watkins and other personalities who factored heavily in the development of the Plaza Building, the King Edward and the $16 million Electric 308 Building—a 10-story 115,000-square-foot building begun in 2003 and completed in 2005.
"Our record for working with white developers and minority developers is very clear," Johnson said.
Johnson did increase minority participation in city contracts. In 1985, the city adopted a Minority Business Enterprise Program, which was designed to remedy the effects of past discrimination.
The program spawned another aimed to encourage contracts with minority-owned businesses and businesses owned by women. Initially, the minority-participation goal was 5 percent of all city contracts, relative to the overall city budget. That goal later increased to 15 percent.
The former mayor was a devout stickler for the goal and raised minority participation in city contracts to its highest proportion ever. Socrates Garrett, owner of Garrett Enterprises, prospered under city hauling contracts and by subcontracting with white-owned businesses contracting with the city. Johnson's strict adherence to the minority-participation clause also pushed white-owned businesses to subcontract with minority businesses.
In addition, Johnson worked with Equal Business Opportunity Director Tanya Ross who had the job of helping minority business owners get certified through city programs, and she offered advice to minority contractors looking to do business with the city.
Melton won over Johnson in 2005 with enormous support from Jackson's shrinking white community—and fired Ross early the following year.
Ross described the manner of her dismissal in 2006 as "humiliating."
"When they came to my office, they did it in a fashion that was so outrageous, it was dehumanizing, and it couldn't be kept private any longer," Ross told the Jackson Free Press in 2006, recounting that she was asked to resign, but refused.
Three days later, Marcus Ward, who was Melton's chief of staff, was at her desk with guards, waiting to escort her out of the Hood building.
Garrett, who supported Johnson over Melton, said at the time that Melton fired Ross because her services to minorities were no longer a value to the city.
"She was doing an excellent job, but when you're the director of a program that the mayor and the administration does not believe in, then how can you do a good job?" Garrett said.
Garrett found his own city contracts dismissed during the Melton administration. Melton even vetoed a council decision to select Garrett's newspaper, The Mississippi Link, as the carrier for legal ads, even though the council selected Garrett as the lowest bidder according to city guidelines.
Melton also vehemently opposed Garrett's 2007 management proposal for a $150 million bond, and threatened to pull his own re-nomination of Jackson Public School Board member Jonathan Larkin, according to council members, if Larkin did not vote with Melton's board allies in opposition to the Garrett contract.
The White Vote
Still, Johnson is not having an easy time selling himself to the city's white community. Primary night statistics show that white Jackson is coming out against him with the same fervor they opposed him with in 2005, and are trying to fill the Melton vacancy this year with Crisler. The 2009 Democratic primaries show the Jackson mayor's race appeared to fall along racial lines in many precincts. Crisler did well in the areas of the city containing a large white population, such as Ward 1, while Johnson picked up numbers in majority African American areas like Wards 4 and 5.
The final vote tally shows Crisler earning 8,782 votes in the Democratic primary, while Johnson garnered 8,964 votes, although Johnson garnered small to moderate majorities over Crisler in more precincts (Johnson claimed 50 precincts, while Crisler won 31).
Crisler rallied with incredible favor in majority-white precincts in northeast Jackson and in established white neighborhoods in Fondren and Belhaven, much as Melton did in 2005.
The councilman absolutely owned polling areas like St. Phillips Episcopal Church, on Old Canton Road in Northeast Jackson, with 453 votes over Johnson's paltry 50. The poll at Belhaven College also delivered for Crisler with 218 votes to Johnson's 63 tally. Black Democratic candidate Sen. John Horhn polled between Crisler and Johnson with about 120 votes at the Belhaven location, revealing a definite distaste for Johnson in white Jackson. Similar numbers in the white-dominated precinct at Fondren Presbyterian Church, also on Old Canton Road, allotted 188 votes for Crisler, but only 12 votes for Johnson. Horhn, by comparison, won 79 votes at that location.
Johnson said he is puzzled by what looks to be a sound rejection from the city's primarily white neighborhoods, although he said he suspected the divisions had as much to do with income level as race, pointing out that neighboring Ward 2—the second most influential ward behind Ward 1, supported him heavily in both the 2009 primary and in the 2005 election.
Ward 2 Councilman Leslie McLemore, who is serving as acting mayor since the death of Melton last week, reminded the Jackson Free Press, however, that Ward 2 is Johnson's home ward, and that Crisler also won his own primarily black Ward 6 in the May 5 primary with 30 percent of the vote.
Jackson resident Pete Blakeney said he was moving out of his Jackson home on Atkins Boulevard as soon as he could sell the house. Blakeney said he would support Crisler in the upcoming run-off as opposed to Johnson, because of what he believes is the former mayor's poor batting average with crime.
Blakeney could not speak on the FBI crime figures showing crime dropping dramatically under Johnson, noting that crime in his North Jackson neighborhood rose steadily over the last few years, under both Johnson and Melton, with numerous break-ins in his neighbors' houses and a few attempted burglaries of his own. "I didn't see any changes in crime while he was in office," Blakeney said.
Another Jackson resident, Paul Stevens, who resides in the 39211 area code that favored Johnson so poorly, said he would vote for Crisler in the run-off, primarily because of Crisler's law enforcement experience.
"Crisler has that background, and I think he'll know what to do," said Stevens, who is a Republican who participated in the Democratic primary. Stevens admitted that another Democratic mayoral candidate Robert Johnson was actually a Jackson police chief, but Stevens said he felt he knew Crisler better.
Oddly, Johnson would have fared just as poorly with Stevens were he squaring off against \Horhn, a black—and ferociously liberal—state senator who is proud to flaunt his GOP political report card score of "0."
"I think I would support Horhn over Johnson," Stevens said, even after acknowledging the degree of his and Horhn's divergent political beliefs. "Johnson just doesn't know what he is doing. At least he didn't while he was in office."
Johnson argued that, beyond his support for more minority participation in city contracts, the city's white community had no solid foundation for suspicion of him.
"A lot of hay has been made about my relationship with the white community, and it has all been inaccurate," he said, adding that he was still waiting for one contractor or potential contractor to put his or her real name to a complaint that the city was closed to whites.
"I think some folk … have a great deal of influence and want to make sure that they put out an inaccurate perception of me to put a chasm between me and the 39211 zip code, and some have been very effective in doing that," Johnson said.
The Candidates' Top 10 Individual Campaign Donors
Marshand Crisler
• Willie Bozeman, WB Consolidated, Terry, Miss.: $10,000
• Dudley Hughes, Hughes Oil Company: $10,000
• Larry Johnson, Landmark Homes: $10,000
• Charles Pickett, CP Development, Terry, Miss.: $7,500
• William Mounger: $5,500
• Dick Molpus: $5,200
• Leland Speed: $5,000
• Samuel L. Agnew, Environmental Technical Sales Inc., Baton Rouge: $5,000
• Wade Creekmore Jr., Ridgeland: $5,000
• James Creekmore: $5,000
Harvey Johnson Jr.
• Velma Johnson: $10,000
• Willie Wilson, Illinois business owner: $9,000
• Michael Matthews, consultant with LSG Strategies Services, of Washington: $5,000
• LSG Strategies Services: $4,305
• Richard Boykin, of Boykin & Associates, LLC: $3,000
• Ranjit Dhaliwal, Jackson business owner: $3,000
• Doug Dale, Jackson architect: $2,500
• Areeb Sadaat, Garrett Enterprises: $2,000
• John McKee, ABMB Engineers: $2,000
• George Schimmel, Jackson retired physician: $1,250
Notes: Quotes from Sheriff Malcolm McMillin about 1993 evidence-tampering incidents and why he did not initially reveal that Crisler was the officer shot in the Anthony Dixon controversy were added to this version, but do not appear in the print edition. McMillin returned calls today, after this issue went to print.
Previous Comments
ID

147348

Comment

Well McCrisler did not get shot, no bullet wound. They lied on a man saying he had drugs and they planted these drugs on this innocent man.

Author

Tony Davis

Date

2009-05-14T11:15:38-06:00
ID

147350

Comment

To clarify, we do not have evidence that Crisler was involved in the evidence tampering, and are not saying that he was. His partners were guilty, however.

Author

DonnaLadd

Date

2009-05-14T11:28:10-06:00
ID

147352

Comment

Par. 8 under "A Churning Bag of Nag" - the word should be "representative" not "reprehensive". A question about Sarah O'Reilly Evans' contract - did Crisler tell the other council members that he had read her contract and that it was ok before the council approved it? This was what a former high-ranking person in the Melton administration (who resigned early on) told me.

Author

Jennifer2

Date

2009-05-14T11:59:18-06:00
ID

147353

Comment

Thanks, Jennifer. We saw that in the print edition and had forgotten to change it. On it. As for Crisler having read the contract, I don't know that we know that (or it would be in here, I'd think). But I'll check with Adam. No matter how you look at it, that contact thing was a mess.

Author

DonnaLadd

Date

2009-05-14T12:04:14-06:00
ID

147354

Comment

Which ever way this election goes, I think it's a win win for Jackson. It's too bad we can't elect Crisler as Mayor and hire Johnson as city manager. That way both can put their strengths to work for our city.

Author

WMartin

Date

2009-05-14T12:07:21-06:00
ID

147355

Comment

You should be able to identify my source from my description.

Author

Jennifer2

Date

2009-05-14T12:12:59-06:00
ID

147356

Comment

Why crisler as Mayor and HJ as city manager, crisler hasn't shown that he can lead so please.

Author

NewJackson

Date

2009-05-14T12:21:42-06:00
ID

147357

Comment

Check, Jennifer.

Author

DonnaLadd

Date

2009-05-14T12:26:09-06:00
ID

147359

Comment

Have yall seen the crisler new ad hes sending through the mail, i thought crisler had class. It shows HJ as a turtle and says HJ was plodding, inefficient, and going nowhere. It states that HJ did not keep the city budget under control, blamed him for skyrocketing property taxes and implies that HJ made jackson families unsafe. Straight out of the republican playbook scare the people. Crisler as a resident of Ward six what have you done in the last eight years, im going to the debate tonight and crisler since you are hiding behing your supporters i will see you face to face and ask you about your record in the "great" ward six.

Author

NewJackson

Date

2009-05-14T13:05:21-06:00
ID

147361

Comment

In baseball if you are hit in your helmet with a pitch, you are still "hit by pitch." It's not like it doesn't count just because it didn't crack your skull open. Anyone here willing to don a bulletproof vest and be shot at fairly close range, please stand up. Oh, and you have to be willing to say you were not shot after it happens! I have to agree with McMillin on this one, if the anonymous police source is not willing to come forward then this is nothing but fodder, akin to those that used to challenge Johnson's crime stats as being false without any willingness to go to the FBI. In fairness to the O'Reilly-Evans contract question, the president of the council or any other council member is not absent of guilt if they themselves relied on another council member to say they read a document/contract for a yes vote. This is especially true if they didn't bother to read it themselves. In this case, it has been well speculated (i believe reported/rumored on in this paper and on talk radio) that the contract that was given to the council and the one that was ultimately signed were two different documents. Given that it involved O'Reilly-Evans, Melton, and Walker the latter argument is probably closer to the truth than we will ever know. But, in this case it is only right to blame all the council members for her contract and the problems it caused. By only trying to tie it to Crisler is typical political BS at this stage of the game. And though that mailing sounds like it is a bit heavy (as if this isn't an election... duh), the turtle moniker is something that Johnson earned many years ago from other opponents. Also, the City budget was on track to have a shortfall. Many of the things Melton enacted to curb the shortfall (higher fees, etc.) were planned prior to the '05 election by the Johnson administration. I'm not saying the budget was "out of control" but it was not in the best shape either. What I think an important issue to discuss is that our police department has a 40%+ ratio of citizen work force to police. That is way higher than the Southeast average of 20-25%. That ratio was created under the Johnson years. Crisler proposes to cut the civilian force down to respectable averages so that the savings from that alone will put upwards of 80 police officers on the street with more pay and without raising taxes or budget constraints. Y'all have been asking for issues well here is one. And it is actually an issue with a plan and answer. I'm open to hearing of more from both sides. One thing I think we can all agree on is that Jackson is in far better shape today, and going forward, than is was the day of the election; no matter who wins.

Author

Birdseye

Date

2009-05-14T13:47:19-06:00
ID

147362

Comment

This is an interesting read on Harvey Johnson's racially polarizing 1998 race which helped him to victory.

Author

QB

Date

2009-05-14T13:51:18-06:00
ID

147363

Comment

NewJackson, I think it would be a way to utilize the strengths of both men. Crisler's passion and Johnson's planning. I was just thinking "out loud" so to speak since it ain't gonna happen. Maybe we can clone a gene spliced version of both to produce the Super Mayor "Johnsler". Who would be passionate, organized and bulletproof.

Author

WMartin

Date

2009-05-14T14:30:21-06:00
ID

147364

Comment

I think the turtle metaphor is a little dumb and could be counter-productive, hasn't everyone learned that slow and steady wins the race? It was the first thing I thought of when I read about it.

Author

WMartin

Date

2009-05-14T14:49:12-06:00
ID

147366

Comment

In fairness to the O'Reilly-Evans contract question, the president of the council or any other council member is not absent of guilt if they themselves relied on another council member to say they read a document/contract for a yes vote. This is especially true if they didn't bother to read it themselves. In this case, it has been well speculated (i believe reported/rumored on in this paper and on talk radio) that the contract that was given to the council and the one that was ultimately signed were two different documents. This is how rumors start, Birdseye. The JFP has never said (to my knowledge) that the contract was switched. As a matter of fact, here's one of our quotes from a recent story: At least four council members claim they did not recall reading that portion of her employment agreement, which was less than four pages. "The majority of us, after really looking closely at this contract, find it shocking that we didn't see some of what was included there, and it's been a tough one for us," Councilwoman Margaret Barrett-Simon told the Jackson Free Press in a 2007 interview. I guess anyone can read something into that statement that isn't actually there, but it sure doesn't say what you're accusing us of saying. As for budget shortfalls, I don't know how you do your budget, but for those of us living on tight ones, shortfalls are all too common. The fact that Johnson put changes into the pipeline to solve the shortfall says to me that he was on top of it, not behind the curve. What am I missing? Also, regarding the police to citizen work force ratio, can you provide more info/citations? I wasn't able to find recent numbers (including the Southwest average you cited). It does seem, though that the ratio in 2000 (63% sworn officers) was about the same as Hattiesburg and Greenville police departments (see Bureau of Justice stats). Also, do those figures include all employees, full- and part-time, and what's the breakdown?

Author

Ronni_Mott

Date

2009-05-14T15:18:18-06:00
ID

147369

Comment

The reason why you don't know these new figures and the issue is because you haven't been to every forum and speech. Your own editor said she hadn't seen any crisler commercials either. Not that that issue was in one; but, it goes to show that the JFP doesn't know every little detail around the campaigns. The police ratio was initially cited and researched by Jeff Weill. It is an issue that Crisler has embraced and mentioned out and about on campaign stumps. Maybe you will hear about it tonight? It sounds like you guys didn't ask for specifics on how the candidates would pay for more officers since they both want more. Please post if you have any specifics. You are not using a good comparison with Hattisburg and Greenville. I'm sure you didn't mean Greenville, SC (83%)! Try cities like Shreveport, Mobile, Knoxville, etc. Also, your study is based on a study published in 2004 based on 2000 numbers. That's almost ten years old! I may be mistaken, but I believe Weill's study is based off his own hard work and today's numbers in comparison to cities roughly our size. Now if you want to add up every city in the SE from that study go for it. Or you can call Weill. Who ever the mayor is I know he will be pushing for it. Let's hope Johnson is if elected? But, I do trust the numbers as stated by Weill and Crisler. Especially in light of the fact that in 2000 we were approaching 40% civilian. That is way to much no matter how you want to spin it. As far as the budget issue, I think you should find out what all he was on top of before comparing it to our family budgets - of which I too have a limited one. Hope you weren't trying to imply that I'm some rich cat. I can't imagine you were trying to take a dig at me? Obvioulsy if he had the budget in total control then there wouldn't have been a need to raise taxes and he could have found the money for raises. But, we will never know. Sounds like you are speculating. The Melton administration claims the budget was in shambles. Granted I don't take their word for much; but, I don't doubt there is a part of that which is true. And on the contract, it may not have been written that it was switched; but, yes plenty of people can read into the statements made by Ms Barrett and on talk radio and speculate that it could have been switched. Other similar statements were made prior to the school bond issue when it began to come to light she was getting bonus money. Considering her actions the last four years, the recent bond swap she cashed in on, and those of her husband I wouldn't put anything past them. Melton was out on drunken raids, Sara had the keys to the kingdom.

Author

Birdseye

Date

2009-05-14T16:15:16-06:00
ID

147370

Comment

There is no evidence that it was switched, Birdseye, not that we've been provided. Otherwise, I really don't think my low TV viewership says a whole lot about anything when it comes to mayoral issues. If you hadn't noticed, TV commercials are basically useless, at least when it comes to educating people about really matters to the community. All of 'em. They are never a big concern to me. I gotta fly. Will read other stuff closer later.

Author

DonnaLadd

Date

2009-05-14T16:31:56-06:00
ID

147372

Comment

I have asked all my Union Brothers and Sisters to do as I have and endorse, support, work for and get out the vote for Harvey Johnson. Crisler has no leadership but he has plenty of lies to tell you for a vote? I took a bullet for you so what! I took a laxative, how does that help me be Mayor of the City of Jackson? Crisler intelligence break in the wrong house his so call partner planted drugs and the Sheriff covered it up. Didn't Crisler violate that man civil rights? Isn't that breaking and entering of an occupied dwelling? Isn't being in the present and having knowledge of a illegal act and to cover up that illegal act considered conspiracy? Crisler is nothing more than alot of mouth with no direction. Harvey is the REAL DEAL! Vote Harvey Johnson Mayor.

Author

Tony Davis

Date

2009-05-14T17:17:59-06:00
ID

147373

Comment

Birdseye, you're correct that I haven't been to every forum and speech. I never claimed I had been, and I don't watch any TV, so I haven't seen the ads, either. I have read reports about most of the forums. The JFP has also never claimed to "know every little detail around the campaigns." We spoke to the candidates at length about both the police department and the budget, among other topics, and our reporters have attended and reported on numerous events. I asked you a fair questions about the police department numbers based on what you said and a quick Internet search. Your tactic of insulting me instead of providing the data requested is, well, a bit juvenile. If you don't know, that's fine. There's no need to get personal. You claim that "approaching 40% civilian" in the police department is "way too much," but you provide no backup for the claim other than Crisler's and Weill's say so and that you trust them. Well they may be right (I didn't imply that they were wrong before), but it's not evidence. I asked you where the numbers came from. Nothing personal, but I don't trust anyone's numbers until I see them for myself; statistics are ridiculously easy to manipulate. The most up-to-date DOJ report on local police departments--which doesn't give a breakdown by city or state--is from 2003, by the way. And no offense to Mr. Weill, who seems to be a pretty good guy, but I'm betting he didn't do his own counting. I'll ask him when I request to see his report. And no, I wasn't taking a dig at you regarding the budget issue. I don't know you and can only speak for myself. I just don't think it's as simple or as "obvious" as you make it out to be. You did say that the changes Melton enacted were put into place before he was in office (i.e. "in the pipeline"). At my age, I know that control is pretty much an illusion. And "total" control? Ain't happening. Especially when it comes to cash, there are always way too many variables, and most of them can't be planned for. As an aside, why do you think cutting 15 to 20 percent of the civilians and adding to the unemployment rolls is a good solution for getting more police? It sounds to me like an over-simplified "rob Peter to pay Paul solution," not sound planning. As for the Melton administration's saying the budget was a shambles, well, I'll just leave that one alone. Suffice to say that that isn't evidence either. I can't stop you from reading into words things that are not there, Birdseye, but it doesn't do a thing for your credibility. I'm not a fan of SORE, but she is excellent at covering her, um, tracks.

Author

Ronni_Mott

Date

2009-05-14T17:56:02-06:00
ID

147377

Comment

Having worked as a civilian in the police field for the last 15yrs, I will be the first to say police can not operate effectively without civilians. I am not a numbers person and don't profess to know everything, but what I do know is both civilian and police are equally needed to have an effective department. I agree with Ronni, in today's economy firing civilians is not the answer. In the long run it will increase crime and cause things to become worse, not better. Who is the first line of communication for citizens? The 911 operator, who by the way is a civilian. When your house is on fire, you don't call the fire station, you call dispatch. Getting numbers and comparing figures at the end of the day still needs to be at the best interest of the people of Jackson. I feel that Harvey Johnson is a more level headed genuine person, in all the debates I have watched his opponent just seems arrogant and hotheaded. Jackson needs a still quite voice not a loud raging bull. It is probably going to take the next 8yrs to get us out of all the legal trouble from the past administration.

Author

classy

Date

2009-05-14T20:58:55-06:00
ID

147502

Comment

Being that this story discuss Crisler's law-enforcement histories (and explains the circumstances of his "taking a bullet"), I'll add here that the Jackson police union is endorsing Harvey Johnson Monday at 12:15 at City Hall. It will be intriguing to hear their reasons, I'm guessing.

Author

DonnaLadd

Date

2009-05-17T09:34:29-06:00
ID

147508

Comment

According to Othor, Jackson police officers weren't thrilled with McMillin. This is what Othor says on his own blog: "I am friends with way too many cops most of whom will not vote for Crisler on Tuesday because they don't want McMillin involved in law enforcement in any way shape form or fashion in Jackson….PERIOD!!!" I heard the same thing from one of the former mayoral candidates.

Author

Jennifer2

Date

2009-05-17T09:57:59-06:00