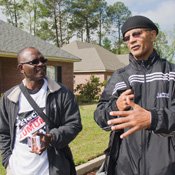 See: Full JFP City Election Coverage
With the madness of the Democratic primary behind them, eight candidates will compete in the May 19 run-off elections for City Council. The remaining contenders boast strong personalities and varied backgrounds.
Ward 2
Wydett Hawkins has worn many hats in Jackson—teacher, journalist, community organizer, developer. One of the first black television journalists in Jackson, Hawkins is well-known in Ward 2 for business ventures like the Wascotown coin laundromats and his instrumental role in organizing homeowners associations in Woodlea and Woodhaven.
Lake Hico has figured prominently in his campaign, both its past and future. In 1972, Hawkins organized the reopening of the 13.5-acre Lake Hico Park, which had been closed to blacks. That effort was a cooperation between the Hinds County Board of Supervisors, the mayor's office and the newly formed Lake Hico Park Homeowners Association, he said. Hawkins wants to apply that same cooperative spirit to reopening Lake Hico itself, which he says would be an economic boost to Ward 2 and the entire city.
"We have acreage out here that could produce a billion dollars over a period of 15 years," Hawkins said. With development around the lake, many of Northwest Jackson's other ills, like crime, will decrease, he adds. "Anytime you start beautifying something, the Devil's going to run," Hawkins said.
While reopening the lake would be a challenge, Hawkins says that his background in business makes him uniquely qualified for the task. He hopes his candidacy will bring attention to the area's potential for development.
"If I jump out here and run, people sometimes follow me," he said.
Lake Hico is not Hawkins' sole concern or his only answer to Jackson's problems, though. To address Northwest Jackson's chronic street and drainage problems, he wants to scour the city's budget for unused funds before looking to aid from the stimulus package and
federal grants.
Chokwe Lumumba moved to Jackson from Michigan in 1988, and has built a reputation here as an outspoken civil-rights lawyer and community activist. He has sparred with the city and the late Mayor Frank Melton by representing Tonarri Moore, manager of the Upper Level nightclub, which Melton raided in 2006 and sought to close as a public nuisance.
Lumumba's activist career has seen him organizing in the '90s for the election of a black mayor in Jackson and the re-trial of Medgar Evers' murderer, as well as coordinating disaster-relief efforts after Hurricane Katrina.
Lumumba gained professional notoriety in 2004 for arguing with a Leake County Circuit Court judge at the end of a case. Lumumba's comments—which included accusations that the judge had handled the trial unfairly and an offer to pay for justice—earned him a six-month suspension from the bar by the Mississippi Supreme Court. Justices re-instated him in 2007 by an 8-1 vote.
Lumumba stands by his defiance, saying that he was opposing injustice.
"Don't choose me because you think I will accept anything, anytime," Lumumba said at an April 18 rally.
Lumumba's platform calls for economic development that gives priority to Jackson-based businesses and for greater transparency and accountability in city government through a regular "People's Assembly."
While not shying away from his political stances, Lumumba has softened his rhetoric and highlighted some of the less confrontational parts of his resume. He mentions his work as the founder of the Jackson Panthers youth basketball program more than his 1984 founding of the black nationalist New Afrikan People's Organization.
"I've been playing it cool; I've been running a cool campaign," Lumumba told supporters April 18. "Sometimes I don't even say, 'Free the land.'"
Ward 4
Incumbent Frank Bluntson, the former director of the Hinds County Youth Detention Center during the 1990s scandals there, toppled then-incumbent Bo Brown in a close race in 2005. On council, Bluntson has been a loyal, sometimes-truculent defender of the mayor's proposals, such as the failed summer youth jobs program and the saggy-pants ordinance, often interrupting other council members with his retorts. At candidate forums before this year's Democratic primary, he found himself defending that record against challengers who called him a "rubber stamp" for the mayor.
"A councilman cannot do administrative work," Bluntson said at an April 9 forum. "You have to have help from four other councilmen, and then you have to get the mayor to sign off on it."
Bluntson presents himself as a humble citizen, serving "at the will of the folks." He maintains a strong presence in his ward through his annual Christmas food drive, his weekly radio show, "Straight Talk," and his work as a youth
sports referee.
Bluntson's tenure as director of the Youth Detention Center was marred by allegations of corruption and sexual abuse that surfaced in 1992. Jackson Police Chief Jimmy Wilson removed Bluntson as director in 1993. Then-District Attorney Ed Peters did not pursue charges against Bluntson and actually hired him as an investigator.
Insurance agent Bo Brown represented Ward 4 for two terms from 1997 to 2005. He argues that his past experience on the council, along with his time in the political wilderness, makes him the best man for Ward 4. This time around, his campaign is centered on the idea of redemption, he says.
"Sometimes you can't see the forest for the trees," Brown said. "I've been outside the forest. And I can see the problems."
Chief among those problems is that city government is unresponsive, Brown says. He promises to be more in touch with the needs of citizens and support transparency measures like the citywide Youth Council begun under Harvey Johnson's administration.
City leaders are also not responding to Jackson's potential for a renaissance, he claims. He wants to see the council drop its "small-town mentality" and adopt a more business-oriented approach to serving Jackson. Brown encourages city leaders to think of citizens as tax-paying customers and themselves as service providers.
"Just think how powerful that would be if everyone adopted that attitude," Brown said.
Ward 5
A biology teacher at Lanier High School, Bettye Dagner-Cook held the Ward 5 seat from 2001 to 2005. A Jackson native, she believes that a council member's chief responsibilities are careful study and frequent communication with constituents. Early in her term, she requested that the city separate its claims and payroll dockets to facilitate the council's scrutiny of city spending, a practice that most cities follow.
"People can hide things in the claims docket," Dagner-Cook said. "But you don't want to hold up the payroll just because you don't want to vote on the claims docket."
Some of her other achievements on council were politically unpopular at first, Dagner-Cook says. When she sponsored an early version of a smoking ban for restaurants, she had to weather significant opposition from city restaurant owners. That ordinance, along with another that prohibited homeowners from parking cars in their yards, showed her that unpopular positions can gain acceptance over time, she says.
Dagner-Cook cites her opposition to Jackson State University's quick-take eminent domain effort in 2008 as another example of serving the public interest. When JSU attempted to push a bill through the state Legislature that would have allowed the redevelopment of 50 acres through an accelerated eminent domain process, Dagner-Cook pressured Jackson legislators to kill the bill.
Looking forward, Dagner-Cook would like to see city police transition to more community policing. To maintain its roads, the city must solicit help from the state, she says.
"The burden of getting the infrastructure fixed in Jackson should not be on the residents of Jackson," she said. "We're not the only ones who have torn up our streets."
Jackson is poised for significant advances, she believes, and Ward 5 is well placed to take advantage of them.
"Ward 5 is the gateway to downtown," Dagner-Cook said. "Ward 5 is in a position to be transformed along with downtown Jackson."
Incumbent Charles Tillman, a retired school principal, defeated Dagner-Cook for the Ward 5 seat in 2005. On council, he frequently voted alongside Frank Bluntson and Kenneth Stokes in a pro-mayor bloc. While his support for Mayor Melton sometimes drew criticism, the mild-mannered Tillman defended his record as the way to forge a working relationship with city administration.
"Council members can't do anything," Tillman said at an April 21 forum. "We don't work for the city. The mayor and his administration run the city. We have to go through them for everything that's done."
Tillman cites recent housing developments, such as the Bon Air Housing Project that the mayor also championed, as some of his greatest achievements this term. If given another four years, Tillman would like to focus more on education and crime prevention. Ward 5 is facing some key decisions in its future, such as zoning issues, and a better education system will help citizens make those decisions responsibly, he says.
"If you've got a well-versed, well-educated constituency, they can handle the ward's business better," Tillman said.
Ward 6
The former director of code enforcement for the city's Community Improvement Division, Joe Lewis left his city job in March to campaign full time. Lewis, who earned 20 percent of the vote in the Ward 6 primary, casts himself as a savvy insider who can tweak the city's budget to his ward's budget. In candidate forums he has stressed the importance of beautifying neighborhoods and fighting crime in South Jackson to attract any future economic development.
"On Highway 18, they called code enforcement in," Lewis said at an April 23 forum. "People wanted us to clean it up; the result was Lowe's (Home Improvement). Wingfield Place Apartments went on the ground; now they're redeveloping."
Lewis carries a whiff of scandal with him, stemming from allegations that he made sexual advances on three different women while serving as a Hinds County Justice Court judge from the late 1990s to 2005. In its 5-3 decision to remove Lewis from that post, the Mississippi Supreme Court ruled that Lewis had improper contact with parties in lawsuits he was hearing and that he had in fact made improper sexual advances. Lewis denied making any advances. In the dissenting opinion, Justice James Graves argued that evidence of Lewis' impropriety was far from conclusive and that his ex parte conversations merited only a 30-day suspension.
Lewis' removal was not his first punishment, though. In 2001, the Supreme Court reprimanded him for conversations he had outside of court with Alcoholic Beverage Control agents who were also involved in Justice Court cases. In 2002, Lewis received another reprimand when he kept a gun after seizing it from a defendant for hunting violations and allowing him to plead to a lesser charge.
Lewis' history did not seem to bother Melton, however, who plucked Lewis from a position as a code enforcement officer to lead the unit in 2006. Lewis proudly notes that city Code Enforcement tore down 710 buildings in two years under his watch, despite being hamstrung by an inefficient budget.
"
Funding is the entire key—knowing where the money needs to be," he said on April 23.
While Lewis promises competence within the limits of a councilman's abilities, Tony Yarber is setting his sights higher. The Marshall Elementary School principal has centered his campaign on "restoring values" to South Jackson, a lofty goal that he says is not only attainable but also the mark of a good leader.
"We assume that council folk only sit up, vote and approve appointees, when it is so much bigger than that," Yarber said.
"Any smart leader tries to do more than develop reactionary plans. If we want to talk about fighting crime and restoring the community, then we've got to start with where the ill really is. The symptom is crime, and the fact that people have moved away and businesses aren't here. But the reason why is people don't value hard work."
A Jackson native and graduate of Forest Hill High School, Yarber rose quickly to administrative positions in the Hinds County School District after three years as a classroom teacher. He took over at Marshall in 2007. By forging ties with community leaders and empowering communities to form new neighborhood associations, he hopes to make the restoration of values a collective effort.
"I'm not foolish enough to do this myself," Yarber said.
Many of Yarber's campaign proposals center around cooperation, like his idea for a "Rites of Passage" program that would coordinate mentoring programs run by several nonprofits. He sees a City Council seat as an opportunity to give those initiatives some official approval.
"The council seat gives you a platform," Yarber said. "It gives me the opportunity to give some sanctioning or some authority to the neighborhood associations, to give them voice in such a way that they're not just left out there hanging."