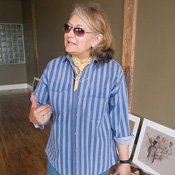 Standing in a studio in the Dickies Building where machines used to hum making overalls, P. Sanders McNeal pores over a single card table with her drawings. Pastel images of judges, jurors and an older, average-looking man pop against the beige paper.
Fifteen years ago, ABC asked McNeal to draw at Byron De La Beckwith's trial for the murder of Medgar Evers. From the balcony of the courtroom, McNeal captured moments that cameras were not allowed to see, including Beckwith in his red coat. At the end of the trial, Beckwith wore the bold color, telling McNeal that, "I want everyone to know it was me." The jury convicted De La Beckwith when he was wearing that red jacket; at his sentencing, McNeal said, he wore gray.
Although the sketches are now matted, their appearance hasn't changed much. After being in the care of the artist for 15 years, eight of the original drawings are going on display at Bryant Galleries May 13. Afterward, the drawings will be donated to the University of Mississippi with a formal ceremony in July.
What brought you to do court drawings?
That (Beckwith trial) was my first one. I had been asked by the ABC affiliate here (in Jackson). I really had never done anything like this. I'm a fine artist, a studio artist, so I'm very prepared when I do a painting. This, I was totally unprepared for. What I did is I said, "Give me a week to think about this." I had a studio above Hal & Mal's, so I went to Hal & Mal's and I would try drawing people as they ate, just so I could see if I could get something while they were moving. I'm used to posing somebody and taking my time, so I found I really kind of enjoyed it.
How do you go about drawing as a courtroom artist?
I'm sure you had to change techniques to get the image fast. I had to develop a technique for getting the image and getting it quick. I didn't want them to look cartoon-y, but when you use pastel, you can easily get there quickly. I took a sanguine pastel, or new pastel, and I would do a quick gesture. Then I would come back over and lay in some pastel, and I would use the charcoal pencil to finish it off to get the characteristics 
of a person.
I heard you sat next to Willie Morris (who was working on his book "The Ghosts of Medgar Evers") during the trial. What was it like sitting next to such a Mississippi icon?
Oh, we had a grand time. He was so interesting, and he was so interested in the trial. … I never knew him so much as in this capacity. I had heard him read; we talked because he would come over to Hal & Mal's. But this was on a different level. 
He was great.
Why did you decide to display the 
drawings now?
I had kept them all these years. I had talked to a couple museums because I felt like they needed to be kept. They needed to be re-matted, under glass and preserved. When I got them out, I looked and thought, "This is a story board. This is the story of the trial." Since there were no photographs of the trial—you couldn't do that—I felt like people needed to see this 
historical moment.
What do you hope this exhibit will say to viewers?
As I do with any of my paintings, I want you to see the moment in time I saw. I hope, and I know these are very quick renderings, but I do hope you get a sense of being there. By seeing it as a collection, rather than individual drawings, you will see the story of bringing this man to justice. You can't ever right the wrong, but you can bring—and I hate this word—closure. It's not what I see happening here. What I see happening is an ability to talk about it. You can say this and talk about it and find out where this is going, and this may never happen again.
Five artists who have influenced McNeal's work are:
• Thalia Mara
• Daniel Green
• Richard Schmid
• Edgar Degas
• Francisco Goya
P. Sanders McNeal's sketches from the Byron De La Beckwith Trial will be on display at Bryant Galleries (3010 Lakeland Cove, Suite A, Flowood) through June 12. Join McNeal and Clarion-Ledger reporter Jerry Mitchell for a reception at the gallery May 14 at
6 p.m. Call 601-932-5099 for more info.