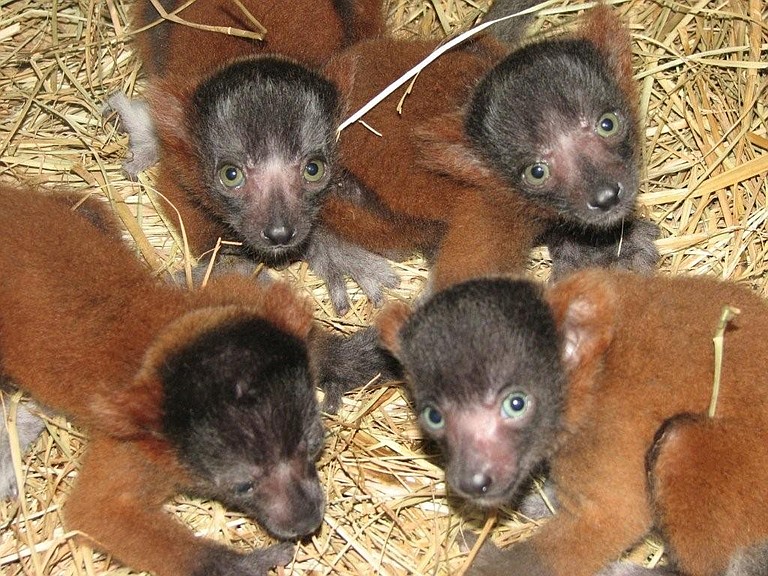 Meet Mort, Levi, Eli and Junior, four Red Ruffed Lemurs born at the Jackson Zoo April 19. They've been indoors with their mom, Moon, since their birth, but made their public debut last Sunday, Mother's Day.
"It's always great to announce a birth at the Jackson Zoo – not to mention four at once!" said Zoo Director Beth Poff in a release. "The animal care staff has worked so hard to make sure mom and the little ones are doing well and have everything they need. It's so satisfying to see these little ones emerge with mom, healthy and active."
Found exclusively on the Masoala Peninsula on the coast of Madagascar, Red Ruffed Lemurs are an endangered species. Moon, lemur daddy Pete and their offspring are participants in an Association of Zoos and Aquariums' Species Survival Plan. The SSP recommended breeding Moon, owned by the Duke Primate Center, and Pete, and eventually, their babies will be part of the breeding program.
Red Ruffed Lemurs live in the dense tropical rainforest and spend most of their time in the upper canopy, according to the Zoo. They are characterized by a striking dark red, black and white fur pattern. They have a prominent muzzle, short facial hair and a long, bushy tail.
Previous Comments
ID

147266

Comment

It was nice to see Marshand Crisler at the ZooBrew. Glad to see the Zoo has a friend in the mayor's race.

Author

QB

Date

2009-05-12T10:03:32-06:00
ID

147267

Comment

they are cute little buggers...

Author

ellen

Date

2009-05-12T10:07:50-06:00
ID

147268

Comment

So cute!! I need to get back out there to see them and the penguins!

Author

andi

Date

2009-05-12T10:31:07-06:00
ID

147278

Comment

Lemurs are such amazing creatures. I watched the kind with the striped tails at the Oakland Zoo, and they have amazingly intelligent eyes and human postures. One was slouching like a little old man.

Author

melia.dicker

Date

2009-05-12T15:36:48-06:00
ID

147279

Comment

They are also delicious! :-)

Author

WMartin

Date

2009-05-12T16:00:57-06:00
ID

147281

Comment

Forget not the fossa, a rapacious gobbler of lemurs. Its scientific name is Cryptoprocta ferox, the genus name of which translates roughly to obscure anus. These creatures have a pouch that covers their rectum, the evolutionary purpose of which remains elusive.

Author

Brian C Johnson

Date

2009-05-12T19:41:56-06:00