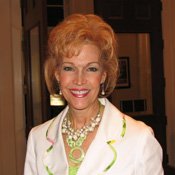 Jackson resident Charlotte Reeves prides herself on being a longtime Jackson resident. Her continuing involvement with the city mirrors her willingness to involve herself in its politics.
Reeves, who has long sought the mayor's office, ran as a Republican candidate in the last few elections, but is running as an independent this time around. She argues that party politics has no place in local government, where constitutional issues are not decided.
How long have you been a Jackson resident?
All my life. I was born here, raised here. Born in South Jackson and moved up a little bit closer. I'm deep in the city area now. A lot of people assume I live in Belhaven or Fondren, but no, I'm right here by Jackson State University, on Hooker Street.
Seriously? I didn't know that.
Yes, I live on Hooker Street, between Terry Road and Gallatin (Street). I've been at that location for over 25 years, and I have a reason for being there. I never want to lose focus on what's happening in Jackson.
You watched your neighbors pack up and move over the last few decades, ever since the 1970s. What kept you from leaving, too?
I was very upset back in the 1970s, when that first person started moving out of Jackson, because they did not like the change taking place. I told them that what they were doing was not going to work. "You have to stay here," I said, even as they continued the great exodus out of Jackson. If you don't like the neighbors and how they're keeping the yard, then you have to take it upon yourself to talk with them and coach them to keep up a nice neighborhood.
Ultimately, I said, "No, nobody's going to run me out." I've tried to tell everyone that they cannot run away from their problems. If they run to North Jackson, or even Madison or Rankin County, the crime will only follow you. You've got to plant your feet, stand right there and nip it in the bud or it's going to grow, and grow and grow.
What kind of change do you want to bring to the office?
We need someone who's not going to play political games. I don't put up with foolishness and nonsense. I want to get in there and get the job done.
What's the experience you bring to the job?
I have my own business. My husband and I started a pallet-recycling business about 17 years ago. We wanted to do something to not only help our environment but help local people find jobs. So many people focus on high tech, but there are people out there who are not high-tech people. And when we recycle pallets, we save about 50,000 trees a year—that's just our company.
What's the price of a recycled pallet compared to a new one?
About half the price of a new pallet. We started this back before green became popular. With our help and encouragement we convinced a lot of large businesses that we would help them save a lot on their bottom line as well as helping the environment.
How's the business doing these days with the city's continuing war on the pallet company?
It's terrible. It's cost us so much. The bad publicity and the untrue things the city said about us was hurting our business even before the bad economy hurt everybody. You see, we sell pallets to the food industry, and when you start saying negative things about the business regarding health issues, you feel an impact. We've provided document after document showing that these claims by the city were untrue, but they kept on and kept on and we lost business. In fact, two weeks ago we called a customer we had not heard from in a while and they said, "We thought you'd gone out of business." A competitor comes in, and you've lost a contract.
How much have you lost?
We've lost maybe eight to 10 buyers. We started out with about 50. People say, "Why don't you leave Jackson?" and I say, "I'm not leaving." Any controversy that comes my way, I'll handle the same way as mayor. I can work under duress.
What do neighborhoods need to stay viable?
They need neighborhood associations. It brings neighbors together. When neighbors know one another they know why a neighbor's yard hasn't been cut in forever. They know that they're probably sick, or their lawnmower is broken. There's usually a legitimate reason their yard is in bad shape, so be a good neighbor. Offer to cut the yard for them this week.
Neighborhood associations work very closely with their members, whether there's too much partying, or somebody's music is too loud, or cars on the street are going too fast. Associations can work with the police department, and be their eyes and ears.
How did you get started in politics?
I sat around and I was talking about—like everybody else—that "they" need to do this, or "they" need to do that. But I realized that "they" never do it on their own. I have to stand up, walk out of my comfort zone and make a difference.
What can the police department do?
They need to be more friendly and neighborly and understand what's going on—not just riding up and down the streets talking on their cell phones. There are police out there working hard, but there are a few who have let indifference go to their head. I would push police to go into businesses or talk to people—have more community policing. We've heard that term for so long, but it's time to actually use it.
Do we need more police?
Maybe, though I'd like to make sure all of my department people are working—even the department heads. There's no sense in somebody sitting at their desk and getting the lower staff to do all the work, while they take home this great paycheck. That's not going to happen under my administration. I've been both an employer and an employee, so I know what's it's like to have a department head. And you don't need to end communication at your department head. You need to talk regularly with the staff people under him, too.
I would also revamp code enforcement. I've seen the Code Services Department used for vindictive purposes. I've seen them carry out the mayor's little vendettas, and they can give you fits. None of that would happen under my administration.
What are your plans for the city's streets?
The city's infrastructure is deplorable. We need to stop just patching potholes. Pothole patches are a waste of time that never last much longer than the next rain. We have got to get the city's infrastructure-repair system up to the 20th century, because companies don't want to go where the infrastructure is not up-to-date and in good shape. There are federal grants available for capital cities all day long. I know this for a fact. And there are qualified grant writers who know where to get them and how. One of the first things I will do if elected mayor is get a new grant writer on board and keep it going.
I also plan to work with the Legislature. We're the capital city. Almost half the tax base—or lack of—is owned by non-profits and government. The citizens who live in Jackson should not have to carry the whole burden. The Legislature can help out.
But the Legislature doesn't like us.
It's their capital city, too. People need to know that the city is there. I don't think the Legislature has had a good rapport with past administrations, and I am willing to work with anyone and everyone to make sure we get our fair share of what's due the capital city.
I also think we can look to the federal Department of Homeland Security for some of our needs, such as police departments, especially for capital cities.
You must have Congressman Bennie Thompson's number on speed dial.
I do a lot of reading, and I know this for a fact: I've heard people say, "I can't work with Bennie Thompson." That's not true. He wants us to succeed, just like we want to succeed. It makes him look good, too.
Do you have an opinion on the possibility of getting rid of one-way streets in the downtown area?
Originally, I didn't think it should be a very high priority. We'd only made it a one-way street area just a few decades ago, so why change it back, right? But then I spoke to some of the businesses downtown, like the Elite and some others, and they said it would help them, for one reason because they would have an easier time telling customers how to get to their business.
Regarding economic development, in general, I want to help businesses to do business with Jackson. When you watch restaurants, banks and retail stores go up, these people are not making any money until a customer walks through the doors. But when it comes to city projects, you can sit there and hear them get talked about year after year, while waiting for them to get completed. The truth is politicians are making their money before the first brick is laid. We talk about thieves breaking into our houses, but some of the biggest criminals you have are wearing business suits.
They put contractors through fits while they process their permits requests. They're milking the contractors. The contractor sometimes gives in by making a campaign contribution.
Nobody's ever come out and said anything to me on the record.
You know why they can't come out on the record? Because they'd be the ones to go to jail, not the politician. I spoke with one contractor who had done it, and I asked him, 'Why didn't you just go to the state auditor?" He said, "I didn't know what to do. They had me between a rock and a hard place."
What administration was in power when your friend told you about this?
It happens under many administrations, but it won't be a problem under me because we're going to streamline the permit operations. Permits won't sit there waiting for a kickback, because every delay means money lost from the developer. We need a businesswoman in there, because (women) know how to multitask.
What are your thoughts on a police chief?
I thought Sheriff Malcolm McMillin was a great police chief because he brought the county department and the city police together. They worked smoothly, and we had more police officers on the streets working with businesses than I thought we've had ever before.
Suppose McMillin's washed his hands of the city and has no plan to come back?
Then I would hire within the ranks. This trying to go out-of-state and finding somebody is time-consuming and inefficient, especially when we could find somebody who already knows the department from inside out. You need to know the make up and the culture. No matter who winds up being chief, though, I won't be micromanaging anything. They'll know what to expect from me, and they'll know what I expect from them.
Read more candidate interviews and breaking election news at http://jfpelectionblog.com.
Previous Comments
ID

146972

Comment

Wow, I didn't know Ms. Reeves lived on Hooker Street.

Author

LatashaWillis

Date

2009-05-07T08:42:32-06:00
ID

146974

Comment

Latasha, can you fix this headline? I gotta fly to a meeting.

Author

DonnaLadd

Date

2009-05-07T08:49:34-06:00
ID

146976

Comment

Sure. Don't know why I didn't see that before!

Author

LatashaWillis

Date

2009-05-07T08:52:52-06:00
ID

146978

Comment

You watched your neighbors pack up and move over the last few decades, ever since the 1970s. What kept you from leaving, too? I was very upset back in the 1970s, when that first person started moving out of Jackson, because they did not like the change taking place. I told them that what they were doing was not going to work. "You have to stay here," I said, even as they continued the great exodus out of Jackson. If you don't like the neighbors and how they're keeping the yard, then you have to take it upon yourself to talk with them and coach them to keep up a nice neighborhood. Ultimately, I said, "No, nobody's going to run me out." I've tried to tell everyone that they cannot run away from their problems. If they run to North Jackson, or even Madison or Rankin County, the crime will only follow you. You've got to plant your feet, stand right there and nip it in the bud or it's going to grow, and grow and grow. AMEN and AMEN. I had no idea she lived on Hooker Street, either, and I think that speaks volumes about her commitment to Jackson. She is right on about what happened to South Jackson in particular -- if everyone had stayed put, that part of the city would still be vibrant.

Author

andi

Date

2009-05-07T09:09:49-06:00
ID

146988

Comment

I agree, Andi. It'd a good thing that she decided to stay and try to make a contribution to this city. Her candidacy may be a long shot to many, but I admire her fortitude.

Author

LatashaWillis

Date

2009-05-07T09:33:38-06:00
ID

147465

Comment

I agree I never would have thought Mrs. Reeves lived on Hooker Street and she obviously cares about the city to hang in as long as she has. I met her at one of the forums and she came across as very elegant and intelligent. The media and Melton had her pegged as a slum lord, but I didn't get that impression. I would not vote for her; however, I think the new mayor should use her in some capacity in the administration.

Author

Powerman

Date

2009-05-16T11:31:52-06:00