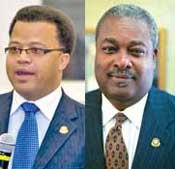 The votes are in for the 2009 Democratic primaries, and the Jackson mayor's race seems to fall along racial lines. Mayoral candidate Marshand Crisler, a Ward 6 councilman, did well in the area of the city containing a large white population, such as Ward 1, while former Mayor Harvey Johnson Jr. picked up decent numbers in majority African American areas like Ward 4 and 5.
Both candidates also claimed victory in their home wards, with Johnson winning Ward 2 and Crisler taking Ward 6. Still, neither candidate earned the 50 percent requirement to claim the mayor's office, and the city will hold a run-off in two weeks, in which the two will square off for a second time. The final vote tally shows Crisler earning 8,782 votes in the Democratic primary, while former Mayor Harvey Johnson Jr. garnered 8,964 votes.
Precinct numbers reveal a racial divide: polling areas like St. Phillips Episcopal Church, on Old Canton Road in Northeast Jackson, delivered big for Crisler, bringing him 453 votes. Johnson, comparatively, got 50 votes from the same precinct. Crisler received another strong showing at Precinct 46, at Christ United Methodist Church, also on Old Canton Road and inside the white-dominated 39211 area code. The white-affluent precinct 9, at Belhaven College, also delivered for Crisler with 218 votes to Johnson's 63 tally. The same goes for the white-dominated precinct 14, at Fondren Presbyterian Church, which allotted 188 votes for Crisler but only 12 votes for Johnson.
Many black-dominated areas, such as Precinct 41, at Green Elementary School, in the Hanging Moss area, delivered nearly three times as many votes for Johnson, with the former mayor taking 278 votes to Crisler's 99 votes. Johnson's biggest numbers came from Precinct 81, at Callaway High School, which also contains one of the city's largest black voting populations. That precinct served up 450 votes for Johnson, with only 156 spent on Crisler.
Crisler claimed about 31 of the city's 92 precincts while Johnson won 50; however, Johnson typically dominated in precincts with lower turnout, like Precinct 21, where he claimed 53 votes over Crisler's 22 votes. Crisler, in comparison, took home huge wins in the fewer precincts that he won, such as the 458 votes he claimed in predominantly white Precinct 34, compared to Johnson's 31 votes in that same precinct.
Jackson Democratic Municipal Executive Committee Chairman Claude McInnis refused to comment on the voters' racial divide, saying only that he found "the voting split to be interesting."
Jackson businessman Bill Dilday said he quickly noted the racial tone of the election. "Looking at all the poll numbers that came out, we could see that this was a race between Crisler and Harvey Johnson, but it seems obvious that Northeast Jackson didn't want Harvey back again," Dilday said.
Dilday added that the area would continue to be a problem for Johnson in the upcoming run-off election, just as faltering black support could prove to be a nagging problem for Crisler.
"Crisler has a very strong showing in some areas, but his financial support will give him a lot of trouble in the black community," Dilday said. "The list of his campaign donors looks like a who's who of Republican politics." Indeed, his list of conservative white supporters included Billy Mounger who donated $5,000 to Crisler's campaign.
Crisler could not be reached for comment, but Johnson said the divide was more over economic than racial divisions. "The reality of our city, when it comes to crime or anything, is that about 24 or 25 percent of the population resides at or below the poverty level. There's a significant portion of our population that falls into the 'have-not' category," Johnson said. "I think that's the dividing line that we're seeing here, not race."
Newly installed Acting Mayor Leslie McLemore, who until Wednesday represented Ward 2 on the Jackson City Council, said his ward doesn't exactly qualify as impoverished. "Ward 2 is a very sophisticated ward politically and educationally. Economically, it is the second most upscale ward in the city of Jackson, and if it were a city within itself it would be the most affluent black city in the state of Mississippi."
Johnson acknowledged that Ward 2 contains a fair number of affluent blacks who rank close behind Ward 1 in terms of general income, but insisted the ward contained more economic diversity than Ward 1. "It contains a large number of college-educated people, but you can't compare the affluence of Ward 2 to Ward 1," Johnson said. "The economic status of its residents is all over the spectrum."
Previous Comments
ID

147000

Comment

I still get saddened when I see numbers like this. Numbers don't lie! Im still struggling with why Black folks are turned off by a candidate with solid white support and why White folks are still turned off by a clearly qualified educated Black man? Have we advanced any? *smh* We should want a candidate that is solid along both lines. I guess when the only example of that ever happening was the past administration, it doesnt lend itself to being repeated.

Author

Kamikaze

Date

2009-05-07T10:43:32-06:00
ID

147001

Comment

If Harvey Johnson gave this non-ward 1 voter a reason to vote for him, I might. But this retread does not deserve a third chance. This is not a racial issue.

Author

QB

Date

2009-05-07T10:50:29-06:00
ID

147003

Comment

I wonder if the white Republicans in Ward 1 had vocally and financially supported Junior instead of Crisler, would that have turned black people to Crisler?

Author

Jeff Lucas

Date

2009-05-07T10:56:04-06:00
ID

147004

Comment

In a purely political sense Im sure. F.H. That was the line on HJ but he say he's changed so we will have to give him the benefit of the doubt. We'll see at the next debate next Thursday. But then you have your contingent who says HJ pissed white folks off because he "wouldnt let them do what they wanted" without any real instances. I wonder waht that even means. My thing is the reasons are rarely based on policy but based on personal feelings and in this case split along racial lines. the numbers clearly indicate that.

Author

Kamikaze

Date

2009-05-07T11:00:16-06:00
ID

147005

Comment

Damn good question Jeff. Is this going to be the death knell for all Black candidates in Jacksonn from now on. Have White support lose in all majority Black precincts? Doesnt send a msg of progression to me

Author

Kamikaze

Date

2009-05-07T11:02:35-06:00
ID

147007

Comment

What a sad situation. Whatever happened to voting for who you think is the best person for the job?

Author

Lady Havoc

Date

2009-05-07T11:08:58-06:00
ID

147009

Comment

I think it is just that White NE Jackson is one big echo chamber with a strong tendency towards group-think. Tends to value conformity, and so we end up with this type of voting pattern. Thanks for doing this analysis and posting it. The graphic showing the support for Melton in the last election was very illuminating in the same way.

Author

kate

Date

2009-05-07T11:13:31-06:00
ID

147010

Comment

Maybe that will be the new NE Jxn Machiavellian strategy from this point...give overwhelming support to the black candidate they hate so blacks will see them as sellouts and instead vote for the guy the NEJxners really wanted from the start... /sarcasm off

Author

Jeff Lucas

Date

2009-05-07T11:18:06-06:00
ID

147012

Comment

So, Fat Harry: Why not take the thought to a new level on this so it doesn't just look like you're participating in the group think? What is it you like about Crisler as opposed to Johnson? Specifically? What will make him a better mayor (besides that he's not a "retread"). Let's try to get beyond sound bites here. I'd like to see Jackson just decide to be different (I know, big job). What I mean is let go of all old myths and perceptions right now, and re-set. Talk specifics, listen and reject any attempt at conspiracy theories without evidence. Let's hit re-set. As Kaze said, we have a chance to do that right here and right now. Let's really look at Johnson and Crisler, ask them to be specific and avoid any and all sound bites, and answer real questions with specifics. The debate next week is going to be a real opportunity as they will be able to answer and rebut, one-on-one. Everyone in Jackson can see or hear it. Let's get serious, Jackson, and stop the Politics of Personal Destruction.

Author

DonnaLadd

Date

2009-05-07T11:20:55-06:00
ID

147013

Comment

And, yes, I absolutely agree, Kate. The rest of Jackson was more split, but Northeast Jackson lines up obediently, regardless. And don't even ask who is calling the shots. Think how many elections Ed Peters influenced, for instance. Sad.

Author

DonnaLadd

Date

2009-05-07T11:22:38-06:00
ID

147018

Comment

Horhn had plenty of white support. Toward the end of the last election, Harvey was running ads attacking Melton because white people supported him. It's not as though the perception that Harvey doesn't like white people is something made up out of whole cloth. Apparently Harvey alienated a large portion of both the white and black communities in Jackson. I'm not a Crisler fan by any means so I don't know what I'll do.

Author

Jennifer2

Date

2009-05-07T11:48:34-06:00
ID

147020

Comment

Yeah, I remember how much the HJ ad four years ago about "them" wanting "their" power back pissed off a lot of NEJxn people because of its coded language. I imagine that's part of reason why those folks won't support him, even if they can't put it into words.

Author

Jeff Lucas

Date

2009-05-07T11:57:45-06:00
ID

147021

Comment

Like i said yesterday, if crisler wins i will support him but if HJ wins will Northeast Jacksonians continue to give him a hard time. I can say that all of my friends think that something aint right about crisler, that dosen't mean they are calling him a uncle tom it just mean he hasn't made them feel comfortable for whatever reason. HJ supporters cant be blamed for what crisler has failed to do himself. Its up to crisler to connect with voters in the inner city and citizens have had 8 years to see him and they still dont like him.

Author

NewJackson

Date

2009-05-07T11:59:35-06:00
ID

147022

Comment

I'll probably have to support Johnson despite my reservations because the more I know about Crisler, the more I think he's an idiot. However, if I thought Harvey were going to make Faye Peterson the city attorney, I can't vote for him either. More than anything, I want our future mayor appointing smart, responsible, ethical people to city positions. (I know the JFP is on the Faye love train but she's incompetent and I'm not wasting time arguing about it). And then Crisler's got that hot head do-nothing McMillin as his ball and chain.

Author

Jennifer2

Date

2009-05-07T12:02:44-06:00
ID

147023

Comment

I have a solution, Let crisler run for city councilman for ward 1 and if he beats weill i will cast my vote for him to be my next mayor. This scenerio will show me if Ward 1 voters think highly enough of crisler to vote for him as councilman as well as mayor. NOT!!!!!!!!!

Author

NewJackson

Date

2009-05-07T12:07:19-06:00
ID

147025

Comment

Tell us how you really feel, Jennifer2 (as you have for years now). ;-) Clearly, I don't think Crisler is an "idiot," but I also do not think he is ready to be mayor, either. I'll go on record saying that, and it should be a vital consideration going forward. I think even some well-meaning people (not just the usual puppeteers) are supporting him because they believe he is malleable. But I've seen no sign, yet, that he's ready for this job. However, I hope that he will take full advantage of the next two weeks, and especially the debate next week, to show us a side that has not been evident enough during the campaign. The questions from voters will help them show us what they're about. I wish them both the best of luck. By the way, if you wish to submit a question for consideration for the debate, please send to: [email protected]

Author

DonnaLadd

Date

2009-05-07T12:15:52-06:00
ID

147026

Comment

The only thing I will say in defense of Peterson is: She is also not perfect, but she is most certainly not incompetent. She is another victim of myth-spreading, as we have shown repeatedly.

Author

DonnaLadd

Date

2009-05-07T12:16:57-06:00
ID

147027

Comment

We'll have to agree to disagree on Faye.

Author

Jennifer2

Date

2009-05-07T12:19:21-06:00
ID

147029

Comment

Jennifer what makes faye incompetent or a better question is Robert smith a better DA, and if he is What makes him better than Faye?

Author

NewJackson

Date

2009-05-07T12:25:50-06:00
ID

147031

Comment

I don't have time to chronicle Faye's incompetence. But just ask criminal defense attorneys what they think. And if Smith is losing a big trial every month like Faye did, the Clarion Ledger sure ain't reporting it (which doesn't mean that it isn't actually happening given that the CL is all of 2 pages these days).

Author

Jennifer2

Date

2009-05-07T12:28:23-06:00
ID

147032

Comment

Kate- I totally agree! It seems to be that way with most of Mississippi. Too many times there is not a lot of independent thought. Unfortunately the political leaders take advantage of that, and Mississippi maintains the status quo. In Jackson, we seem to have a lot of conforming whites and blacks who are extremely skeptical or totally uninterested. That makes for interesting local elections.

Author

News Junkie

Date

2009-05-07T12:30:01-06:00
ID

147034

Comment

Being from the inner city, I looked at the numbers and they bear out the comments that Crisler is not popular among Jackson's black voters. If Johnson won a precinct, Melton was almost always in 2nd place - Crisler barely made a showing. Crisler tried to be visible in Georgetown the last 2 weeks of the election, but it made no difference. He even had signs out that said "Georgetown for Crisler" - but the numbers in those precincts don't lie - Now Harvey's challenge is to get us back out on the 19th. I do not want NE Jackson to be the lone deciding factor in who becomes our next mayor. Let the people decide.

Author

lanier77

Date

2009-05-07T12:30:47-06:00
ID

147035

Comment

Faye may not be the sharpest knife in the drawer (and I've had a lawyer friend of mine also suggest that) and I'm certainly not a fan of her, but considering the crooked piece of garbage she succeeded as D.A. she was still a breath of fresh air.

Author

Jeff Lucas

Date

2009-05-07T12:33:19-06:00
ID

147036

Comment

The police can only do so much about crime without a competent DA in place to make sure that real criminals are removed to a place where they can do no further harm so having a competent DA is extremely important in a city where crime is consistently the voter's number one issue. But surely Harvey wouldn't make Faye his city attorney given that she can't have ANY civil experience (at least that I know of). Crisler needs to tell us whether McMillin will be back as the sheriff AND chief of police.

Author

Jennifer2

Date

2009-05-07T12:39:52-06:00
ID

147037

Comment

but considering the crooked piece of garbage she succeeded as D.A. she was still a breath of fresh air. Truer words have never been said. And shall we consider where most of the myths and rumors about her originated from? Hint: A very small group of people.

Author

DonnaLadd

Date

2009-05-07T12:41:20-06:00
ID

147038

Comment

I don't even know what the myths and rumors are. She was a crappy DA - that's not a myth or rumor. I suggest that people who care about this issue ask people who are likely to know whether she was any good or not. Judges are probably not going to talk or, if so, only to their closest friends. The only other group of people likely to know whether she was competent or not are criminal defense attorneys. If you know one, ask him or her for his (or her) opinion. I do know that even Tom Fortner (former public defender and a GREAT lawyer) was worried about living in Jackson with Faye as the DA. He told me so himself.

Author

Jennifer2

Date

2009-05-07T13:01:28-06:00
ID

147040

Comment

Jennifer, I will say that I agree with you that HJ if elected needs to pick a better City Atty than SORE or the guy that preceded her under HJ's second term. It is critical that City Legal gets straightened out.

Author

Jeff Lucas

Date

2009-05-07T13:14:44-06:00
ID

147041

Comment

Donna, I'm not Crisler aplogist. I supported John Horhn and feel that he was by far the most qualified candidate. Sadly, I think my best argument "for" Crisler is basically what you just said - that he's not HJ. Well that and he supports Two Lakes (kidding).

Author

QB

Date

2009-05-07T13:15:59-06:00
ID

147042

Comment

We agree on that, Jeff. There is a ton of work to be done and our next mayor needs to have some really good people working for him. We all knew that Melton was going down the tubes when Peyton Prospere left.

Author

Jennifer2

Date

2009-05-07T13:17:16-06:00
ID

147043

Comment

opinions from one white 39211 resident and businessman who has voted in the last 4 city elections: The reason I have a problem with Mr. Johnson is that he never, and I repeat never, showed any intention to work with my business industry when it came to board appointments that managed the funds being passed through our doors. Even as state law directed the appointments to be offered from our local association, he fought back at every one, often to the point of leaving seats vacant for extended periods of time. This lone example of not working with industry under the confines of legislation gives me reason to say eight years was enough. I want someone who will extend a hand to welcome and embrace a thriving business community, even one such as mine that is so mom and pop oriented. As Ladd's and others concerns that Crisler is getting white support because he may be "malleable," I see that opportunity as one that will embrace all racial groups and all business opportunities to move Jackson forward. SO I call him "accessible," instead of malleable, and given that the last twelve years have been anything but forward thinking (other than the debt of a $61 million convention center in a terrible convention market, but I'm long since over that), I think the right access can be good for a Progressive Jackson. As for DA Peterson, I though I saw incompetence as a Petite C juror candidate in Circuit Court two years ago. I left that experience truly wondering about our criminal justice situation. I'll see how different it is now under the new DA this Monday and then make my decision as to who is or isn't incompetent.

Author

GradyGriffin

Date

2009-05-07T13:22:50-06:00
ID

147046

Comment

I haven't gotten to read all the comments yet--but I find this article infuriating. I proudly voted for Marshand Crisler--just as I did for President Obama in the past, as well as now-Presiding Justice James E. Graves, Jr., Mayor Johnson, D.A. Peterson, Gary Anderson, and frankly who knows how many other folks who are different from me in only one fashion, and it ain't beliefs or love of Mississippi: just skin color. In what sense is this election "racial" or a failure? Can't we judge these two men on the same level, and say that components of them and their philosophies appeal to different folks? I almost voted for the former Mayor out of the fact that I figured if he was good enough for me 4 years ago, he should be now. But you know what? I wouldn't have voted for Gore or Kerry a second time, either. Isn't the story perhaps that there still WAS white turn-out? Isn't that what now-Secretary of State Clinton threatened would happen if then-Senator Obama would win--that white folks wouldn't show up in Ohio, Pennsylvania, and Florida? She was wrong, because she underestimated that white people actually believed in him and liked him--in record, history-shattering numbers. In the same fashion, we had tons of white folks choosing between a majority-African-American slate of politicians. Isn't it noteworthy that prominent young Jacksonians like attorney Matt Allen, who happens to be white, were speaking proudly and early about Senator Horhn? Or that former Governor William Winter came out and supported Marshand? I frankly think this is the most reductive and simplistic analysis the JFP could offer on the subject. It ignores the modern state of politics in Jackson, it ignores that white folks still showed up to vote for an African-American, and spins it wheels in the past. I'm really disappointed. As an aside, what I like about the Councilman: his service in Iraq, his service to Jackson, and his eagerness to learn. As a dyed-in-the-wool Democrat from Sandusky, Alabama, with a family proud of many members who have served in the military, he's just somebody I like. I voted for Mayor Johnson before, he had his shot, and I'm ready for something different.

Author

David McCarty

Date

2009-05-07T13:35:14-06:00
ID

147047

Comment

Damned if you do, damned if you don't...

Author

Jeff Lucas

Date

2009-05-07T13:46:16-06:00
ID

147048

Comment

I hate to double-comment, but it just crystallized why I truly loathe this article: it's dog-whistling. It's what I hate so much about southern, and nowadays almost exclusively Republican, politics. It's code talk for folks out there with the ears to hear. It's the same thing folks said about President Obama--"he's not really black, you know, his mom was white, and look at all those white folks that like him." It's was a way of trying to say he's "white," and thus somehow "not real," or--well, I don't know what it means. It wasn't coded for me. When the Free Press says--focuses exclusively on--that white people favored one candidate over another (ignoring that it was a field of a dozen candidates), you're saying "well, they only liked this fellow because of . . . ." Do you know how many votes the President lost in Quincy, Florida, or Tallahatchee, Florida, where I campaigned for him and did election-protection as a lawyer, which are majority African-American areas? Or here in Jackson, where I gave money and worked and had signs up? I'm guessing, you know, NONE. People voted for him because they just liked him better and thought he'd do a better job. They didn't get suspicious because some blond-haired guy liked him, too. If Marshand loses one vote in our African-American community because, God forbid, he was respected and voted for by white people? That's thinking Jackson is just the lowest, dumbest, most common-denominator stereotype that I've read in forever. That's eighties thinking--Republican thinking. This is the Jackson Free Press--not the Madison Free Press, or the Northside Sun, or the Washington Times. This paper, I have always been proud to say, was named after the Mississippi Free Press, part of Medgar Evers' glorious, if yet unrealized, legacy. I believe that Mr. Evers would be excited of a day when you could say white folks were voting proudly for an African-American man, not just for President, but to lead their community. The fact that the Free Press has managed to somehow invert this into a bad thing is utterly surprising and repugnant to me.

Author

David McCarty

Date

2009-05-07T13:46:39-06:00
ID

147049

Comment

I think the precinct numbers shouw the reality about municiple politics in the 21st century-economic prosperity vs. true democracy. The business interests that EatOutOften is representative of seem to be pitted in direct opposition to the interests of the poor and working class in Jackson, and all around the state actually. It seems as though economic development only takes place at the expense of those who don't directly benefit from corporate and entrepeneurial pursuits. Why is it that businesses have to locate in Madison or Flowood in order to make money? Why is it that the best property values in Jackson are in the NE area? Why is it that the majority of the professional class that works in Jackson has to live outside of Jackson? The racial element gets thrown into this mix becasue too much of the economic prosperity (and real opportunity for that prosperity) in Jackson metro is concentrated along racial lines (and in the white direction). Is today's reality a vested notion dating back to an economy and society that was structured around and prospered off of the exploitation of black people by(mainly wealthy) white people and systemically locked black people out of opportunities? This is a hard, but true reality to face. Residential segregation and the concentration of poverty that results from it too often characterises the social environment in Jackson. So much so that two black men in a run-off for mayor has racial implications(?). For far too long what has been good for whites has been perceived as bad for blacks and vice versa. We need to come to a communal understanding that democracy and fair opportunity for all must truly take precedent over economic prosperity for a few. Blackwatch!!!!!!!

Author

Renaldo Bryant

Date

2009-05-07T13:51:42-06:00
ID

147051

Comment

The numbers are the numbers, David. I'm not sure what is "reductive" about reporting them. We don't go anywhere as as community if we can't face what is actually happening, good or not. I assume you noticed that this news story was about the fact that whites are lining up behind Crisler and blacks behind Johnson? We didn't tell them to, and don't support it. If it is not clear to you, the JFP wants us to get past this kind of division. But we're going to have to be deliberate about bridging the gaps, and that means acknowledging that they're there. All the talk about Medgar Evers, bless his soul, won't change a thing if we don't see what's in front of our faces. And Jennifer, saying, "She was a crappy DA," is simply a characterization. You should offer evidence of it, or it just sounds empty and kinda personal. We have talked to many attorneys who did like her as D.A., and the realities are that she inherited a disaster office. It's remarkable to me that we never hear you and others talk about how bad of a D.A. that Ed Peters was -- in about every possible way. But we've written extensively about this during the last D.A.'s race for instance, this cover story, and this discussion has the potential to derail this thread. So feel free to start a community blog post to talk about D.A.s if you'd like. Let's keep this one on the topic of race and the mayoral elections. It is too bad to see, Harry, that you have nothing to offer beyond that about why you support one candidate over the other.

Author

DonnaLadd

Date

2009-05-07T13:58:35-06:00
ID

147053

Comment

I believe that Mr. Evers would be excited of a day when you could say white folks were voting proudly for an African-American man, not just for President, but to lead their community. This also happened four years ago, and it didn't mean that we ended up with a glorious rainbow coalitioned community. It's just not that simple. The answer is not for whites to all get behind one black candidate because they (or their leaders) think he is the least offensive to "their" needs. (Not to say all whites are doing that; I'm sure you're not, David). We've got to work harder than that. And no matter how "repugnant" you or anyone else finds it, the Jackson Free Press will continue to report the facts and encourage serious dialogue and thought based on them. And we will push for leaders who think for themselves, even if and when that pisses other people off, regardless of race. One very encouraging thing about Harvey Johnson is that he has and does piss off people of all races by doing what he thinks is right, and he takes time to plan even when people are screaming about him being slow. If there is any damn thing this city needs to learn to do, it's to take more time to plan and study options. Can it take too long? Sure. But I'd take that over the rush-to-judgments that keep getting us into trouble any time.

Author

DonnaLadd

Date

2009-05-07T14:05:33-06:00
ID

147054

Comment

great response, Donna, and if Mr. Johnson wins again, I'll be the first of my industry to welcome him back and say let's move forward together. But his willingness to look back and admit his past mistakes better be true and heartfelt, or this entire ProJack movement will spin wheels in the mud along Capitol Street.

Author

GradyGriffin

Date

2009-05-07T14:15:05-06:00
ID

147055

Comment

and in the spirit of full disclosure, my name is Grady Griffin.

Author

GradyGriffin

Date

2009-05-07T14:16:49-06:00
ID

147059

Comment

I simply can not believe that people are concerned STILL about white support of a black candidate. I just can't believe that. I am left wondering just as the rest of the country if Jackson, MS will EVER get it's stuff together. We can't see pass ourselves to get through to ourselves. What a shame!

Author

Queen601

Date

2009-05-07T14:26:33-06:00
ID

147065

Comment

The fact that Harvey pissed off people of all races is not a good thing when he did so by excluding them which is what I keep hearing from whites and blacks.

Author

Jennifer2

Date

2009-05-07T15:03:45-06:00
ID

147071

Comment

I don't understand this either, Queen. An officeholder should be there to serve all people, regardless of race, gender, religion, economic status, etc., and not favor one group of people over the other. So what if Crisler is being supported by the white folks? That's not the reason I'm not voting for him. I just happen to believe Johnson is the better candidate and I would feel that way if Johnson was being supported by the white power structure.

Author

golden eagle

Date

2009-05-07T15:26:01-06:00
ID

147073

Comment

Whats funny is that the same line is being thrown back at Crisler. That he will "excluse" folks. It's like from election to election the lines become interchangeable. Used to fit whichever candidate you DON'T want to win. Never really founded on real fact but strong innuendo and some folks take it as gospel. As I stated before, this election is too, TOO important to vote on emotion and supposition. Its too important to vote on whether someone is going to be more accomodating to blacks OR whites. You cant even base it on what a candidate did 4 yrs ago because they could have changed. SO LISTEN..LISTEN NEXT THURSDSAY.

Author

Kamikaze

Date

2009-05-07T15:30:38-06:00
ID

147077

Comment

meant "exclude" my bad

Author

Kamikaze

Date

2009-05-07T15:43:39-06:00
ID

147078

Comment

I don't think Crisler would exclude people. There may be some people supporting him who think he would. I agree with you, EatOutOften, and I can pledge right now that the JFP will be on the heels of whomever the new mayor is from day one. It'll be different this time; I truly don't think that the Ledger will do as much flippant damage as they did to during Johnson's last term (or Peterson's, for that matter). They're not even relevant enough now that many people would listen. And back then, we spent so damn much time trying to set the factual record straight that it was hard to cut to the core of watchdogging his administration. This time, if he (whichever wins) is not transparent, we are going to scream bloody murder. If he doesn't make good hires, bloody murder. Not looking out for business interests (which doesn't mean doing what every business person wants, btw, but balancing that with what's good for the city), bloody murder. Our endorsement of Johnson came with a very, very strong caveat. He has to mean what he says, and fix what he did wrong before. We believe strongly that he has the ability, and willingness, to do that. We would not have endorsed him otherwise.

Author

DonnaLadd

Date

2009-05-07T15:44:56-06:00
ID

147079

Comment

And for the record, it concerns me more that *Billy Mounger* supports Crisler, than whether he has *white* support. I keep wondering why. It does, and should, transcend race. A message of Tuesday's outcome, as Adam's article above well illustrates, is that both candidates need to show how they can transcend race–the race of their perceived support bases.

Author

DonnaLadd

Date

2009-05-07T15:49:28-06:00
ID

147080

Comment

History lesson, Ward 1 turned against Harvey when he started pushing for statutory minority participation in contracts let by the city as Mayor. He is to be applauded for these minority contract goals Not that those business leaders were racist, they simply did not want to share,(at least that's what i hope it was). Ultimately, Harvey lost the re-election support and dollars when they shifted to Melton. Oh, also Melton got all the African-American ministers in the city,influence peddlers and opportunist from every hue. This was all good, for a while at least until all those folks realized that he could not deliver on the promises that he made. Perhaps after the election white business leaders should take a different approach when dealing with African American leaders who cannot be purchased provided the one who cannot be purchased is elected. Perhaps.

Author

search4truth

Date

2009-05-07T15:50:33-06:00
ID

147081

Comment

It seems to me that if were gonna be honest everybody has to come to the table, no hidden agendas. Dont just tell AA to do something but still play the game. Im sorry that black people are skeptical of a black candidate who is supported by a majority of the white community, a community that said that they would succeed from jackson if they wanted to. What blacks went through in the past and still go through today is the reason we are careful and suspicious of Marshad. He even said that he would be a fiscal conservative with the city's money when he annouced he was running for mayor, now hes on the democratic side saying that and for him to say that it means he dosen't agree with the way democrats handle budgets. If he dont agree with democrats dont get mad at US for voting against him. One more reason is that he just dont add up to Harvey Johnson when you put both men side by side. Its the substance and professionalism and gravitas Harvey has that crisler lacks big time.

Author

NewJackson

Date

2009-05-07T15:51:51-06:00
ID

147084

Comment

Kaze, It's zero-sum gain thinking. "I can't succeed unless you fail". In my previous post, I noted that peolpe seem to think that economic prosperity and full democracy are inversely proportioned. This is not so, but if people think this way, then they will act as such, and never see the possibility of communal prosperity. The reality is that some people actually benefit from this status quo, at lesat the believe they do, and thus act accordingly. So, what has to happen in any attempt at dealing with social issues, is an honest assessment of the current condition. "Transcending race" without addressing racial inequality is not addressing the real issues of Jackson-metro. We have to honest and say that one man cannot represent everybody, nor should we expect him to, especially if everybody has the zero-sum gain thinking that is prevelant in Jackson-metro social/political circles. What we can reasonably expect is that the leadership be aware, courageous, and has an actual, feasible, and insightful plan going forth to better utilize the resources of the city to develop and nurture economic opportunity, and enhance the quality of life of all citizens who are prepared to take advantage of said opportunity. Blackwatch!!!!!!

Author

Renaldo Bryant

Date

2009-05-07T15:59:13-06:00
ID

147085

Comment

[quote]He even said that he would be a fiscal conservative with the city's money when he annouced he was running for mayor, now hes on the democratic side saying that and for him to say that it means he dosen't agree with the way democrats handle budgets. If he dont agree with democrats dont get mad at US for voting against him.[/quote] Maybe he realizes it's generally not a good idea to spend money Being fiscally conservative isn't a bad thing. You do realize Pres. Clinton was considered a fiscal conservative?

Author

Jeff Lucas

Date

2009-05-07T16:02:14-06:00
ID

147087

Comment

Well Jeff lucas if beleives in fiscal conservatism then dont blame his defeat in two weeks on "racist black people" blame it on his policies that have been rejected nationally. SEE ladd we are talking about differences in Crisler and HJ, not along racial lines but policy. Who cares about bill clinton really, not a good example man go listen to lars larson and try another example because i heard that "clinton was a fiscal conservative" mess during the presidential election.

Author

NewJackson

Date

2009-05-07T16:20:12-06:00
ID

147090

Comment

I believe if he is defeated, NewJack, its because he couldn't convince enough people that he has the temperament or experience to lead the city, not because he's wrong that the City needs to be more responsible in how it spends taxpayer money.

Author

Jeff Lucas

Date

2009-05-07T16:30:37-06:00
ID

147091

Comment

That's an interesting point Jeff. Because it's odd how far "conservatives" and "fiscal conservatives" have drifted apart. Especially the so called "Neo Cons". I used to believe that as a fiscal conservative and a free market proponent that the Republican party was closer to my beliefs than the Democrats. WOW! Was I wrong. When it became obvious that the Republicans were only paying lip service to those principals I figured that I might as well support the party who actually held and believed in similar values to my social libertarian beliefs.

Author

WMartin

Date

2009-05-07T16:30:59-06:00
ID

147092

Comment

We have to watch labels. For instance, what does "pro-business" really mean? It didn't mean giving business, or some businesses and developers, everything they want without careful consideration and smart compromise. For instance, developing the Pearl River. Two Lakes is not the only option, not the best for flood control, not the most affordable and clearly not the best. Except for some people. And if a mayor doesn't try to get those people what they want, they will scream that he's anti-business. We see this over and over again. It's like Bush saying that any media that questioned his policies was latte-drinkin' liberal media. Useless. Same goes for "fiscal conservative." That really means "fiscally conservative except for what I want you to spend money on" I prefer the term "fiscally responsible." But you still have to define it issue by issue, based on facts and realities.

Author

DonnaLadd

Date

2009-05-07T16:37:21-06:00
ID

147094

Comment

[quote]That's an interesting point Jeff. Because it's odd how far "conservatives" and "fiscal conservatives" have drifted apart. Especially the so called "Neo Cons".[/quote]I draw a distinction between fiscal conservatives, social conservatives/Christianists, and NeoCons, WMartin. The last two groups are the ones who have divided and wrecked this country. I don't believe fiscal conservatism is a dead concept. It just hasn't been practiced in 8 years.

Author

Jeff Lucas

Date

2009-05-07T16:38:54-06:00
ID

147095

Comment

Bless you, WMartin, for being a free thinker. Reminds me of when I became a solid independent -- when the New Democrats were at their height. And in the state, watching the lengths Democrats will go to to try to game-play their way into office. (Republicans, too, but I've been a long way from that party since, well, Goldwater. OK, I was only a toddler, but a politically astute one. [smile]).

Author

DonnaLadd

Date

2009-05-07T16:39:45-06:00
ID

147096

Comment

It was interesting to hear Johnson talk in his editorial board interview here about his opposition to bond to pay for road repairs -- and how we will be paying it off past the point that the roads will need to be repaired again. He also wasn't the biggest fan of the sales tax option, and not just because of the "chamber" appointee handoff to the state. We should post notes from both Crisler and Johnson's editorial board interviews in the next few days for everyone to consider. We didn't tape them, in order to encourage the most frank and relaxed discussion possible.

Author

DonnaLadd

Date

2009-05-07T16:42:06-06:00
ID

147098

Comment

Northeast Jackson has always had an agenda, I was one of the 50 out of 400+ that voted for Johnson at the St. Phillip's Episcopal Church on Old Canton. I don't trust a democratic candidate backed by republicans and I have no idea what Crisler has done positive for Ward 6. If someone could clue me in on why you're voting for Crisler then I would greatly appreciate it. I am starting to believe that a "vote for Crisler" is simply a "vote against Johnson" and nothing more.

Author

raisingjackson

Date

2009-05-07T16:49:13-06:00
ID

147099

Comment

[quote]It was interesting to hear Johnson talk in his editorial board interview here about his opposition to bond to pay for road repairs -- and how we will be paying it off past the point that the roads will need to be repaired again.[/quote] I kinda see his point on that. The average life expectancy of an asphalt road is 15 to 20 yrs before it needs to be completely rebuilt (less if there is Yazoo Clay under it!) Municipal bonds typically have a repayment period of 20-30 yrs. So the City could still be paying 20 yrs later for repairs to a road that in 15 yrs looks like Fortification Street.

Author

Jeff Lucas

Date

2009-05-07T16:54:49-06:00
ID

147100

Comment

And I messed up in my 5:02 post. I was trying to write: "Maybe he realizes it's generally not a good idea to spend money you don't have."

Author

Jeff Lucas

Date

2009-05-07T16:58:44-06:00
ID

147101

Comment

So the City could still be paying 20 yrs later for repairs to a road that in 15 yrs looks like Fortification Street. That was his exact point, Jeff.

Author

DonnaLadd

Date

2009-05-07T17:04:50-06:00
ID

147102

Comment

What a lot of the posters do not realize is there is a strong dislike of Crisler in the black community. When I brought his name up I have heard arrogant, to ambitious, not ready, controlled by the white folks and just don't trust him. Many times this all I get, no real substance or documentation, just the generalities. But substance or not the feeling is out there. Couple that with the long list of republicans on his financial report and he has serious problems getting black votes. HJ has an equally daunting challenge in the white community. The business community does not like HJ because they could not get him to do what they wanted and/or move on their development projects. Also, he was not reticent in letting them know that as mayor and he ran the city, not them. They have never forgiven him for this and have led the charge in NE Jackson against him. Both Crisler and HJ have their work cut out for them over these next days. Depending on how you look at it with Jackson being at least 70% black HJ's task of geting his voters back to the polls on May 19 does not seem as daunting as Crisler's task of proving to black voters that he is someone in whom they can believe.

Author

wellington

Date

2009-05-07T17:05:56-06:00
ID

147103

Comment

That was his exact point, Jeff. So where does he expect to get the money from?

Author

Jeff Lucas

Date

2009-05-07T17:22:11-06:00
ID

147104

Comment

If this race breaks down on racial lines (not saying that it does, exactly, but I think everyone recognizes that there are some real issues there), Wellington, it's a sad commentary if Harvey loses given that whites are way outnumbered by blacks in Jackson.

Author

Jennifer2

Date

2009-05-07T17:34:39-06:00
ID

147105

Comment

How would that be different from 2005, Jennifer? That race was infused with race, too, but not in predictable, straightforward ways. Mr. Melton, may be rest in peace, simply said different things to different groups. Dramatically different things. Regardless, the fact that Jackson elected Melton did not mean that race issues were at bay. In fact, anything but.

Author

DonnaLadd

Date

2009-05-07T17:54:27-06:00
ID

147106

Comment

I'm not trying to imply anything about previous elections - just saying that if Harvey/Crisler is strictly a black/white thing, Harvey ought to win soundly and if he doesn't, there's a lot of apathy on the part of black voters and that would be sad. That's all.

Author

Jennifer2

Date

2009-05-07T18:30:17-06:00
ID

147107

Comment

Harvey Johnson is more appealing to frank voters than crisler. All people know in Jackson is that Northeast Jacksonians cant stand Harvey and even though they rejected Harvey they will love to vote for him over Crisler anyday. Now I think Crisler and HJ will split Hohrn supporters. As for Fair and RJ supporters i think HJ will get those. I say Crisler should have been more secretive with his list of Republican donors and supporters. Waiting for endorsements anyday now.

Author

NewJackson

Date

2009-05-07T18:54:38-06:00
ID

147110

Comment

Has anybody else heard that the Melton supporters are shifting to Harvey Johnson? Or that John Horhn is poised to endorse Johnson over Crisler? At lunch today, I asked a couple of politically astute friends this hypothetical question: which candidate do you think Mayor Melton (may he rest in peace)would have endorsed after losing the primary election. Both immediately said Harvey Johnson. One said that he thought Melton had come to realize that the job of mayor was much more difficult than he realized, and that over time he believed Melton inwardly admired what Harvey had accomplished. The other essentially said that he sensed that Melton saw Crisler as naive as he [Melton] was four years ago with respect to knowing how to manage the intracacies of city government. Neither friend was close to Melton, although they both knew him rather well. After I thought about it, I recalled an early-morning live telephone interview one of the local stations did with Harvey Johnson. I was rather surprised to hear Harvey say that he and Melton communicated from time to time over the past four years.

Author

Kacy

Date

2009-05-07T19:41:07-06:00
ID

147112

Comment

That's a really good question. My gut tells me that Melton probably would not have endorsed either candidate, but under the circumstances the endorsements of Erik Fleming, Jim Evans, and others close to Melton's campaign could carry a lot of weight.

Author

Tom Head

Date

2009-05-07T22:19:01-06:00
ID

147113

Comment

Well with Erik Flemming's endorsement I will be sure to vote against his endorsement regardless. Let that domestic violence, woman abusing man endorse who ever. He is is a leach still trying to make money off his public service when he was defeated soundly after he was exposed as the person he is. Now that is out of my system. Vote Jackson. Please look into the candidates and make a decision. I will vote again. My candidate lost, but I will decide upon my next mayor upon facts and beliefs. Please make a decision... Don't just vote for a man with more signs or a rumor.

Author

AGamm627

Date

2009-05-08T00:05:24-06:00
ID

147114

Comment

It makes me sad, and tired, that a black candidate is getting beat up, in large part, because he has support from some white folks. wow. do you know how racist that really sounds? or, more accurately, how racist that really is? some of the posts on this site seem to suggest that is what black folks ought to do! How unfair, and yes racist, it is to stereotype all N.E. jackson white folks as being monolithic, dumb, conservative followers. I think David McCarty's posts above are right on point. Playing the "race card" - black or white - is despicable, and any candidate that succumbs to that tactic, or even turns a blind eye and allows it to happen, should be shunned and voted down. I'm a little concerned that i don't even see a touch of righteous indignation by JFP about the race card obviously being played by some folks who hate Crisler. But, it's clear you know it's being done and you know it's being done by people who are supporting your candidate, HJ. Your "the numbers are the numbers" approach is not very satisfactory, at least to this reader, and just leaves me flat. You may not agree with me, but that is my opinion of the perception that is being presented by your blogging and your stories. And, by the way, i voted for for HJ 4 years ago and Horhn this time. Don't know who i'll vote for in the runoff. I was leaning towards HJ, but, as a white person, i guess you're telling me i'm supposed to be out there blindly supporting Crisler because some damn white republicans are supporting him.

Author

FriendsofJackson

Date

2009-05-08T00:48:08-06:00
ID

147115

Comment

I don't like this article, but you know, it's fact-based--so I suppose what I'm saying is that I don't like the facts. I don't like the fact that the vote was so racially correlated, and I don't like the fact that one could write an article accurately describing it as such. I would much rather live in a world where candidates' votes don't usually end up skewed on racial lines (and they usually do, though a candidate's appeal in a demographic can change--look at who voted for Frank Melton this year vs. who voted for him in 2005, for example). Marshand Crisler's ward, Ward 6, is predominantly African-American. He is a black man himself. It is not my place, or as far as I'm qualified to say anybody's place, to challenge his bona fides as a black man. Let him run for mayor of Madison against Mary Hawkins Butler, or for the City Council in Ward 1, or for any statewide office, and I assure you that his status as a black man will suddenly become indisputable. But any candidate whose votes are skewed so white, in a 73% black city, is going to have some trouble, and I think this reflects the fact that Crisler's campaign has achieved its foothold in a crowded field by appealing to white donors, white support, and white wards--an impressive achievement when you think about it, and one that bodes well for his political future, but one that may cost him this particular election. He has two weeks to branch out and build a broader base. I'm sure he's capable, especially now that it's down to two candidates, and I wish him luck. If he doesn't, that does not mean he's a bad person, a sellout, or whatever. It just means that he didn't run the campaign he needed to run to beat Harvey Johnson, a two-term former mayor with damn good political skills and somebody he should not be ashamed to lose to, if he does lose. Incidentally, FoJ, I voted for John Horhn myself. And I have absolutely no idea who I'm voting for in the runoff; I've gone back and forth. Both Crisler and Johnson are great candidates, but I'm leaning slightly towards Johnson right now, and for reasons that have nothing to do with demographics. Just pick the candidate you think will do a better job. That's all anybody can do.

Author

Tom Head

Date

2009-05-08T00:54:45-06:00
ID

147116

Comment

I was leaning towards HJ, but, as a white person, i guess you're telling me i'm supposed to be out there blindly supporting Crisler because some damn white republicans are supporting him. No, you vote your conscience. If you were planning on voting for Harvey Johnson, vote for Harvey Johnson. If you were going to vote for Crisler, vote for Crisler. It's not the media's job to tell you who to vote for, even when they endorse a candidate. Also, don't let your race determine who you vote for.

Author

golden eagle

Date

2009-05-08T06:49:54-06:00
ID

147118

Comment

Donna, Tom, with all due respect--it may be "fact-based," but it excludes relevant facts, and it's the narrative which repels me. In the legal writing classes I teach, I often emphasize the power of narrative or "framing the issues"--in fact, just last night I talked with one of the Mayor's former attorneys at his state court trial about coming to speak at one of my classes, to show the power of how presenting an idea (such as "there has to be malice") can shape a result--no matter how bedrock the facts are. But please don't tell me this is "we report, you decide." The narrative here is that "Jackson has a race problem, and here's numbers tailored to show that." This leads to an overly simplistic narrative, with any facts just drizzled in to support the overarching narrative. Let's actually use numbers that tell a complete story--not the overly simplistic and reductive statistics used in the story. I'm in Precinct 9 that votes in the basement over at Belhaven College. Adam writes correctly that Marshand got 218 versus Harvey's 63. ZOMG RACIST! Well, except that the race was actually incredibly fragmented, because again, while the story pretends there was only two candidates, there were actually four strong vote-getters across the City. Rather, in Precinct 9 it is EXTREMELY important to note that it wasn't a dual race--because the second top-vote getter was Senator Horhn, with 115. Robert Johnson got 30 votes and Eddie Fair and Mayor Melton both scored 9. In other words, Belhaven, where I live, wants CHANGE--we thought that we should either go with the Councilman or the Senator. The former Mayor we've seen before and don't want back. Of the 445 votes cast total, Marshand actually got 48.9%, while Senator Horhn came in a strong second at 25%. The real story is that Harvey Johnson only got a wan 14%. So while the Free Press cynically lunked in all white areas as having a "black problem" for voting for a slate of African-Americans--but really, for failing to vote for Harvey--the story in some of the white areas is not race, but that Harvey was overwhelmingly rejected in favor of Marshand and Senator Horhn. To disregard the rest of the narrative: at St. Phillips, Marshand got 453; Sen. Horhn got 123, with Harvey a distant third. In Precinct 45, Crisler did dominate: but Hohrn and Harvey were very nearly tied. There's not a "racial divide" in the whiter parts of Jackson, Donna. It's a Harvey divide. Folks in certain part of the City--my part included, me included--would much rather vote for a newer candidate who offers change and a new direction than for our former mayor. In all instances those folks were Senator Horhn or Marshand. I continue to think this article is simplistic and frames the narrative in a way that can only be about race, can only be about dogwhistling Marshand as somehow "not black," and I would like to formally request a clarification of the numbers in the article above to show Senator Horhn's strong standing in relationship to Harvey's flat-out poor showing in majority white precincts. And as an aside--the "so and so paid so many dollars per vote" thing is so tired--glance over at Jere Nash's blog on it for a one sentence summation. Harvey has to spend less because tons of folks known him from his previous terms and he's got great name recognition. Senator Horhn and Councilman Crisler have to bulk their name up through ads by spending money, same as any candidate going for a broader area. It's another overly simplistic view of this race, and another one which has disappointed me coming from what I consider as the premiere Mississippi news source, and an absolutely essential part of my life, which happens to be staffed by people I respect and admire. [continued]

Author

David McCarty

Date

2009-05-08T07:38:11-06:00
ID

147119

Comment

Lastly, I want strong advocacy from the Free Press--I want polemics! I want fireworks! I love to look over at my picture of Donna sitting in Stanley Dearman's living room, Kate Medley taking the snap while the Editor is listening to him play piano, and think about how we can make Jackson better. But don't Fox news me; don't treat me stupid, and hide facts; and don't try to lump me in with Republicans, please, just because I got blue eyes and white skin. (Well, okay: pink with freckles). The title shouldn't be "Race leaves mark," but "Jackson Has a Harvey Divide." And by the by, if you're wondering how an old numbers nerd like myself sees the race breaking in the next few weeks, just look at the numbers above. BETS IN, FOLKS! [Also, I am very angry at myself for becoming actively involved in a political discussion on the JFP website, which I have forsworn, as you end up trying to read it at 12:10 in the morning on an iPhone (mobile site, please!), and then burning a half-hour typing furiously and worrying that you still sound the same way you did in college]

Author

David McCarty

Date

2009-05-08T07:38:55-06:00
ID

147120

Comment

Dang, David. I'd say you hit the nail on the head. "Jackson has a Harvey problem."

Author

Ironghost

Date

2009-05-08T07:59:45-06:00
ID

147121

Comment

He didn't say "problem," he said "divide." Two completely different meanings.

Author

Lady Havoc

Date

2009-05-08T08:14:59-06:00
ID

147122

Comment

Problem in that no one wants him back? :) It's early and I have no caffiene.

Author

Ironghost

Date

2009-05-08T08:22:05-06:00
ID

147123

Comment

Northeast Jackson has a HJ problem not the rest of Jackson, we dont want the arrogant Crisler.

Author

NewJackson

Date

2009-05-08T08:49:03-06:00
ID

147124

Comment

If you look at the numbers, NJ, the rest of jackson isn't sure what it wants. It's why a runoff is needed.

Author

Ironghost

Date

2009-05-08T08:50:28-06:00
ID

147125

Comment

Everybody i talk to in the rest of jackson sure dont want Crisler, ill admit i was looking around but when it came down to it HJ will get the job done not crisler. Why wasn't he at the emergency council meeting, what could be more important?

Author

NewJackson

Date

2009-05-08T09:15:15-06:00
ID

147126

Comment

No has lumped you, or any other white supporter of Crisler, in with Republicans, David. You should read more closely, especially my comments. Otherwise, your concern is noted. I assume you are reading the widely varied coverage we have done that place this article into a wider context. Beyond that, I'm not sure that we can give you exactly what you want. Our call is wider than that, and it involves reporting facts that may not sit well with people. And I'm sorry: saying you are against Johnson because you want "change" only impresses me so much. That's how we got into the mess with Melton. Change is not always good. I so wish we would spend the next 10 days or so really discussing specifics about these men, but sadly I think the dynamic is shaping up to be more or less the one Adam reported above. And not reporting it would sure not change that. The last thing I will say is that the JFP has not done y'all wrong, yet. When we raise a red flag, there are good reasons behind it. I'd hoped our honest reporting that could have jeopardized our existence over these years might have built some trust in what we know and report over here. That doesn't mean I expect you all to agree with our endorsements; but it does mean that you all should trust that we don't raise red flags just to be raising them. Take a breath and think about that, please.

Author

DonnaLadd

Date

2009-05-08T09:23:11-06:00
ID

147133

Comment

I WOULD LIKE TO JUMP TO CONCLUSIONS, PLEASE Also, to write in all-caps, since that it how you do it on the internets, right? I do think this is going to be a good run-off. And I'll be happy with whomever wins--I've voted for Mayor Johnson in the past, and would be fine if he won. It's going to be really interesting to see how the vote goes. Again, I think you're missing the boat on thinking that the race of the voter is a predictor on who they're going to vote for--it may simply be familiarity, or frustration, with the Mayor in the past. I'm going to have a beer and look over some old precinct numbers this weekend, perhaps. I'm interested in seeing how Mayor Johnson originally fared in his first race.

Author

David McCarty

Date

2009-05-08T10:52:12-06:00
ID

147134

Comment

Again, I think you're missing the boat on thinking that the race of the voter is a predictor on who they're going to vote for--it may simply be familiarity, or frustration, with the Mayor in the past. Well, it's the numbers that are sending a message right now. But if what you said is true, why is it that white Northeast Jackson voters seem much more frustrated with Johnson than are black voters in other areas of the city? It still circles back to race. The numbers don't lie. In case you haven't figured it out, yet, the JFP does not want people to vote based on race. We are trying to make the point that many may well be–and we all need to work to change that. I feel a bit like we're being skewered as the messenger because we're pointing out an uncomfortable truth. Did you see the map we ran in the election issue of where Melton's heavy support was concentrated, David?

Author

DonnaLadd

Date

2009-05-08T11:05:02-06:00
ID

147135

Comment

I missed that one. Can we get a reprint? It's been my theory for awhile we've moved from race to functionality in the mayor's race. If you look at it that way, we went from Johnson to Melton because Johnson was slow to produce results. Then Melton lost because of many reasons, with Crisler and Johnson seen as the better choices citywide. Crisler being seen as "newer is better" and Johnson being seen as "at least he can fill out forms correctly, let's get back to that". Doesn't explain why others lost, granted, but it's a theory. :)

Author

Ironghost

Date

2009-05-08T11:33:09-06:00
ID

147137

Comment

You do realize that if you compare Mississippi to some parts of the US, we're light years ahead? We're facing issues and forging solutions they haven't dealt with.

Author

Ironghost

Date

2009-05-08T12:04:18-06:00
ID

147139

Comment

baquan2000 said, Harvey was not a bad mayor, but he wasn't animated enough like Frank and this is just my opinion, not too many whites - in Mississippi - tend to get excited over educated black males. I don't think this is true, because if it is, it's the saddest statement I've ever read.

Author

Lady Havoc

Date

2009-05-08T12:58:17-06:00
ID

147140

Comment

Some of the dynamics that I don't hear people talk about much: 1. Johnson's '05 campaign ads stated that "the privileged and the powerful" were trying to "take Jackson back," which many NE Jackson whites are obviously going to see as targeted at them. I don't think he was wrong to do this, and I think history will record that the privileged and powerful did try to take Jackson back, but in doing those commercials he essentially embraced the position that the Ditto-Johnson race had put him in vis-a-vis older whites. Again, I'm not necessarily saying he was wrong to do this (though I think a more nuanced approach would have served him well)--but Johnson won in '97 by defeating, not appealing to, NE Jackson whites, and every race since then has reflected a similar dynamic. He has a history with these people. And if he doesn't get the votes, somebody else has to. 2. Crisler is running a campaign that is going to appeal to Republicans--he's describing himself as ex-military, a law enforcement veteran, with photos of himself in both uniforms. "I took a bullet." All of this appeals to a kind of John Wayne image that is going to resonate with white Republicans--masculine virtue, "muscular Christianity," is a big part of the Republican mystique (Reagan defeated Carter in part because Carter, who unlike Reagan actually fought in WWII, was framed as a relative weenie; GHW Bush had trouble appealing to conservatives because he came across as a weenie; Bob Dole and John McCain were appealing because of their military records, GW Bush because of his ask-no-questions persona, his death penalty record, his swagger, etc). 3. Sadly, I think there is also a tendency in insular white communities to trust black men more if they're in uniform--so you have these commercials that show Crisler the soldier, Crisler the police officer, and it's going to resonate with older whites who don't trust black men in suits but might trust black men in a protective, service-oriented role. 4. Likewise, given the way police treat our kids sometimes, wearing a Hinds County Sheriff's Deputy uniform is not necessarily going to win a whole lot of votes in some other parts of town. 5. That said, there is nothing in Crisler's policy platform, that I can see, that is problematic from a civil rights perspective. Correct me if I'm wrong, folks, but they both look like good candidates to me from a policy angle.

Author

Tom Head

Date

2009-05-08T13:21:23-06:00
ID

147141

Comment

what are crisler's policies the 4 p's, pave northeast jackson's streets first, Protect northeast Jackson first, Pretend to be a candidate for all Jacksonians , and Profess to be experienced enough to get the job done. LOL just having fun.

Author

NewJackson

Date

2009-05-08T13:46:37-06:00
ID

147142

Comment

New Jack!

Author

DonnaLadd

Date

2009-05-08T13:53:36-06:00
ID

147144

Comment

I will vote for Crisler for mayor in the future, and i do think he is the man to lead Jackson in the future but not now. He needs to go back and figure out why he in not appealing to the black community. He needs to remain calm when someone engages him about his record. He needs to come from behind the curtain and speak to this white black divide, it seems like hes hiding and hoping it goes away. When i see a candidate who is treated like you have to go through 50,000 people just to get to him hes not connecting. I think HJ is coming down to the people, hes in the Jackson advocate apologizing and begging for votes. He is showing up at every event to campaign. He is taking nothing and no one for granted. Crisler is acting like the incumbant and former mayor. Harvey is hungry and humbled and for that he earns my VOTE!!!

Author

NewJackson

Date

2009-05-08T14:14:20-06:00
ID

147148

Comment

Banquan i agree its like he threw everything at the people, yards signs, commercials, and his attitude that he was inevitable. All that money didn't change people minds.

Author

NewJackson

Date

2009-05-08T15:22:57-06:00
ID

147149

Comment

I like the two pictures of them, Crisler looks fresh out of college and HJ's grey hair shows wisdom and tenure.

Author

NewJackson

Date

2009-05-08T15:25:00-06:00
ID

147152

Comment

An aside: I just ran into the Web site for Crisler's campaign manager.

Author

DonnaLadd

Date

2009-05-08T16:07:46-06:00
ID

147154

Comment

I think it's going to come down to two things. 1. Melton's last gasp: Who inherits his voters? 2. Who John Horhn endorses. Melton did pull 5k people who still wanted to give him another chance, but with that comfort blanket gone who'll they run to? Harvey? They threw him out four years ago. Then if the Horhn voter translates into someone who wants fresh change over a known quantity, Crisler wins there. I think if Harvey wants it, he needs to confess to his errors a bit more, and more loudly.

Author

Ironghost

Date

2009-05-08T16:13:22-06:00
ID

147155

Comment

I'm interested in seeing how Mayor Johnson originally fared in his first race. I found this political science paper about that first race that Johnson won. It basically seeks to address the idea that when courting white voters or a racialy balanced electorate a deracialized campaign fairs better but, 'candidates who make deracialized appeals are seen by blacks as naive at best or as "selling out at worst."' It seems to be that this is what is hurting Crisler. It's pretty interesting and there are some parallels to be drawn I believe.

Author

WMartin

Date

2009-05-08T17:07:03-06:00
ID

147156

Comment

Wow. I hadn't seen that. I'm printing and taking home to read this weekend. Thanks, WMartin! I wonder if he gets into the question of the reaction when whites wholeheartedly support a lesser-qualified candidate, and the suspicion *that* would raise in the black community. One way to interpret what is happening, that wouldn't sit well with everyone, is that the majority of blacks and a minority of whites are supporting the candidate who will bring the most stability to a city in a state of unsteady drama. In other words, this might not be about blacks supporting Johnson because he's black–duh, so is Crisler–but because he is who they consider the lesser candidate and the person less likely to bring stability. That could indicate that the white vote in this case is (overall) more racialized than the black vote–because they think Crisler is the person who will treat them the way they want to be treated. I mean, how else can you truly account for the fact that the vote is not more splintered in white parts of Jackson? You can't argue that white Jacksonians just know *better* than blacks that some vague sort of "change" is the most important thing. That in itself would be racist to argue. I'm not arguing one way or another, just thinking out loud, but it is one way to think about these numbers. Certainly, that seemed very true in 2005 -- whites fell lockstep in line behind a candidate who was clearly not ready for the job and was making outlandish promises that couldn't possibly be fulfilled. Many blacks bought it, too, but as a group, they showed more independent thinking. You could also argue that black Jacksonians might have learned a bigger lessons about the need for stability in the last four years than whites. I tend to agree with whoever said above that many white voters, oddly, seem to relish the drama of a black leader acting a fool and "cussin' and fussin'" as Baquan, I think, said about Mr. Melton, may be rest in peace. I don't even want to consider why that might be. I mean, we cannot possibly argue with a straight face that either blacks or whites as a group have become "deracialized" in elections here; this primary split seems to prove it. They are not voting as a bloc (ish) for a black or white person; they seem to be choosing which black man to vote for based on their own race. So that indicates that maybe they are voting for the man they perceive will help their race more. Many will be be angry at that though -- of course we're not! -- but how else can they explain the racial split here? And why do we suddenly explain that racial dynamics have gone away in a city whose entire history and demographic has been shaped by racism? I just don't think we can ignore that reality away. Meantime, Jackson has tended to vote for white mayors, at least in the couple decades, who are pretty quiet and reserved. Even Danks doesn't exactly run around screaming about crime. Did he ever? Why do we expect something different from our black leaders? Personally, I want dignity in our leaders, and I want them to do what's best for the city, not the loudest complainers. They need to surround themselves with very good people (ahem, Mayor Johnson) who will take the time to do the homework but work as efficiently as possible to get the job done. Perhaps every city employee needs to be required to undergo time-management training (like David Allen's "Getting Things Done"; you think I'm kidding?) and sign pledges that they will serve the public's needs first and foremost. They should be fired if they do not adhere to high standards and waste a lot of time talking and outside smoking and such–where you're as likely as not to see a good number of our current city directors. Anyway, I digress, but this is all interesting to think about.

Author

DonnaLadd

Date

2009-05-08T17:32:59-06:00
ID

147158

Comment

I think simple name recognition is also a factor. Harvey Johnson benefits from strong citywide name recognition because he served two terms as mayor; but outside of Ward 6, Crisler has stood out in a crowded field by promoting himself among white voters in a way that most other candidates have not. e.g., who's been having the rooftop parties at Fondren Corner? Given the low turnout, it's not surprising that this sort of thing can have a profound effect. The low turnout itself may also tell a story here. I haven't done the math, but I'm guessing that if as many people voted for Harvey Johnson this year as voted for him in 2005, even though he lost back then, he would have won outright without a runoff. So there are a lot of people--across the board--who don't like the way the Melton administration turned out and might say the city is on the wrong track, but aren't ready to commit to a candidate. When we've got ten candidates running, that's understandable. The runoff might tell a very different tale, both in terms of overall trends and in terms of racial correlation. I would also be interested in looking at the Horhn effect. Did he get more votes from Senate 26, or from white precincts? My bet would be Senate 26, where he has the strongest name recognition, and that's a predominantly black area. And I would be interested in seeing what happens to Melton's support, which was (if I'm not mistaken) also primarily found in black precincts this time around.

Author

Tom Head

Date

2009-05-08T18:03:21-06:00
ID

147159

Comment

I would also attribute that apathy, as I did before the primary, to the crap that too often passes as political discourse in Jackson. It's just rumor after rumor, and game after game. One of the worst, which we debunked, was that Horhn had voted against MAEP. Yes, Nancy Loome told us, right after Katrina when a lot of people did. Not to mention, people don't see things getting done. The truth is that the City Council has come across very ineffective the last four years -- both due to the Melton voting bloc, and the fact that even the anti-Melton people on Council couldn't or wouldn't step forward against him as a bloc soon enough. They could have investigated him. I say that liking some of the people on Council (and Crisler did speak up very early, to his credit). And the city administration is just ineffective as well. The streets are a disaster, crime is bad, houses are crumbling. Melton promised them the moon and then didn't deliver. I truly believe we endorsed the right person, but I do want him out there telling people how he's going to change the things he did wrong. But, frankly, I think he is doing that in much of Jackson, and it's hard to find many white Jacksonians who are even willing to consider that he's learned some things or who want to hear what he has to say. It might be smart for him to direct his resources somewhere where more people will listen. That's the irony: Many white voters don't want to hear from him, but they are furious when he doesn't try to talk to them more. Again, that's not true for everyone. I know people he really should have reached out to and really listened to much earlier in the campaign. Johnson (and others) could really use the lesson that listening does not mean agreeing. You should do like Obama and listen to everyone you can, noting their concerns, and then shape your agenda and policies based on consideration of the different factors at play. But make damn sure people know you're listening. People really like to be listened to. That also goes to Crisler. I can't tell you how many times I've heard him go on for a while, without pausing, and then you have no idea what he just said. ACTIVE LISTENING. A vital skill for politicians, journalists and everybody else.

Author

DonnaLadd

Date

2009-05-08T18:14:12-06:00
ID

147164

Comment

Malleable equals flexible as opposed to rigid. Since I do not believe it is a coincidence that my words are being quoted here, please understand the way in which I used it. Based on the slamming Ward 1 is taking for it's "white" vote, how did the large number of blacks who reside in Ward 1 vote? And, remember the "flag" vote. How did the "white ward 1" vote then? And, since someone brought up the above pictures of the two candidates, would you please tell us how long ago the picture of Crisler was taken? Looks to be about 7 or 8 years ago. The "business vote" is usually concervative even in other locations besides Jackson. Crisler is certainly percieved as more concervative and business friendly by some even though he serves on the State Democrat Executive Committee. He also is the first Councilman/Alderman to serve on the Executive Committee of the Mississippi Municipal League. Do you reckon all these folks are white too? Johnson lost a great deal with the business people in Jackson over his selections for the committee to oversee the Convention Center. Also, Bracey Coleman was not a popular choice with whites for Police Chief. Whites liked Robert Johnson as Chief and never knew what happened between the two Johnsons. Johnson and the Chamber of Commerce were rarely compatible. And, many voters like the fact that Crisler is personally tough on crime. He has trained many military officers and been one himself. He completed OCS. Retired as a Major after 21 years of service, four as a Marine. He has been a narcotics officer and worked undercover. He, after marrying young, completed college, then a masters degree, and is currently working on his doctorate. He is a Leadership Jackson graduate and has attended the John F. Kennedy School of Government at Harvard. He is an adjunct at JSU. He is a Crime Prevention Officer. He has been President of the City Council and Chaired the Budget Committee. For someone only 40 years old, what more do you want? Personally, I like the energy he would bring to the Mayor's office. But, Jackson will be OK with either candidate's victory. Just wish the Free Press would not be quite so biased in reporting.

Author

Razor

Date

2009-05-09T14:22:58-06:00
ID

147165

Comment

How is crisler tough on crime, because he wears a cowboy hat in one of his commercials and says hes been shot. Thats the ignorant mess that got us that last Mayor. Talking tough and looking tough dont add up to being effective. Energy dosen't mean nothing if it dont come with substance.

Author

NewJackson

Date

2009-05-09T16:25:34-06:00
ID

147167

Comment

I was talking about the racial vote correlation with my mother yesterday, and she reminded me about the Malcolm McMillin endorsement. I've been mulling on this factor since then, and the more I think about it, the more it looks like the best explanation for Crisler's numbers. McMillin resigned in fairly dramatic fashion, and broke ties with the Melton administration, to back Marshand Crisler. That's a pretty huge deal. The sheriff-chief thing was unprecedented in city politics, and ending it was unprecedented, too. In addition to being the only elected law enforcement official in the area, the most popular white elected official in the area, and someone who has considerable Republican crossover support, McMillin is the only current officeholder, other than Kenneth Stokes and maybe a few members of the County Board of Supervisors, who comes from the Danks/Ditto era. (And seniority is a HUGE deal, as Stokes' 80% landslide proves.) So it makes perfect sense that, in a crowded field, the McMillin endorsement would give Crisler a strong base in Ward 1 and other white wards, particularly among older white voters (who trend Republican). It also contributes to Crisler's tough-guy image. This does not make Crisler the better candidate, of course, but it's a much better explanation for his level of support in white precincts than, say, the cowboy hat. Personally, I'd rather see Robert Moore or a comparably gifted appointee serve as chief separate from the sheriff--but McMillin is a popular guy, and if folks expect McMillin to become chief again if Crisler gets it, then he almost becomes a running mate. And he makes one hell of a running mate, especially (I suspect) among older and more conservative whites.

Author

Tom Head

Date

2009-05-09T16:51:53-06:00
ID

147168

Comment

An exercise for someone who has access to the precinct-by-precinct data: Was McMillin strongest in the same precincts, back in 2007, that Crisler is strongest in now?

Author

Tom Head

Date

2009-05-09T16:57:16-06:00
ID

147169

Comment

Tom Head you fail to mention how the black community feels about Mac being cheif again. That plays a bigger part.

Author

NewJackson

Date

2009-05-09T17:22:52-06:00
ID

147170

Comment

i know wearing a john wayne cowboy hat makes some people get chills down their legs but do it translate into a successful Mayor. And i thought we was through with Mayors trying to be police cheifs.

Author

NewJackson

Date

2009-05-09T17:25:59-06:00
ID

147171

Comment

All this is also considering that HJ's first term as mayor was after getting the same support from some of the same names that are now supporting Crisler. Stands to reason if he didn't "bow" to them that he wouldn't have been elected his 2nd term. But was. By a decent margin with those SAME folks supporting him who are supporting Crisler now. There were no sell-out or puppet calls during those two elections. Strange.

Author

Kamikaze

Date

2009-05-09T17:31:59-06:00
ID

147172

Comment

NJ, McMillin would have had to carry at least one-third of black voters to beat Tyrone Lewis in 2007, so I think it's probably a mistake to speak of black Jacksonians as being of one mind on this issue. But you're right that McMillin is clearly less popular among black Jacksonians than he is among white Jacksonians, and this could explain Crisler's numbers. Johnson is well situated to win if the election is seen as a referendum on McMillin as chief. Kaze, good point... I don't like the "puppet" language/line of thought in general, to be honest. It plays into the old Hollywood idea that black folks are passive and easily manipulated, while white folks are secretly pulling all the strings. The WPS idea also dovetails with this a little bit; there are such things as white power structures, but if there's a white Illuminati secretly running everything in Jackson, nobody's ever introduced me to them. And I think that's rude, because I'd make a really good member of the Illuminati. I could run for secretary; I take really good minutes.

Author

Tom Head

Date

2009-05-09T17:35:54-06:00
ID

147174

Comment

Yeah...that language is getting old. I'm beginning to run into people just regurgitating that same talking point. Its so clear they don't have independent thought. "White folks/businessmen don't like HJ because he didn't do what they wanted" "he didn't bow to them" Really? To your knowledge what exactly was it? What instance? Who exactly did he piss off? What project was it? Have any specifics? Its much easier to spread it than it is to truly give facts. Its the same race-baiting tactics. Tell a Black person that one candidate is "hated" by white folks because he won't cater to them. And some will instantly back that candidate.

Author

Kamikaze

Date

2009-05-09T17:53:09-06:00
ID

147175

Comment

Kaze you talking about the same taking point about harvey being to slow. I respect your way of working the middle and trying to bring together boths sides but im not racist just a realist. I know from your vantage point you dont wanna get down in the trenches with us radical blacks but it is what it is. I aint mad at you i understand your position.

Author

NewJackson

Date

2009-05-09T18:06:29-06:00
ID

147176

Comment

As I understand, Harvey pissed off blacks AND whites because he would only deal with a select few people. Any animosity whites had for Harvey was reinforced by Harvey's ads at the end of his race against Melton when he announced that people needed to vote for him because the rich white people were behind Melton. So, the dislike of Harvey in the white community is at least somewhat Harvey's fault.

Author

Jennifer2

Date

2009-05-09T18:09:21-06:00
ID

147177

Comment

Kaze you seem to get on here an try to blast everybody that say crisler is a sell out, thats my opinion.like you say this aint just your Jackson, i know you have a pulpit now thats good keep us informed. If we agree or disagree we both still gone love jackson at the end of the day.

Author

NewJackson

Date

2009-05-09T18:13:23-06:00
ID

147178

Comment

Jennifer however you try to rationalize it he is his own man.

Author

NewJackson

Date

2009-05-09T18:15:17-06:00
ID

147180

Comment

New Jack I BEEN in the trenches my man. You've been around here long enough to know that. Just because I strongly disagree with the stand some folks are taking on opposite sides doesn't mean I'm NOT in the trenches. I been radical in Jxn when it wasn't "in style" and I'm in the trenches now. And always will be for my folks. I'm the same "mad rapper" that got kicked off a radio show. The same one that got temporarily banned from a campus and the same one who tries to bust up the status quo for developers in this town. So I'm already there wit ya. Everybody needs to make their choice based on who can move this city forward not on who white people like more and not on who Black people think will stick it to white people.

Author

Kamikaze

Date

2009-05-09T18:19:19-06:00
ID

147181

Comment

The funny thing about the "Harvey didn't bow to them" line to me is that he actually brought more development into downtown than any mayor before or (in the one example) since. He was a fantastic salesman for the city who brought developers in like crazy and worked with folks of all racial backgrounds. That's one of his selling points. But I gotta agree, Jennifer, that his campaign ad was kinda...ambiguous on the race thing. You have the first black mayor in city history putting out an ad saying "the privileged and powerful are trying to take the city back," and that's about as close as one could come in a mainstream TV ad to actually uttering the phrase "white power structure." The ad really kind of blew me away because it was so completely inconsistent with everything he had done up until that point.

Author

Tom Head

Date

2009-05-09T18:24:57-06:00
ID

147182

Comment

Razor, you didn't accuse us of being "biased" when we supported your candidate in the past! The truth is, until we endorsed, we were not supporting a candidate. And Crisler has told me himself many times, including a couple weeks ago, that he welcomes criticism from the JFP because he knows our track record. The truth is, he could change our minds, yet. But if we weren't honest about our concerns about him, we would not be fair to him. Unlike candidate staffs and people who sign on early, we are looking for all the facts we can find, and making decisions based on all the facts. That is not bias. Bias is when you blindly support one thing or another, regardless of the homework, facts or evidence. As for the photos, the designers pulled photos out of our archives that worked in the space. I know they had a hard time finding straight-on photos of Crisler. I don't think he looks bad there, so I hadn't give it much thought. This does remind me of Melton supporters who complained about the placement of his photo on a banner ad for our politics blog four years ago. Personally, I think it's a bit off-topic this close to an election. People know what these men look like. All this is also considering that HJ's first term as mayor was after getting the same support from some of the same names that are now supporting Crisler. I'm not sure those are the ones raising eyebrows out there, Kaze. Billy Mounger, for instance, did not support Johnson, I don't think. Look, people all over the city have been talking about this for weeks, and we have defended Crisler against the puppet charge, because I don't think that is his intention, as people on other blogs and around the city are charging. If anything, my criticism is that he is not communicating better that that is *not* his goal. I would think Crisler supporters would welcome honest feedback so that they can adjust course to make sure the correct message is getting out. I'm rather surprised at all the defensiveness and messenger attacks over talk about what everyone is already talking about. There is something really Jackson-politics-as-usual about that, and I hope we can grow beyond that in future elections. And I agree, Tom, that McMillin's endorsement has had a huge effect in Northeast Jackson. I'm not sure how much that changes the story line, though, these days.

Author

DonnaLadd

Date

2009-05-09T18:26:47-06:00
ID

147183

Comment

Tom, that ad ran late in the campaign, didn't it? I remember thinking then that it seems like a desperation move, considering how so much of white Jackson was so firmly in Melton's court. That's doesn't mean I agree with it, just that I understand it as a strategy -- but think it was flawed. Everybody needs to make their choice based on who can move this city forward not on who white people like more and not on who Black people think will stick it to white people. I agree, Kaze. And without this kind of public conversation about what's going on out there, and what people are saying, many people will blindly vote based on what people of their own race are doing. I'm rather hoping this kind of public conversation will make people rethink the automatic assumption of many (apparently from the primary result) that they should vote for Crisler if they're white and Johnson if they're black. Now, I do think who supports you and gives you big money is as relevant in this race as it is in others (such as Democrats' crowing about Barbour's corporate and tobacco backers, and Republicans' freak-out over attorneys like Joey Langston giving money to Jim Hood). It's fair to wonder why (for instance, my question about unabashed Two Lake support). It would be hypocritical for one, for instance, to have been concerned about Melton's odd base of support four years ago and not question who is supporting what candidate now and why. And I can tell you this: I can be concerned about who Billy Mounger or Jim Evans is supporting based on their own history at this point, without even noticing their race. That doesn't mean that is enough to discount their candidate, but it should make one think and ask questions about why. People should not be criticized for wondering why certain people support certain candidates (like, say Ed Peters' push for Robert Smith). These are relevant questions.

Author

DonnaLadd

Date

2009-05-09T18:28:57-06:00
ID

147184

Comment

Some of us like the idea of combining some Hinds County and City of Jackson functions. Child Protective Services for one. With Crisler coming from a Hinds County/City of Jackson background we could count on him to move toward eliminating overlapping and expensive practices. We are taxed so much now by both. Also, he has children in the Public Schools in Jackson and the School Board selections would be based on parents' view rather than just someone he knows.

Author

Razor

Date

2009-05-09T18:30:17-06:00
ID

147185

Comment

Still, the police chief needs to live in Jackson. It is so irritating to talk to cops when they show up because the people who run the personal care home down the street are letting the mentally ill people wander all over the place (when they aren't beating them up) and the cops are like "that's why I live in Byram". I've learned only in the last few weeks that Jackson is full of "personal care homes" which are real ratholes stuffed with mentally ill and disabled people and run by people who are doing it just to get the money. At least, that's what the cops told me.

Author

Jennifer2

Date

2009-05-09T18:41:11-06:00
ID

147186

Comment

What other city-county services do you want combined, Razor? Finally, an *issue* to discuss!

Author

DonnaLadd

Date

2009-05-09T18:43:35-06:00
ID

147187

Comment

Sounds like a story, Jennifer. Agreed: all city directors need to live in Jackson. Seems like a duh. Also, reading back up: Know that the white distrust of Johnson goes back to his first election and what was going on in Jackson at the time. It's fascinating to study and reconstruct (and deconstruct) that time, and all the CYA that was going on around the Juvenile Detention Center blow-up by powerful people (black and white), which led to the dismissal of Jimmy Wilson, which really pissed off the NAACP et al., which got behind Johnson whole-hog, and help elect the city's first black mayor. (And then there was that intriguing Metro Crime Commission, but that's too much to go into right now.) Let's just say that a small handful of very powerful white people, along with a few black friends, shaped everything that most Jacksonians think now about that period. (Sadly, including media that was here then and could have done much better over the years.) And much of it is incorrect. So, yes, this is all more of a very long history of race politics in the city, and it's not nearly as simple as people want to make it now. For instance, there were some African American leaders then who *really* sold out to the white power base, and I mean *really*. There is historic reason for distrust, even if we wish there weren't. Understanding that will help us figure out how to get past it. Pretending it's silly won't. And while Johnson has his flaws, know that the historic problems with him for many very clearly stemmed from the fact that he did not go along with everything that group said or wanted (and the media were too blind to see and call them out). For that, I give him credit. It's not easy to buck a very entrenched and powerful status quo. Even if everyone has not gotten what they wanted (a stadium in Jackson, Two Lake, public records fast enough), the city is clearly better for having a mayor who was not beholden to a small group of people. It's what allowed us to start breaking out of long-held patterns and blockages, and start reversing destructive patterns. That doesn't mean that Johnson did all that himself; it means that his willingness not to be lie down and be run over opened the city up to bigger things. Since then, Johnson has adopted too much of a bunker mentality, though, and he has to change that, and be the leader in modeling and allowing change to happen, and reaching across painful divides ("turn the other cheek" has never been more apropos). But it would help if more people, especially white ones, even tried to understand more about how all this happened in the first place. It's all sitting there waiting to be understood. What's remarkable to me is how much whining one hears about Johnson, with Ed Peters sitting comfortably in the D.A.'s chair all those years.

Author

DonnaLadd

Date

2009-05-09T18:48:58-06:00
ID

147188

Comment

There is historic reason for distrust. There's always a "historic reason for distrust". Usually it's politicans exploiting for their gain.

Author

Ironghost

Date

2009-05-09T18:51:16-06:00
ID

147189

Comment

Donna, you're right--it was very late in the game. His two earlier ads (which I can't find online) were really good, but that one sucked--not only the line about the privileged and the powerful taking us back, but the ad as a whole (the "even one crime is too many" line is offensive to folks who have to deal with house burglaries and such on a regular basis even during low-crime periods, the background music stinks, etc). So maybe it's a mistake for me to focus so much on that one line, given that the ad as a whole was so dreadful and so out of character for him. And in all fairness to whoever wrote the ad (though this is not intended as an excuse), Melton did have a conspicuous level of white Republican support for reasons that were never entirely clear to me. I don't know why the Jackson Advocate or AFL-CIO endorsed him, either, particularly the latter given his history with unions. There are many many things about the Frank Melton campaign that I will probably never understand or come close to understanding, and that's why my spider-sense tingles over stuff like Billy Mounger donating to the Crisler campaign despite the fact that I have nothing but respect for Marshand Crisler. I'm sure it must have been frustrating to see all that money go into the Melton campaign and wonder what the donors expected to see happen in return. (Whatever it was, I suspect they were disappointed.) And agreed re the the need for a more issue-oriented election! I wish the sheriff/chief arrangement was discussed as an issue rather than as a referendum on the personalities involved. McMillin will not be sheriff forever, after all, and what happens if he loses an election or retires? Does it make more sense to have a countywide police service? (My tentative answer would be that it probably does not.) I hope the upcoming candidate debate focuses on this sort of thing and not on personalities.

Author

Tom Head

Date

2009-05-09T18:58:24-06:00
ID

147190

Comment

Been out of town for a few days and just getting back to reading the posts. Donna, I see you have been taking grief over this article. But to quote Frank Melton ( I do not believe I am doing this) "it is what it is".The precint totals do not lie. To answer TH's question John Horhn had 1,159 votes in his senatorial district in Jackson. HJ received 2,473 in these same precincts. (For the record Crisler received 1,056 votes in the district and Melton received 1,052 votes.) So JH received more votes outside of his senatorial district than he did in it. Which was not to be unexpected as those of us who live in the district knew HJ had stronger support in the district than JH. What did surprise me is that about 70% of the voters in the senatorial district voted for someone else for mayor other than JH. This could forshadow trouble for Horhn's senate reelection if he has a serious opponent in 2011. Also, I have been told that Leland Speed said he would implode his buildings and move out of Jackson is HJ is reelected. I can not confirm this but Leland is a major contributor to Crisler. Maybe you can ask Leland about it?

Author

wellington

Date

2009-05-09T21:49:59-06:00
ID

147191

Comment

Or, Wellington, the votes could me John Horhn's constituents like him in the State Senate more than they want him to be Mayor! He is an excellent Senator and a friend of Jackson's!

Author

Razor

Date

2009-05-10T08:16:26-06:00
ID

147192

Comment

Combining services: Solid Waste Disposal & Collection Water Supply, Distribution & Treatment All Sewers and Treatment (County just approved one half-million for Byrum Study??? Why?) Road (Bridge) Repair & Maintenance Lobbying Convention Center Arena - Proposed Some overlapping of First Responders Social Workers and Child Protection Drug Enforcement Courts Many things to consider and discard or work toward MOU's.

Author

Razor

Date

2009-05-10T08:41:04-06:00
ID

147194

Comment

Wellington, I don't do a lot of blogging and, in fact, haven't keep up with much the last few weeks because I've been recuperating from surgery and have been getting ready for a family wedding. But, I just read your post about Leland Speed, i.e., "I have been told that Leland Speed said he would implode his buildings and move out of Jackson is HJ is reelected" and I cannot refrain from leaving such a post unanswered. As to the substance of your post, how ridiculous can one get! No personal insult intended, but who in the world told you such an outlandish thing and why in the world you dare repeat such irresponsible rubbish? I am serious. Such a post truly raises major credibility issues with the poster, and if not corrected perhaps even the JFP, which is my standard bearer for integrity and fairness in journalism. So, let's look at the facts. Mr. Speed is the Chairman of the Board of Parkway Properties, a publicly traded REIT, with a long record of national successes for many years. From the company's website (http://www.pky.com): Parkway Properties, Inc., a member of the S and P Small Cap 600 Index, is a self-administered real estate investment trust specializing in the operation, leasing, acquisition, and ownership of office properties. The Company is geographically focused on the Southeastern and Southwestern United States and Chicago. Parkway owns or has an interest in 66 office properties located in 11 states with an aggregate of approximately 13.5 million square feet of leasable space as of April 28, 2009. As a major stockholder and force behind this highly successful company, Mr. Speed could easily have Parkway's headquarters located anywhere in the country he wants. Yet, Mr. Speed has continued to insist on a large corporate presence AND the location of Parkway headquarters right here in Jackson, Mississippi. Though a number of the successful white business leaders of Jackson have moved out to Madison County over the years, Mr. Speed continues to claim Jackson as his home and continues to promote Jackson all over the country, even the world. That's fact, not fiction. Mr. Speed promoted Jackson during the Kane Ditto years, during the Harvey Johnson years and during the Frank Melton years. In spite of significant differences with HJ and later with FM, Mr. Speed's extraordinary loyalty, commitment and love for the City of Jackson is well known to anybody who bothers to take a look. The public record is replete with Mr. Speed's handiwork in both public and "behind-the-scenes" promoting, negotiating and outright arm twisting to promote our Capitol City. Moreover, for those of you who do not know, Leland Speed is probably responsible, personally, for more of the good things in developments that have happened in Jackson over the last decade than ANYBODY else, period. Without Leland as head of MDA pushing key legislators and the Governor, the legislation for the convention center would not have happened. That's a fact. Without Leland Speed's steadfast and selfless efforts, the King Edward Hotel/Apartments (which will open on November 1st of THIS year) would never have happened. That's a fact. Without Leland Speed, the Standard Life project (renovations begin this month!) would never have been possible. That's a fact. Same for the Pinnacle Place; same for positive developments at UMMC; same for expansion of the campus and the commercial development around JSU (I bet you didn't know that Mr. Speed is chairman of the JSU Foundation!). The list goes on and on.

Author

Pops

Date

2009-05-10T19:16:08-06:00
ID

147195

Comment

Mr. Speed has contributed behind the scenes in ways that you cannot imagine and in just about every single significant project affecting the City of Jackson in the last decade. He spent 4 years as Exec Dir of MDA (for $1/year), where he shamelessly and incessantly lobbied and promoted the best interests of the City of Jackson, resulting in a paradigm shift in the sentiment towards Jackson at the highest levels of government. When Haley Barbour took office as Governor, he was not exactly sold on downtown Jackson. Today, after years of lobbying, cajoling, and educating by Leland, Haley is very pro-Jackson, believe it or not. Thank you Leland Speed! In short, for anyone to suggest that Mr. Speed would pack up and leave the city just because HJ is elected is simply someone talking from ignorance (and hopefully, not malice). I'm not much into hero worship, but I will tell you that Leland Speed is one of my heroes. No, we don't always agree and yes, we joke about cancelling out each others' votes on election days. But, let me say this to all who might care. There is no one in this universe that loves this city more than Leland Speed. I can attest to that from my own difficult journey over the last 7-8 years. Leland Speed is my mentor and, in the end, my dear friend. If HJ is elected mayor I pray that he has the wisdom, judgment and the humility to make Leland Speed part of his inner circle of friends and advisors, for the benefit of the city, no matter who Leland supports for mayor. If Crisler is elected, I hope he does likewise. If either HJ or Crisler does not recognize that, then shame on them, not Leland Speed. Regardless of what you might have heard or assumed to be the case about Leland Speed, he is truly one of Jackson's "hometown heroes." He certainly is mine. David Watkins CEO, Watkins Partners Partner, King Edward Revitalization Company [email protected] www.watkinspartners.com

Author

Pops

Date

2009-05-10T19:18:46-06:00
ID

147196

Comment

David, wellington is an anonymous supporter of the Johnson campaign who has been dropping random unsourced stinkbombs about various opponents into election threads for months now. Donna has warned him about this before; the Leland Speed thing seems to be only the latest example among many.

Author

Tom Head

Date

2009-05-10T19:51:12-06:00
ID

147197

Comment

Tom, thanks for the heads up. There are not a lot of things these days that get my dander up. If you attack my family, though, you're gonna get a fight! Leland is like family to me, so i guess i just got a little stirred up. Cheers, David

Author

Pops

Date

2009-05-10T20:14:41-06:00
ID

147198

Comment

David. We that do UNDERSTAND, Those that don't never will. Hide behind a GD computer and spout [email protected]@@ right and left. People...here is the deal. We are BEGGING for civic warriors THAT WANT TO GET INVOVED.....NOT blog [FOR GOD'S SAKE....WORK]. If you wish to DO something, call us, 601 353 9800. We will get you involed. Ask for me, David or Kaze.

Author

Ben Allen

Date

2009-05-10T21:42:30-06:00
ID

147203

Comment

Baquan, yes it is *the* Ben Allen. Ben was a regular blogger here back in the day.

Author

Jeff Lucas

Date

2009-05-11T07:22:36-06:00
ID

147206

Comment

Folks, I was barely on here yesterday, and didn't see wellington's "stink bomb," and it is a stink bomb to post based on rumor. If I had seen it right away, I would have deleted and told him the same thing I tell other people who post unsubstantiated rumor: If it's important, call Adam Lynch and give him sources to check out. Otherwise, keep the trash off the site. This has been happening from all sides in the city elections and, fortunately, a lot of it gets weeded out in moderation, but wellington has posted here for a while and isn't a "guest." (This is your last call, welllington; I will switch you to moderation if you don't play by the rules, as I do anyone.) At this stage, being that the response has been quick and substantive, I believe I will leave the stink bomb up. After all, wellington et al are probably saying it around town. If anyone objects to that, please let me know off-line. I will also ask Adam to call Mr. Speed and get a response to the accusation. He is already working on a piece about the myths and realities of rumors being spread during the campaign to try to clear things up for people. Meantime, folks, can we stop wasting time on trying to spread trash like this and talk substance!?! And after this election, we really do need to convene some public conversations about how to stop spreading trash, demand attribute and help our public ask the right questions -- a different kind of Truth Commission, you could call it.

Author

DonnaLadd

Date

2009-05-11T07:38:55-06:00
ID

147207

Comment

Oh and Ben, many "civic warriors" also blog. You know as well as I do that publicity and talking makes a big difference, if you can keep the trash out. With our site, we try to keep the dialogue real and focused on issues (despite what campaign supporters try to do during the golden days of campaigns). As a result, we've brought new warriors to the table.

Author

DonnaLadd

Date

2009-05-11T07:41:41-06:00
ID

147208

Comment

And after this election, we really do need to convene some public conversations about how to stop spreading trash, demand attribute and help our public ask the right questions -- a different kind of Truth Commission, you could call it. That would be absolutely beautiful. Maybe we can get some people from the burbs involved so we can all learn to work together on improving relations. There are way too many misconceptions held by people who don't live in Jackson that should be addressed, IMHO.

Author

Lady Havoc

Date

2009-05-11T07:59:57-06:00
ID

147212

Comment

Meantime, folks, can we stop wasting time on trying to spread trash like this and talk substance!?! ladd "The rest of Jackson was more split, but Northeast Jackson lines up obediently, regardless. And don't even ask who is calling the shots." ladd "I think even some well-meaning people (not just the usual puppeteers) are supporting him because they believe he is malleable. But I've seen no sign, yet, that he's ready for this job." ladd "And for the record, it concerns me more that *Billy Mounger* supports Crisler, than whether he has *white* support. I keep wondering why." ladd "That also goes to Crisler. I can't tell you how many times I've heard him go on for a while, without pausing, and then you have no idea what he just said." ladd Yes, it would be nice if everyone stopped spreading trash and talked substance. Wouldn't it?

Author

Birdseye

Date

2009-05-11T08:26:03-06:00
ID

147214

Comment

How about Crisler missing last week's emergency council meeting to elect an interim mayor because Crisler had a photo shoot he couldn't miss? That, to me, shows a real lack of judgment. Anyone who thinks I'm just spreading rumors, here's the C-L story which states that Crisler was not there. http://www.clarionledger.com/apps/pbcs.dll/article?AID=200990506012

Author

Jennifer2

Date

2009-05-11T08:59:55-06:00
ID

147217

Comment

I agree, Baquan. I'd like to see Johnson learn to be more personable; he seems to have an innate shyness to him. I believe he should take more risks and a lesson from Obama and surround himself with more people who might not agree with him--as along as they have the city's best interests at heart. I'll say it again: Johnson's administration had too much of a bunker mentality (which had real roots), and he has to break it up. (Just as Crisler needs to get past his supporters' defensive echo chamber.) Both *must* show the ability to entertain criticism and control the tendency of inner circles to get personal toward critics if they're not being led well. That goes for the campaign or the administration. The most recent administration was the worst I've ever seen at this, and our next mayor must show that they have thick skins and welcome criticism. They simply must. And either one needs a stellar staff -- from CAO to chief of staff to communications people, etc. – to ensure the city's transparency. But the mayor then has to be able to take it all in and make very smart decisions. He has to have the reins at all times.

Author

DonnaLadd

Date

2009-05-11T09:48:10-06:00
ID

147218

Comment

Birdseye, your examples of "trash" aren't "trash." Trash is unconfirmed rumor and lies designed to "trash" people personally. Anyone in the public eye in Jackson is used to this being done about them. (I certainly am. ) But it never works; the trash people always look bad if revealed, or the people they're working on "behalf" of end up looking bad, even if they didn't send the trash people out in the first place. The stuff you quoted from me are facts and honest observations. The fact that Mounger donated big to Crisler's campaign is a point of interest, but it does not prove Crisler is beholden to him (but it does show a message he needs to control and might not be so far). It's no secret that Crisler hasn't proved to be the best listener, and needs to engage in more "active listening" to be a good leader. There are books on how to do this, and courses. Notice I said I haven't seen signs "yet" that Crisler is ready to be mayor: That is a message that this campaign shouldn't be defensive about, but choose to see it as a challenge they really need to rise to. If I haven't seen it about someone I respect immensely, it's possible that they haven't done a great job of communicating it, beyond the group that is already fully in his camp. As for "malleable," I have had Crisler supporters say that directly to me, meaning they see it as a positive because he can be shaped into a good mayor. It might come from a well-meaning place, but I personally do not believe it is a good qualification for mayor, especially in a city with the dynamics of Jackson. Flexible? Sure. Willing to compromise? Absolutely. Eager to study and learn? Without a doubt. A listener who gathers critics around? Priceless.

Author

DonnaLadd

Date

2009-05-11T09:52:03-06:00
ID

147235

Comment

Real simple: Although there is a lot of talk, ranting and raving about Jackson being ready for "change"; Jackson being underestimated; People being "tired" of the old way of doing things; People demanding that we be considered a city that is diverse and not plaqued with racial dishamony. If you didn't know before now, please recognize that Jackson, MS is NOT ready for a change. The citizens are AFRAID of newness. We are STILL very much soaked with racism. Unfortunately we will continue to be this way for another four years. Regardless of which one of these men become Mayor. And it is a SIMPLE, RIDICULOUS SHAME that after all this preparation and all the community work that so many people have done to prevent this, that we see ourselves as we are. STUCK LIKE CHUCK RUNNING BEHIND A WATERMELON TRUCK TRYING TO GET A NUT.... ....that is all....

Author

Queen601

Date

2009-05-11T14:12:01-06:00
ID

147240

Comment

Speak, Your Highness!

Author

DonnaLadd

Date

2009-05-11T15:54:31-06:00
ID

147250

Comment

Tom Head, your assumptions about me are so wrong. I began as a 100% Crisler supporter. When I heard that his out of state campaign manager had run off many of his local supporters I began to have questions about him but still counted myself as his supporter. When HJ came out and said he recognized he had made mistakes during his time in office it gave me reason to give him another look. If you would remember I stated in a post I was torn between Crisler and HJ. However I was still leaning to Crisler until his financial report came out showing him receiving large contributions from a whos who of the state republican party, including some whose past activities make their names curse words in the black community. Only then did I decide to vote for HJ. I know you are upset your candidate, JH , did not do bettter. I know you are upset that I said several months ago he would not do very well in this election which was true. Perhaps you should get more involved in black Jackson politics so you could be better informed as to what is actually going on!!!

Author

wellington

Date

2009-05-12T00:36:29-06:00
ID

147251

Comment

wellington, I'm neither as gullible nor as patient as you seem to believe I am. If it's important to you that we get to know each other better, the first step is to send me an email at [email protected] introducing yourself by name. Otherwise, don't bother. Queen, I have high hopes... I think change will come in this city, I think it has come, I think it is coming. But I think it comes from people like you and Kaze and Donna and me and wellington for that matter, and not necessarily from elected officials. Aaron Henry was once asked if churches were a light in the civil rights movement. He paused a minute, then said "Yeah... A tail light." It's like Barack Obama--he doesn't represent the creation of a new era in American politics, he represents a recognition of the fact that this new era is already here and has been artificially stalled. I don't think Harvey Johnson or Marshand Crisler will save our souls if we won't save our own. But when I look back on Dale Danks and Kane Ditto and even Frank Melton... I feel pretty good about the future of our city right now.

Author

Tom Head

Date

2009-05-12T01:14:20-06:00
ID

147258

Comment

I may not agree with Wellington, Tom, but I'm 100% against calling folks out who are going out anonymous or pseudonymous. I know there's the danger of trolls--but we also have a lot of folks out there who have jobs where they can't use their real names. I can use mine because I work for myself. I want more maps, more inclusion of numbers, and more number-crunching! NUMBERS FOREVER! I am working on a Precinct 9 historic voting trends paper. Expect it in 2010 (seriously, I'm running really behind right now).

Author

David McCarty

Date

2009-05-12T09:04:57-06:00
ID

147261

Comment

David, there are definitely cases where going anonymous or pseudonymous is a good idea. I've done it myself from time to time, though not often (and never on this site). But it strikes me as churlish to use anonymity as cover while spreading rumors and innuendo about people who aren't anonymous, or criticizing the credibility of people who aren't anonymous by taking advantage of the fact that their identities and personal histories are public knowledge. That just ain't right. And there's also the simple fact that you can't build a relationship or track record with an anonymous person. I mean, Wellington is saying here's who I am, here's where I stand, here's my history. And he could be telling the truth. But if there's no identity to connect with that, then he has absolutely no incentive to do so. If I'm anonymous, I can describe myself as being descended from Swedish royalty and holding office as a former executive committee member of the Mississippi Republican Party, and who would be able to argue with me? So I'm not saying give out your name. I'm just saying that if you want me to get to know you...a handshake, eye contact, and an actual name is a great place to start. If someone can't provide that, I'll still respect them. I just won't know them, or accept them as (for example) an authority on black politics in Jackson, or as an arbiter of my credibility, or Leland Speed's, or Harvey Johnson's, or anyone else's. There are no anonymous authorities. But anonymous voices? There have been some great ones. The authors of the Federalist Papers, for starters.

Author

Tom Head

Date

2009-05-12T09:10:31-06:00