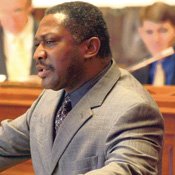 In March, Mississippi legislators passed Senate Bill 3268, which allows municipalities to raise certain sales taxes by 1 percent to pay for police and fire protection, and road, water and sewage repairs. The tax would apply to goods and services except for groceries, restaurant food and beverages, prescription drugs, hotel/motel rooms, large equipment purchases and subscription TV and Internet services. At least 60 percent of the city's voters would need to approve the tax before it goes into effect.
State Sen. John Horhn sponsored the bill with urging from the Jackson City Council. Anticipated revenue from the tax is $21 million.
In an apparent change of heart, the City Council is requesting that the Legislature amend the bill. At issue is the nine-member commission overseeing how tax revenue would be spent, four of whom do not have to live in the city. The mayor would select commissioners from eight nominees submitted by the "local chamber of commerce," and "represent" businesses located within the city. The balance of the commissioners would be residents of the city; however, the mayor would only appoint two, and one, appointed by the Speaker of the House, would not have a vote. The governor and the lieutenant governor, would each appoint one commissioner, too.
What that means for Jackson is that six of the eight voting commissioners may have priorities other than Jackson. The two commissioners appointed by Republican Gov. Haley Barbour and Lt. Gov. Phil Bryant are unlikely to represent the primarily Democratic Jackson voters. The four selected from the "local" chamber of commerce—whether that be Greater Jackson Chamber Partnership or Metro Jackson Chamber of Commerce—do not have to own local, Jackson-based businesses, nor do they need to be city residents.
Ultimately, the commission's make-up takes the decision-making power out of the hands of those who will primarily pay the higher taxes. The bill specifies that the funds must be spent in the municipality where the revenue is generated; however, the commission could make road paving on outlying and feeder roads a priority instead of the decaying roads in central Jackson or better pay for the city's firefighters and police. And while that might benefit some residents, it is most likely going to benefit big business, big money and chamber interests.
Council members and Mayor Frank Melton were asleep at the wheel on this bill. They seem to have awakened. One can hope that the legislators will pay attention, because without changing the commission's structure, it is unlikely that this tax will ever be passed, regardless how much the city needs the funds.
We urge legislators to reconsider and amend this bill, putting the decisions back in the hands of the city bearing the burden of the proposed tax.