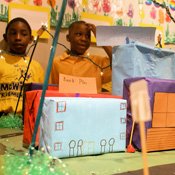 Tyrese Presley is only 10 years old, but he's already done what many adults will never get the chance to do. He has co-written and recorded a song, and his work is part of an exhibit in downtown Jackson.
The two-week exhibit at the Arts Center of Mississippi showcases artwork from more than 1,000 students from 21 schools who participated in the JumpstART program, a partnership between the Jackson Public School District and the Ask For More Arts Initiative, which is convened by Parents For Public Schools Greater Jackson. Its goal is to infuse the regular school curriculum with hands-on arts education.
The largest-ever community arts-education project in JPS, JumpstART brought together stakeholders such as teachers, artists, parents, administrators and kids.
A group of 30 students at Lee Elementary learned language arts through songwriting and recording. Over two months, Tyrese and a group of his classmates wrote a hip-hop track about their community, learning about the writing process and literary devices like imagery, rhyme and revision. Teacher Taylor Hildebrand said that in creating the song, students took ownership of the learning process.
"More than anything, I'm just glad that the kids feel like they're a part of something," said Hildebrand, a singer-songwriter with the local band Passenger Jones.
Hildebrand collaborated with Byron Knight, a sound engineer/producer and owner of Sneaky Beans, and Taiwo Gaynor, Mississippi Public Broadcasting branch director. Knight and Gaynor set up a recording studio in the classroom to work with students during school hours.
The song, called "My Community Is Like a Home to Me," features a steady beat and the kids' vocals repeating lines like "It's time for all of us to shine." It is now the school's official song, and students in the program are organizing a CD release party for May 21.
Pam Confer, Parents for Public Schools communications manager, said by tapping into children's natural interests, art can engage all students in learning, especially those who are turned off by testing and textbooks. "Every child learns differently, and with the arts they have an opportunity to do that," she said.
Ask For More Arts believes that art is essential to learning, and that core academic subjects can be taught through the arts. The non-profit leads workshops on this topic.
'We Love Our Community'
The JumpstART exhibit opened Saturday, May 2, in conjunction with the Mississippi Museum of Art's Spring Family Day. Visitors crowded into the Mississippi Arts Center to watch JPS students perform.
Pint-sized McWillie Elementary School students in yellow T-shirts kicked off the morning with several original songs affirming their school and the Jackson community.
"If it wasn't for you, where would we be, leaders in our community," Several members of the audience became teary-eyed during this song, then chuckled as the kids' voices cracked at the high notes. The room exploded into applause and cheers when the performance ended. Cameras flashed, and the kids beamed.
McWillie second-grade teacher Maggie Joiner collaborated with fellow teachers Jacquelin McClendon and Margie Thompson, and storyteller John Stark, teaching songs to the children. Another McWillie teacher, Blythe Matthews, led a canned food drive for Stewpot Community Services.
"This was the same social-studies unit on community that we would have taught them anyway, but they retained it a lot better because they were more interested in what they were learning," Thompson said. "They understood that kids can make real changes."
Second-grader DreVoyn Caldwell was one of the McWillie singers.
"I felt happy for myself," DreVoyn said about his performance. "I was able to let everybody know that we love our community, and show everybody that we appreciate them for all the work that they have done."
Pride in the Present
The theme of the JumpstART project was "Our Community, a Sense of Place." Each school chose to capture it differently, through gallery displays and performances. A description of the project and how it taught academic skills hangs next to each exhibit. Projects included: Photographs of the neighborhood around Davis Magnet School, showcased in a digital presentation and matted prints; Recycled papermaking and Japanese bookbinding at Sykes Elementary School, focusing on the environmental impact of paper; and a performance of Caribbean dance by Boyd Elementary School students wearing brightly patterned traditional clothing.
Casey Elementary School students learned about the Farish Street neighborhood. They looked at old photographs of events like Martin Luther King Jr.'s march in Jackson, as well as current photographs and projections of what the neighborhood will look like in the future. To express what they had learned, they made silhouettes of themselves and created collages and mosaics about Jackson history.
The word heard most frequently at the JumpstART exhibit opening was "pride": In the youth of Jackson, the innovative public school education and in the community.
The JumpstART exhibit is on display at the Arts Center of Mississippi through May 17. Admission is free.