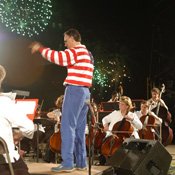 • May 8, 7:30 p.m.; pre-concert events begin at 4:30 p.m.
• Old Trace Park, Ridgeland
• $12 advance tickets; $15 at the gate, $5 children ages 4 to 18
Celebrate spring and Jackson's wealth of musical talent at Old Trace Park for the Mississippi Symphony Orchestra's Pepsi Pops. The main show gets underway at 7:30 p.m. with symphonic anthems and music from Star Wars, but you can get your dose of good music starting at 4:30 p.m. when the gates open. Singer-songwriters Temperance Babcock and Bill Ellison, Andre Jarreau and the Jackson State University drumline are on the lineup for the pre-concert show. Concessions from Pepsi and Penn's Fish House will be available. Don't miss the fireworks show at the end of the night. Call 601-960-1565 or visit http://www.msorchestra.com for more info.