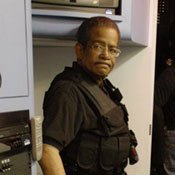 The JFP's Full Archive of Frank Melton Coverage
The JFP's 2009 City Election Coverage
UPDATE 12:10 P.M.: City spokeswoman Goldia Revies has released the following statement: "Mayor Frank E. Melton is still resting and will undergo tests today at St. Dominic Hospital. More information will be released as it becomes available. An emergency meeting of the City Council will be held at 4:00 p.m. in Council Chambers in order to ensure the efficient continuation of City business. The outpouring of prayers and support from concerned citizens in the interim is greatly appreciated."
UPDATE 11:50 A.M.: City spokeswoman Goldia Revies just confirmed reports that Mayor Frank Melton is alive. "He is still alive. I can confirm that," Revies said at approximately 11:45 a.m. "We will be getting a press release out very, very shortly."
Ten minutes after the polls closed tonight, someone found Mayor Frank Melton, 60, in a state of cardiac arrest and called for help at 7:10 p.m. As the city awaited news of his health, city election returns slowly came in, eventually revealed that Melton had been defeated, with former Mayor Harvey Johnson Jr. and Councilman Marshand Crisler headed into the May 19 runoff.
According to 16 WAPT News, which originally broke the story of Melton's cardiac arrest, AMR paramedics revived him and rushed him to St. Dominic, followed by a police car and a black SUV. There, he was put on a respirator, and his family was called in from Texas. His attorney John Reeves told the Jackson Free Press just after 9 p.m. that he was with the mayor in the hospital, but wouldn't discuss his condition. "I'm just not at liberty to disclose it. He's resting at this point," Reeves said, adding that Melton's family was flying in from Texas. "We need to pray for his full recovery."
Reeves then spoke to reporters at Melton's campaign headquarters about 9:45 p.m., saying that Melton is resting comfortably. "I just left the hospital, and the mayor is resting. I'm going to respect his privacy. I will say he's sick, and he needs us to pray for him." Reeves said the mayor is moving his limbs, and "the prognosis at this point is hopeful." He couldn't say whether or not the mayor can speak, as no visitors have been allowed into the room.
Melton spokeswoman Goldia Revies said that Dr. Ellen Redd Melton, the mayor's wife, is "on her way as we speak." She should arrive in Jackson in "a couple hours or so." Revies will issue a further statement on the mayor's condition once Melton's wife has arrived, even if it's in the middle of the night.
When asked whether someone has been appointed to serve in the mayor's stead, Revies replied, "At this point, we are not at that level." She could not confirm whether the mayor was "unresponsive" after his heart attack.
Jury selection Melton's second federal trial for directing the Aug. 26, 2009, attack on a Ridgeway Street duplex by teenagers with sledgehammers is scheduled to start Monday, May 11. The first trial, of him and bodyguard Michael Recio, ended in a hung jury earlier this week.
Previous Comments
ID

146841

Comment

Wow. The story of frank melton just can't end. Looking forward to your follow-up...and the book.

Author

bryan doyle

Date

2009-05-05T22:08:31-06:00
ID

146848

Comment

All we know so far: Dr. Ellen Redd Melton, the mayor's wife, arrived sometime around 1 a.m. Goldia Revies released this statement at 1:22 a.m.: Mayor Frank E. Melton's wife, Ellen has arrived at the hospital and is in consultation with his doctors. We hope to provide another update by mid morning (05/06/09). Thanks to everyone for your well wishes and please keep the Mayor in your prayers. Goldia M. Revies Director Constituent Services and Information City of Jackson 601-519-9130

Author

DonnaLadd

Date

2009-05-06T05:37:08-06:00
ID

146849

Comment

Are we sure WAPT broke this first? I saw it on FOX 40 long before I ever saw it on any of the other channels.

Author

LambdaRisen

Date

2009-05-06T06:00:12-06:00
ID

146850

Comment

Pretty positive. Tweet came fast, and they have footage of the ambulance on I-55. We got Tweet from them, and then a call from a source within minutes so following closely. Ledger had around same time as us. Not that it matters this morning under the circumstances.

Author

DonnaLadd

Date

2009-05-06T06:07:01-06:00
ID

146855

Comment

Baquan: Melton has never taken responsibility for his actions in his life, I'd bet. The haze surrounding his real condition is silly, considering he'll be gone soon anyway.

Author

Ironghost

Date

2009-05-06T07:16:54-06:00
ID

146856

Comment

Let's not kick a man while he's down. You don't have to like the man, but Melton is a human being who is gravely ill and deserves our prayers at this time. After all, you'd want someone to pray for you if you're ill. Karma can be a real bitch sometimes.

Author

golden eagle

Date

2009-05-06T07:27:39-06:00
ID

146858

Comment

Melton passing away could be good for the City of Jackson and make things much easier, but even that is not enough reason for me to wish death upon any man. I would greatly appreciate Melton if he could remain healthy so that he could shed light on his experience as mayor to the next elected mayor. If nothing else, the new administration can certainly learn "what not to do." I hope he has a speedy recovery, yet I also hope he stays out of city administration.

Author

chip

Date

2009-05-06T07:55:36-06:00
ID

146860

Comment

Frank Melton has definitely lived life to the fullest. Regardless of how we may feel about him he was one of the most interesting characters Mississippi has ever seen. I'm not sure of what Frank's status is right now, but the way this whole drama has unfolded is definitely made for TV drama.

Author

Tell it!

Date

2009-05-06T08:07:05-06:00
ID

146861

Comment

Smoking killed my stepdad. He was an alcoholic that made my mother and my life miserable when drunk. They divorced twice. He was flawed and irresponsible and hurt many people. I love him dearly and did not leave his side for a week as he lay dying in the VA Center here from the lung cancer he had inflicted on himself. Right now is not the time to kick Mr. Melton. If he is dying, let's indeed allow him to do it with dignity.

Author

DonnaLadd

Date

2009-05-06T08:13:14-06:00
ID

146865

Comment

Regardless of what you think of the person, pray 4 him if you can, otherwise just drop the comments... Eagle, you are so right about KARMA....

Author

lanier77

Date

2009-05-06T08:27:50-06:00
ID

146876

Comment

If he is dying, let's indeed allow him to do it with dignity. I thought about that "die with dignity" statement you quoted Melton in your editor's note last week as events were unfolding last night. How that almost rang true.

Author

golden eagle

Date

2009-05-06T09:12:13-06:00
ID

146878

Comment

All, its powerful to look at the names of members on the site right now (see bottom) holding a vigil of sorts here for Mr. Melton. I suspect most of your hearts are as heavy as mine, regardless of whatever he's done. The whole thing is so tragic, and thank you for waiting with us here for confirmation of his condition.

Author

DonnaLadd

Date

2009-05-06T09:24:30-06:00
ID

146879

Comment

Donna- I really hope you write a book about this. This true life story has more layers than any novel I've ever read!

Author

News Junkie

Date

2009-05-06T09:46:50-06:00
ID

146880

Comment

A Shakespearean character and a Shakespearean ending if true.This is surreal.

Author

Kamikaze

Date

2009-05-06T09:47:19-06:00
ID

146883

Comment

My favorite thing about Melton is his sense of humor. When I was around him, he kept me laughing even when it was inappropriate.

Author

DonnaLadd

Date

2009-05-06T10:03:27-06:00
ID

146884

Comment

Great philanthropist. As I said from day one. He went into places and helped people that other public officials would think they were above. And thats the thing with people whos hearts are "generally" in the right place...It never ends up looking like that. Sad. Baquan it is up to us, the new generation of young, talented, educated black men in Jackson to assume the reigns and show some gumption as leaders giving the younger something to look and strive to. I gladly accept the challenge.

Author

Kamikaze

Date

2009-05-06T10:12:11-06:00
ID

146886

Comment

I signed on to the JFP web site last night at 7pm to follow the coverage of my hometown's election. The best way I can describe the last 16 hours is "surreal."

Author

James Hester

Date

2009-05-06T10:25:37-06:00
ID

146888

Comment

Huff Post is featuring the above story.

Author

DonnaLadd

Date

2009-05-06T10:41:50-06:00
ID

146890

Comment

Ladies and Gentlemen, one last time: Special Op/Ed to The Clarion-Ledger September 19, 2006 "Love is patient and is kind; love doesn't envy. Love doesn't brag, is not proud, doesn't behave itself inappropriately, doesn't seek its own way, is not provoked, takes no account of evil; doesn't rejoice in unrighteousness, but rejoices with the truth." - Paul's First Letter to the Corinthians, 13:4 - 6 I remember when I first fell in love with you. You were giving your annual speech at the Southern Christian Youth Services "Bottom Line for Kids" benefit, and you spoke on three character traits which all our children must have in order to succeed as productive citizens of our world: Faith in God. Dedication to family. Service to the community. I watched in awe as you moved a room of 300 adults to tears with your passion and commonsense language. Then there was the day I was driving downtown one summer day and cut through Farish Street. There you were, all dressed in white with a pith helmet, shorts and a whistle. You were leading a group of 30 kids "pied piper-style" across the street in front of the Farish Street YMCA. You called out to me and I commented how you looked like an angel. When you decided to run for office, you contacted me and asked if I would consider helping. We met and discussed your platform, and I was particularly taken by your understanding of our need to form cooperative, collaborative relationships with local, county and state officials, as well as the business community. You spoke passionately about the need to bring real economic development into Jackson, to repair streets and infrastructure, and to address housing and urban decay. And, of course, you wanted to address the overwhelming crime problem head-on and make a marked difference in your first year in office. On that day, Frank, I pledged my unwavering commitment to you and the ideals of this platform. You will remember I was a big proponent of the idea to provide work-force training for our inner-city youth via a creative partnership with the AFL-CIO. Our vision was to rebuild the city with youth trained in well-paying jobs as apprentices to the construction trade. The work would be funded by a national retirement trust managed by the unions. It was so simple, so perfect and so right: young men from the inner city getting a opportunity to learn a lifelong trade, at above average pay. Best of all, their work efforts would rebuild the very communities from which they came! This was economic development, social justice and civic pride all wrapped into one! The campaign was hard, but you won. You won because of the ideals we espoused - the ideals that made me fall in love with you, the ideals which were so right for Jackson. I loved you, Frank ... and I loved these ideals. But true love means letting go, especially when letting go will restore health and well-being to the parties in the relationship. Frank, I have to let you go - I just don't see the ideals we agreed to as being those you have chosen to promote as mayor. I have to let you go because I love the city more than I love you. And so, Frank, I ask you that in respect for true love - if you love this city as you say you do - please let us go. Move on with your life and let us move on with ours. It is time, and it is the right thing to do. - Jeff Good

Author

Jeff Good

Date

2009-05-06T10:43:29-06:00
ID

146891

Comment

I think his heart was always in the right place.

Author

Jennifer2

Date

2009-05-06T10:51:01-06:00
ID

146894

Comment

I've heard Melton speak, and yeah, he can be interesting. His actions as Mayor, however, speak more about his character than all of his speeches.

Author

Ironghost

Date

2009-05-06T10:58:10-06:00
ID

146896

Comment

I clicked on JFP's Mayor Bunch link below and must ask, where on earth have I been not to have realized how convenient you, JFP, have made it for your readers to access your paper? The flip version of this week's issue, The Mayor Bunch is absolutely amazing!!! You can click through, zoom, and read the entire volume. I hate to sound so out of touch, and please don't laugh, but how long has JFP offered this wonderful, flip version service? Thank you! I love it!!!

Author

blu_n_a_redstate

Date

2009-05-06T11:18:39-06:00
ID

146898

Comment

Y'all crack me up. Thanks, blu. It's probably been about a year, but just glad you've found it! Where you been anyway? We've missed you.

Author

DonnaLadd

Date

2009-05-06T11:33:41-06:00
ID

146899

Comment

It's a relief knowing that Melton is alive for now. Rumors have been rampant all morning about him passing away. I was going to mention that earlier, but I thought it was improper to do.

Author

golden eagle

Date

2009-05-06T11:47:56-06:00
ID

146900

Comment

Any thoughts on who might make for a good interim mayor? Might grand dame Barrett-Simon take it up until the election is settled?

Author

Brian C Johnson

Date

2009-05-06T12:10:27-06:00
ID

146902

Comment

Stokes should be interim mayor. He hasn't had a chance to run things.

Author

Jeff Lucas

Date

2009-05-06T12:22:04-06:00
ID

146903

Comment

I have been around--Working hard. Just out of touch with JFP's terrific technology --DUH. I always read JFP, FAITHFULLY!!! I regularly pick up the hard copies too. Just had not stumbled upon the flip version you provide online--IT'S OFF THE CHAIN!!! I'm hooked! And thank you, baquan for that update. Keep me straight, bruh.

Author

blu_n_a_redstate

Date

2009-05-06T12:28:34-06:00
ID

146907

Comment

Nice post (or re-post) Jeff. First time reading it. Back in '06 I wasn't too concerned about the politics of Jackson. I will be praying for Frank. I sent out over 1000 invites for my Grand Opening at the Downtown locale.....he actually showed up, shook my hand, and wished me the best of luck. Other dignitaries, whom were "leaders in the downtown revitalization," were no-shows. So it meant a lot to me that he came. His policies and the way he ran this city is a topic that I'm not focused on at this point in the day. Hang in there Frank.

Author

tye d.

Date

2009-05-06T13:31:04-06:00
ID

146908

Comment

My prayers are with our Mayor. It all just seems like something in a movie, the way the events are occurring. The Mayor's office should be more forth coming considering he is a public offical. I remember the last time I saw Frank, he looked sickly but still had that giant sense of humor. So if he could be in the place he was and smile we all can now think of something positive about him that makes us smile. May God Bless Frank E Melton.

Author

classy

Date

2009-05-06T13:31:49-06:00
ID

146909

Comment

We had a power outage, so I'm coming in a little late on this. About 30 minutes after the lights came back on, someone called me and said that Melton passed away. I came straight to this site to see what was going on, and I'm glad I did. Thanks to the JFP for not spreading rumors - not like you ever would. :) If he pulls through this, I hope he has an epiphany and realizes how he should be living his life.

Author

LatashaWillis

Date

2009-05-06T13:46:46-06:00
ID

146995

Comment

[quote]Would you put some one that has Bulimia Nervosa in the middle of a chinese buffett!? Do the math! [/quote] Gawd, not exactly the visual I needed an hour before lunch...

Author

Jeff Lucas

Date

2009-05-07T09:51:39-06:00