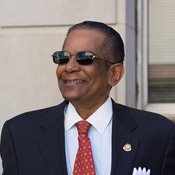 Burglars broke into the State Street campaign headquarters for incumbent Jackson Mayor Frank Melton early Saturday morning, reports WAPT, stealing a computer and a TV.
Melton's campaign coordinator, Eric Fleming, said he left the office around 1:30 a.m. Saturday, and received a call about six hours later with news about the break-in. Apparently, the burglar kicked in the back door to gain entry.
Campaign officials said the burglary would not affect the mayor's run for re-election.
The home of Melton's attorney John Reeves was also reportedly burglarized last week. Reeves is defending the mayor against federal charges connected to the destruction of a Ridgeway Street duplex in 2006.
Previous Comments
ID

146737

Comment

I doubt whoever did these horrible acts will read the JFP, but just in case... Dude/dudes! This is not the right way to do things. You wish to make a statement against Melton: do it at the polls. Don't break the law to do it.

Author

Lady Havoc

Date

2009-05-04T09:41:21-06:00
ID

146739

Comment

I hope the Melton campaign wouldn't stoop that low, baquan: but honestly, it's the first thing I thought of, too. :D

Author

Lady Havoc

Date

2009-05-04T09:55:05-06:00
ID

146743

Comment

Did anyone else besides me see Channel Three's coverage? They had a lady from his campaign, Sikes or something, who went on and on about this "Obviously" being a break in by one of the other campaigns, who were scared of Franks Certain Comeback in the polls.

Author

Ironghost

Date

2009-05-04T10:43:08-06:00
ID

146747

Comment

That does seem suspicious, Iron. Why would she say that? Melton's people are full of tricks. I'll never forget having to take his Robert Smith flyers off our boxes after they were duct-taped on, as well as the huge "NOT GUILTY" signs they taped on our boxes and racks after Melton was acquitted in state court. Due to their past tricks, I know who I think of first when you hear about the dirty tricks in this campaign. Please get everyone you know out to vote tomorrow, all.

Author

DonnaLadd

Date

2009-05-04T10:50:46-06:00
ID

146751

Comment

I agree. melton is full of tricks. He is definitely a master at the game of trickery. What is so amazing is that so many people buy into this foolishness. It's like saying, "Come on melton, I just can't wait for more of your punishment." This is STUPID; however, somehow it is working on far too many folks!

Author

justjess

Date

2009-05-04T10:56:30-06:00