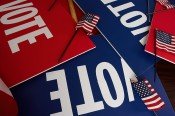 Do you have questions about voting? You're probably not alone. The Jackson Free Press has put together a list of frequently asked questions that might help you out, including who to call and where to go for more information. Attorney General Jim Hood sent a release outlining even more election day info, which we've added, below.
What are the election dates?
Election day for the primaries was, Tuesday, May 5.
Runoff elections are Tuesday, May 19.
General elections are Tuesday, June 2.
What are the voting hours?
Polls will be open from 7 a.m. until 7 p.m. If you are in line at 7 p.m., you must be allowed to vote.
Am I eligible to vote in Jackson?
If you are currently a registered Mississippi voter living in Jackson, you are eligible to vote in Jackson municipal elections. Voter registration and address changes must have been completed 30 days before an election.
Am I eligible to vote in the runoff? What if I didn't vote in the primaries?
Voters who registered by Saturday, April 4, were eligible to vote in a primary, and are eligible to vote in the runoff. You can vote in the runoff even if you did not vote in the primary.
If I voted in the Democratic primary and/or the runoff, can I still vote for an Independent or a Republican in the general election?
Yes. Your primary or runoff vote does not obligate you to vote for the same person or someone of the same party in the general elections. You cannot, however, vote in more than one primary, and you have to honor the same party in a runoff.
Where do I go to vote?
Your polling place is printed on your voter registration card. If you have lost your card, or you're unsure where to go, log on to http://www.vote411.org/pollfinder.php, where you can enter your address to find your polling place. You can also go to the Secretary of State's Web site for a list of polling places by county and precinct. Those without Internet access can call the Hinds County registrar's office at 601-968-6628, Monday through Friday from 8 a.m. to 5 p.m.
What Jackson ward do I live in?
You can view ward maps on the City of Jackson Web site Government pages. Click on City Council on the left side of the page, select a ward in the submenu, and then click on the ward map under the councilperson's photo. If you know your precint, you can view Ward information on the Hinds County Web site by clicking your precinct number on the linked page. Those without Internet access can call the Hinds County registrar's office at 601-968-6628, Monday through Friday from 8 a.m. to 5 p.m.
Under what circumstances will runoff elections be held?
A candidate must achieve a clear majority (50 percent plus one vote) of all votes in a primary to become that party's official candidate. If no single candidate receives a clear majority, a runoff election between the top two primary candidates is held two weeks later.
I will not be in Jackson on Election Day. Can I vote by absentee ballot?
Contact the Hinds County registrar's office at 601-968-6628, Monday through Friday from 8 a.m. to 5 p.m. to find out the procedures for voting at the City Clerk's office or by mail. Absentee voting generally takes place two to three weeks before general elections, so if you know now that you won't be in town, call as soon as possible.
Attorney General Hood would also like to remind voters that mailed absentee ballots must be received by the municipal clerk's office by 5 p.m., Monday, May 18, but those voting absentee in person at the clerk's office have until noon on Saturday, May 16.
The voter and an attesting witness must sign across the flap of the absentee ballot envelope. Failure to do so will result in rejection of the ballot. (See examples).
What if I have problems at the polls? Who can I contact?
Call one of the following to report polling place issues:
* The League of Women Voters of Mississippi Election Hotline: 601-355-7495
* The Secretary of State's Office - Election Hotline: 800-829-6786
* Jackson Free Press: 601-362-6121, ext. 8
* The U.S. Justice Department: 800-253-3931
* Mississippi Protection and Advocacy: 800-772-4057
To help officials and the general public, the Office of Attorney General has created a brochure that explains what constitutes an election crime and outlines the penalties for such. "Safeguarding the Vote: Recognizing and Reporting Election Crimes" is available online at http://www.agjimhood.com or by calling 601-359-3680.
If anyone suspects an election crime has been committed, contact the Public Integrity Division of the Attorney General's Office at 601-359-4250 or your local District Attorney.
What if I need help at the polls?
Voters who are: 1) blind, 2) physically disabled, or 3) cannot read or write are eligible to receive voter assistance, but the voter must verbally request such assistance.
"State law provides that the assistance may be provided by anyone of the voter's choosing, except their employer or union representative," Hood said in a release.
What if my voting eligibility is challenged?
If your voter registration is challenged, request an affidavit ballot. Poll workers should follow correct procedures for affidavit and challenged ballots.
"Challenges are sometimes made arbitrarily as part of an effort to disrupt and delay the voting process," Hood said. "When poll workers believe a challenge is frivolous or not made in good faith, they may disregard the challenge and allow the voter to vote normally on a regular election day ballot or on the voting device if being used."
What is the 150-foot rule?
According to state law, it is unlawful for any candidate for elective office or any representative of a candidate to post or distribute cards, posters or other campaign literature within 150 feet of any entrance to a building in which an election is being conducted. It is unlawful for a candidate or his/her authorized representative to appear at any polling place armed or uniformed or to display any badge or credentials except as may be issued by the Poll Managers of the precinct. This also includes T-shirts with a candidate's name and/or picture on it. Such T-shirts must be covered or removed before a voter comes within 150 feet of any entrance to a building in which an election is being conducted.
What if I'm unable to get inside the polling place? Can I vote curbside?
Yes. Hood reminds poll workers that according to state law, a physically disabled voter who does not vote by absentee ballot and who drives, or is driven, to the polling place, but is unable to enter the structure where the actual voting is taking place may be provided necessary assistance in voting if the managers, in exercising sound discretion, determine that the voter is actually at the polling place.
Hood also said that the Attorney General's Office will have investigators positioned throughout the state on election day to help assist local election officials and to address any other election issues that may arise.
For additional information, please see Jackpedia.com and the elections and voting pages.
Previous Comments
ID

146761

Comment

If you are currently a registered Mississippi voter, you are eligible to vote in Jackson. Voter registration must be complete 30 days before an election. Cool! I'm a registered Mississippi voter! Can I vote in Jackson? (I know, I know. And I won't do it. But the wording is ambiguous.)

Author

Lady Havoc

Date

2009-05-04T14:31:51-06:00
ID

146762

Comment

Good Luck on that 150 foot rule. I've reported people to the sec of state's office, only to get laughed at.

Author

Ironghost

Date

2009-05-04T14:45:18-06:00
ID

146763

Comment

Cool! I'm a registered Mississippi voter! Can I vote in Jackson? Yeah, that'll be the biggest mayoral turnout ever in the history of Mississippi. There will be traffic jams from Southaven to Pascagoula, all from folks trying to vote in the Jackson mayor's race.

Author

golden eagle

Date

2009-05-04T15:15:02-06:00
ID

146766

Comment

OK y'all. It's fixed. Cut and paste error.

Author

Ronni_Mott

Date

2009-05-04T15:31:15-06:00
ID

146768

Comment

Aww, Ronni! Darn! :)

Author

Lady Havoc

Date

2009-05-04T16:21:52-06:00
ID

146769

Comment

FOR IMMEDIATE RELEASE Contact: Von Anderson 601-400-7811 or [email protected] / [email protected] Ward 6 Candidate Von Anderson Thanks Fellow Candidate Tony Yarber for Taking Leave of Absence from Voting Precinct 74 Jackson, Mississippi (May 4, 2009)-Von Anderson, a candidate for the Ward 6 city council position, extends a note of appreciation for fellow candidate Tony Yarber's agreeing to take a leave of absence during tomorrow's primary election. Yarber currently is the principal of Marshall Elementary which also serves as Voting Precinct 74 (Marshall Elementary School). "I had some concerns regarding potential voter intimidation, campaigning within 150 feet of poll, potential unintended influence, and general fairness and integrity of the race because you are currently the principal at Marshall Elementary, a voting precinct in Ward 6," says Anderson. "I am happy to hear that you agreed to shun all the appearance of impropriety for the Ward 6 race. It is my hope that such an action will maintain integrity within the Ward 6 city council race." Anderson reports that upon contacting election officials, media outlets and Ward 6 peers about the potential precinct conflict of interest, Yarber immediately responded that he would indeed be absent from his school for the integrity of the race. The primary election will be held tomorrow, May 5th.

Author

von_anderson

Date

2009-05-04T18:40:14-06:00