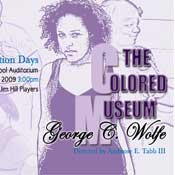 "The Colored Museum"
• Jim Hill High School
• Admission $5
The Jim Hill Players have been out of commission for a while now, but the school is reviving its thespian talent to perform "The Colored Museum" March 28. This is one of their first productions for the Jackson public in several years, and many people are excited to show them the support they deserve. And if that doesn't get you to the performance, the play is a down-right hilarious comedy that takes a ride through time aboard an airplane, stopping at different exhibits of African-American history and culture along the way. With 11 short scenes, the audience goes from slavery to the 20th century. E-mail [e-mail missing].