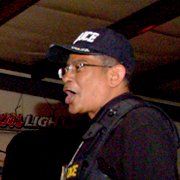 Circuit Court Judge Billy Joe Landrum put Jackson Mayor Frank Melton back on the Democratic ballot today.
After presiding over a two-hour Wednesday hearing wherein Landrum allowed Melton to call defense attorney Dorsey Carson "stupid," Landrum decided that Melton had derailed the Jackson Democratic Executive Committee's argument that Melton was not a full-time resident. At the hearing, Melton revealed a Mississippi driver's license and reported that he had held numerous state posts, despite the fact that he stays an average of five days in Texas every month.
The committee voted unanimously this month that Melton did not qualify to run as a Democrat because of his residency issues, pointing out that Melton had filed for homestead exemption at his Texas residence rather than in Mississippi. Melton lied to the committee in 2005, telling members that he had filed in Mississippi, and the committee subsequently put him on the Democratic ballot.
Landrum cited case law describing the homestead exemption as a presumption of residency as "strong, but rebuttable."
"The court finds that the petitioner has overwhelmingly rebutted the presumption that his residency is in the county and state where his homestead exemption is filed," Landrum wrote. "The court finds that petitioner has lived in the city of Jackson, Mississippi, since 1984 and purchased a home there in 1996, where he currently resides."
Landrum reached his decision before allowing defense attorneys to view Melton's federal income tax files, which the committee says might have inconvenienced the judge's decision.
Attorney Dorsey Carson, who represented the committee, argued that Melton has the option of using either a resident form or a non-resident/part-time form to file state income taxes. If Melton certified that his domicile was in Texas he would have to fill out the non-resident or part-time form regarding his Mississippi address. Melton likely certified Texas as his domicile, said Carson, because the certification is required in order to file for homestead exempt status in Texas.
Melton repeatedly claimed he did not know if he claimed Texas or Mississippi as his domicile.
"You don't know the address that you and your wife put on your federal taxes?" Carson asked.
"No, sir … but I'm just embarrassed at the waste of this court's time," Melton responded, apparently forgetting that he had requested the judicial review, not the Democratic committee.
Melton's attorney John Reeves said he was confident his client would successfully challenge the committee's rejection.
"I researched state law and the facts and I could find absolutely no basis in law or fact for the Democratic Executive Committee's decision, and the court's ruling verifies that," Reeves said. "…This was all about politics. Somebody on that committee was scared of the mayor's strength in this race and wanted him out, but it completely backfired, because it appears to me that many voters are disgusted by what happened and are now going to vote for the mayor because of what happened."
Carson said the committee will move forward with the judge's decision, though Carson denies the argument stemmed from politics.
"Despite falsely telling the Committee in 2005 that he had filed for homestead exemption in Mississippi, Mr. Melton still unapologetically claims homestead exemption in Texas. He testified unequivocally that he did not abandon his Texas domicile and has no intention of abandoning his Texas domicile," Carson said. "Although the order is silent on that very important legal standard of abandoning the prior domicile, the Democratic Executive Committee is glad that this matter is resolved so that the ballot printing can move forward."
Corrected (03/27/09) to reflect the Mayor's state tax filing status instead of federal.
Previous Comments
ID

145155

Comment

Great coverage, Adam. This is just another example of TOO MUCH: TOO LATE.

Author

justjess

Date

2009-03-26T15:42:52-06:00
ID

145198

Comment

"...because it appears to me that many voters are disgusted by what happened and are now going to vote for the mayor because of what happened." i'm disgusted by what happened. i'm STILL NOT voting for the mayor...

Author

eyerah

Date

2009-03-27T12:39:26-06:00
ID

145203

Comment

Ronni, This judges decision is laffable. Using his logic if you move into a house you don't own, and you cut the grass, and you pay the utility bills, register to vote, vote in the proper preceinct, verbally lie about owning the house, lie and attest to in writting on legal affadavits with the Federal government that you own the house....YOU THEREFORE LEGALLY OWN THE HOUSE!!!!!! Of course this is NOT straight thinking I think the legal term for commadeering real estate as described above is trespasing, and filing false tax documents. As a past member of the Hinds County Democratic Executive Committee (not the Jackson Municipal Executive Committee, albeit the HCDEC is a parallel and similiar organization), I have received training from the MS Secretary of State, emphatically emphacized that the parties are the sole arbiters of who they put on their respective party ballots. The state has no voice in who the party puts on their ballot. The state constitution appears to be silent on candidate qualfications for offices below the county level.

Author

FrankMickens

Date

2009-03-27T15:54:57-06:00
ID

145217

Comment

I understand your point, Casual Observer and I am not in opposition with your points; however, to keep melton off the Democratic ticket, especially after it was too late for him to file as a Republican, Green Party or Independent, would have caused a stir in this community that we just didn't need. This might be the only chance left. He has gone through HELL in gasoline underwear and hasn't gotten burned: He has lost a court fight with the MBN guys, but, did not have to pay a dime: He has been tried X 2 for civil rights violations: He has participated in illegal search and seizure activities: He has lied about certain relationships that would put Jackson on the map with billionairs who will invest in business developments: There are many reports of negative behavior associated with his use of alcohol: He has been a negative role model to the youth of this city: He has told members of this community that he didn't give a SHI! what they think: He has stopped a bus on the highway to "GET A HUG" from the youngsters: He told a news reporter to stand in from of an 18 wheeler. The only option that is left is to have melton on the ballot and let the voters decide if they want him out of City Hall.

Author

justjess

Date

2009-03-30T10:04:13-06:00