Wednesday, March 18, 2009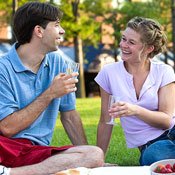 Spring is here, and it is time to get out of the house. Rediscover the green grass under your toes and our city's green destinations.
Head over to the Mississippi Museum of Natural Science to experience the "Sustainable Choices" exhibit, which is in town until May. Learn about how your choices, such as which grocery bag or light bulb you use, affect our planet's health. Generate electricity on the stationary bicycle or practice sorting recyclables. While you are there, walk the trails to find spring blossoms and witness the return of your favorite migratory birds.
On a sunny Saturday, pick up some sandwiches and sweet treats from a local deli or bakery, and spread out a blanket at your favorite outdoor destination. There are several good spots along the Natchez Trace and the Ross Barnett Reservoir, or perhaps you have a favorite glade that is as close as your own backyard. Bring a book, a board game and your sunscreen, and plan to spend a few hours with your favorite folks in the great outdoors. When you are packing up to leave, try to leave your picnic site cleaner than you found it, even if that means picking up someone else's trash.
Hop into the car with the kids and head out to the Jackson Zoo. Once each month, you can participate in a story hour with a Mississippi author. Or, if you have something more active in mind, check out the special Penguin Plunge exhibit featuring black-footed penguins, which will be at the Jackson Zoo through August. Other exiting upcoming events at the zoo include the adults-only Zoo Brew May 8 and Art for the Animals Week beginning May 11.
Take a day to do some serious spring cleaning. Pack a box of items that you have not used all year, and donate those things to N.U.T.S., Salvation Army or Goodwill. Take a bag of books you no longer need and trade them at a local used bookstore such as Choctaw Books or Book Rack. Clean out your kitchen cabinets and donate unopened items you won't use to a homeless shelter or food bank. Pack your winter clothing and put them into the attic or other storage area. Streamline your life by setting up online bill paying with your bank. Start asking to be removed from junk mail lists. Choose a new green cleaner to wipe down your counters. When you are done dropping off your donations, stop by your favorite local coffee shop for a drink, and resolve to bring less stuff into your home in the coming year.
Keep your eyes out for interesting upcoming events and seminars at the new Jackson Convention Complex, which features many elements of environmentally friendly architectural design. While you are downtown, leave your car parked after your seminar of choice, and stroll over to the new Raoul Dufy exhibit next door at the Mississippi Museum of Art. I hear that they make a mean veggie sandwich in the museum's Palette Café.
Gather a group of neighborhood friends and take an evening stroll together with trash bags in hand to pick up stray litter as you reconnect after spending the winter inside. End the evening with an informal gathering on the porch where everyone brings beer or brownies to share. Start making plans for spring and summer block parties and barbecues for the whole family.
Use this time of seasonal renewal to reconnect with your family, neighbors and community. Remember to get out for fresh air. Make time to try new things and visit places in our city where you have never been, such as museums, restaurants and libraries. Get out of the house and spend your time and money on people and experiences rather than on things.