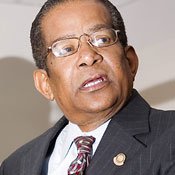 See the JFP's Melton Archive/Blog Here
Mayor Frank Melton told the Jackson Free Press Tuesday that the Jackson Municipal Executive Democratic Committee can "go to hell" for disqualifying him to re-run as a Democrat in the May primaries. "As far as I'm concerned, that Democratic Committee can go to hell, and you can quote me on that," he said in a phone interview soon after the committee voted unanimously to reject him from the ballot.
According to WAPT, the committee disqualified Melton because he does not meet the residency requirement for mayor. Four years ago, the committee also challenged his residency, and he claimed falsely before the committee that he had filed homestead exemption in Jackson, not in Texas where his wife lives. That was untrue, as the Jackson Free Press reported then.
Today, Melton called the move "pure play politics," adding, "I'm disqualified as a candidate in the Democratic Party. Think I really care, Donna? They've never done anything to help me, not one dime."
After urging this reporter once again to "call me Frank," Melton indicated that he is angry about the move: "Donna, you know where I live. ... You've been over here. You know where I live. You know I'm in Jackson practically every day, Donna. It is what it is."
"My homestead is here, you've been here, there's been 1,000 kids here. It's just wrong."
Melton has enlisted the help of Jackson attorney John Reeves to get his qualifications reinstated. Reeves, who is also representing the mayor in his federal civil rights trial, told the Jackson Free Press Wednesday morning that he plans to sue the Democratic Party in Hinds County Circuit Court. Reeves previously told the Clarion-Ledger that he was planning to meet with Executive Committee members later this week.
"We're reevaluating our position moment by moment," Reeves said. "But right now it looks like we're going to court. ...This committee voted with no input from anybody to make a ruling that the mayor of Jackson does not live in Jackson. ... Negotiating with people who have come to a conclusion like that would be nonsensical."
Reeves said that he expected to file the mayor's suit "today or tomorrow."
In an interview in February, Melton talked to the Jackson Free Press about back taxes that the county says he owes on his home at 2 Carter's Grove, saying that he has been over-charged and will not pay the $12,000 or so the county says he is owed. He echoed that sentiment Tuesday afternoon, saying that the tax assessment on him is unfair:
"No. I don't think that's fair. It's jumped two years in a row, from $4,000 to $6,000, then $6,000 to $13,000. That's just not right; it's a 100 percent increase. Just not right. One of the guys running for mayor is the tax collector (Eddie Fair). You know for a fact that I live here in Jackson because I live here in the house. I have a house in Tyler. George Bush has one in Crawford and has one in Dallas. I'm calling my wife now .. to be sure she didn't file tax exemption in Tyler. I know she didn't because doesn't know how to do that."
However, he added, if she did, he would call me back and tell the JFP. If he didn't call back, that meant she did not file there.
Smith County, Texas, records show that the Meltons filed homestead exemption there in 2008.
Melton also said he planned to reveal what he knows about the members of the Democratic Committee, including one who allegedly owes him money because he helped out his son when he was in trouble. "Yeah, I will," he added when asked to clarify. "This is just wrong. I'm a fairly decent person; (such as my) coming back around to you. I've learned a lot of things from you, and you can quote me on that. Donna, you know this is wrong."
The mayor said he would run for his seat, with or without Democratic backing. "No, I won't run as a Republican. I'll run as an Independent," and then added his quote from above, "As far as I'm concerned, that Democratic Committee can go to hell, and you can quote me on that."
Previous Comments
ID

144833

Comment

BTW, all, we're about to post Part III of the Melton interviews, which coincidentally talk about his back taxes on his house. Will link to it shortly.

Author

DonnaLadd

Date

2009-03-17T18:24:15-06:00
ID

144834

Comment

Can he really run as an independent? The filing deadline has come and gone.

Author

Tom Head

Date

2009-03-17T18:28:18-06:00
ID

144835

Comment

Tom, that's an excellent point. Could he file a lawsuit and be included that way? Wow. Just... Wow.

Author

Lady Havoc

Date

2009-03-17T18:47:55-06:00
ID

144836

Comment

Actually, I don't think he can run as an independent, Tom. However, if he successfully petitions the court for injunctive relief forcing the Hinds County Democratic Executive Committee to qualify him, he could conceivably run as a Democrat. I'm no lawyer and could be wrong, but that's my take on it. Personally, I hope the disqualification stands so Melton will. just. go. away. quickly.

Author

Kacy

Date

2009-03-17T18:50:30-06:00
ID

144838

Comment

Melton talked at some length in my Feb. 27 interview with him about how he believes Hinds County is screwing him over his property taxes. Also see this story that Adam broke last June about the addition to his house (the bedroom/pool/theater) he talks about in the interview.

Author

DonnaLadd

Date

2009-03-17T19:12:54-06:00
ID

144840

Comment

Thinking in pure legal theory, I could conceive of a ruling that while prevents him from running as a Democrat for Mayor, would not exclude him from running without party affiliation... joys of equity court. I doubt he remains disqualified for long, or at least I see him ending up as an independent. Mississippi does have the most cumbersome election laws. Should be interesting.

Author

AGamm627

Date

2009-03-17T19:53:54-06:00
ID

144843

Comment

If he doesn't care, why is he bitching about it so much and threatening to dig up dirt on members of the Democratic committee here? Grow up!!

Author

andi

Date

2009-03-17T21:37:52-06:00
ID

144844

Comment

So where the frak was the local Demorat Party 4 years ago when this residency issue was first brought up?

Author

Jeff Lucas

Date

2009-03-18T07:15:40-06:00
ID

144846

Comment

This whole issue came up too late for them to do anything about it. This time, someone recalled the fiasco of four years ago and got there to complain. It'd be ironic if Melton was disqualified because he forgot to pay attention to details.

Author

Ironghost

Date

2009-03-18T07:34:55-06:00
ID

144847

Comment

I was yelling at the TV during the 6pm news that they should DQ him (actually should have never allowed him to run in the first place) and was doing the happy dance in front of the 10pm news when I heard he was really DQ'd. Now we'll see if it sticks.

Author

morningcain

Date

2009-03-18T07:51:31-06:00
ID

144848

Comment

As much as I am not a fan of the Mayor this doesn't seem right. It smells shady to me. Nothing has changed in where Mr. Melton lives in years and the Democrat party brings this up now? The homestead exemption doesn't disprove residency. We all know where the man lives. We would have been better off had he lived in Texas all this time. Did he really allude to selling influence to a Democrat Committee member for cash?? :-0

Author

WMartin

Date

2009-03-18T08:00:12-06:00
ID

144850

Comment

oh now everybody wanna worry about franks rights, what about evans welch and jennifer sutton. everything frank has done has smelled shady and was shady. What the democratic party did was what the state of mississippi, AG office, Supreme Court, Hinds DA has failed or didnt want to do. They have told frank that he has to go. I applaud them.

Author

NewJackson

Date

2009-03-18T08:15:52-06:00
ID

144852

Comment

I think the point the committee is saying that he changed where he filed his homestead exemption. This gave them "legal" recourse to disqualify him. They couldn't do that last time because he filed in Mississippi. That being said, I'm sure they looked at his paper work with a microscope and magnifying glass. They were looking for something and they found it.

Author

msgrits

Date

2009-03-18T08:30:32-06:00
ID

144853

Comment

MsGrits: He said he was going to file. Claimed to have the letter with him. He lied, however, and never filed the paperwork. The complaint was brough up too late back then, but was brought up in time this time. Melton never did file for homestead exemption here in those four years.

Author

Ironghost

Date

2009-03-18T08:35:37-06:00
ID

144858

Comment

Melton has blamed Thompson in the past. I think that's a go-to excuse. It probably worked better back when he was more popular in the white community.

Author

DonnaLadd

Date

2009-03-18T09:12:54-06:00
ID

144859

Comment

It's not inconceivable that Thompson might have like-minded allies in the mix, but I'm sure Melton has no proof to back his claim.

Author

Jeff Lucas

Date

2009-03-18T09:33:26-06:00
ID

144861

Comment

I believe this will end up blowing over, with Melton being on the ballot as either a Democrat or an independent.

Author

golden eagle

Date

2009-03-18T10:15:31-06:00
ID

144862

Comment

I don't want Melton as mayor either but this is just stupid. The fact he's been mayor for 4 years and has remained in the same house, in Jackson, the whole time is sufficient to establish residency regardless of homestead exemption. It might be different if he had moved out of Jackson after the election but that's just not the case.

Author

Jennifer2

Date

2009-03-18T10:23:04-06:00
ID

144864

Comment

It's another case of people deciding way too late, when he comes to him, to do what should have been done long ago. It will be interesting to see how it plays out. On the one hand, he has a compelling case, being that they qualified him before (which we've criticized them for in the past). On the other, why should the Dems *have* to qualify someone with weird residency issues, backed-up property taxes, and who is under federal indictment and facing another trial right after the primary? In some ways, it seems like insanity to argue that they should qualify him. Oh, and he's on the record saying he's not really a Democrat, just running as one because that's how he can win in Jackson.

Author

DonnaLadd

Date

2009-03-18T10:30:52-06:00
ID

144865

Comment

AND he lied to the committee four years ago about having filed his exemption here already. At what point do they look like chumps for qualifying him? Not to mention, above he is threatening to badmouth them for voting against him. Are there any boundaries for him?

Author

DonnaLadd

Date

2009-03-18T10:32:59-06:00
ID

144866

Comment

I'm no fan of Frank-- AT ALL. But I have a few questions. Do renters qualify to run for public office as a Democratic candidate? Must you own land and file homestead to qualify? If so, this seems a classist.

Author

dd39203

Date

2009-03-18T10:47:22-06:00
ID

144867

Comment

I don't think that's the point, dd. Homestead exemption is one way to determine residency, especially if you also own a home somewhere else. If you don't, there are other ways. It makes sense without being classist.

Author

DonnaLadd

Date

2009-03-18T11:00:12-06:00
ID

144868

Comment

I understand that Melton did file homestead exemption in Texas is this true? Melton always want to blame someone for the mistakes he made. Now it's Bennie Thompson! Bennie has not made any public statements against Melton or anyone else. He has been working his butt off trying to get Miss additional funding and incentives for all of us. Melton has only given us a professional lesson in how to lie on anyone to get the blame off of you. Another foolish mistake!

Author

Tony Davis

Date

2009-03-18T11:06:31-06:00
ID

144869

Comment

Will someone answer this question why is it the Crisler is the only one commenting on Melton disquailification? It's seem strange to me that he was the only one interviewed. I have to say this Crisler is in my opinion another candidate that should be disquailified from running for office also. Crisler supported my illegal termination that he and other City Council members submitted to Melton. I have forwarded a copy of this letter to JFP to clearly show that he was a part of a conspiracy to violate my Civil Rights. Crisler is a opportunist and the only thing different between him and Melton is the age. Please note I did produce the documentation to support my statement. I would like to see Crisler documentaion showing he had nothing to do with this illgal termination! It's only fair!!!

Author

Tony Davis

Date

2009-03-18T11:32:40-06:00
ID

144870

Comment

One of my problems with Crisler is that I was told (by someone who was there and someone I trust), that the day the council was voting on Sarah O'Reilly-Evans' contract (the one containing the provision whereby SORE would get a percentage of the bond issues), Crisler told the other council members that he had read the contract and that it was fine. The other members then voted to approve the contract. Later, when they found out about the bond provision, they were in no position to protest because they had voted on it.

Author

Jennifer2

Date

2009-03-18T11:38:26-06:00
ID

144871

Comment

i am by no means a king frank fan, but this is completely asinine. the homestead exemption is only one way of establishing residency, but is not meant to be conclusive. the man clearly lives in jackson and has for years. i'm all for letting the people vote the king out of office rather than using a backdoor method to get him off the ballot. if the man has beef with the county regarding his property taxes, that's between him and the county. a lot of people have beef with hinds county over property appraisals and taxes right now, so isn't unique in that regard. i'd much rather the history books read that frank got resoundly booted from office by the citizens of jackson rather than getting disqualified for not be a "resident" of jackson when he clearly was. no need running the risk of making him a sympathetic figure.

Author

eyerah

Date

2009-03-18T11:42:55-06:00
ID

144872

Comment

Yeah. What he (eyerah) said.

Author

Jennifer2

Date

2009-03-18T11:44:30-06:00
ID

144873

Comment

I don't know about that, jennifer, but when Adam started investigating SORE's contract, it seemed clear that no one on Council actually seem to know what they had approved. Those were the days when everyone seems to rubberstamp whatever Melton et al wanted. I think of the cowboy hats at Council and just cringe. I'll say it again: Melton as mayor turned out to be exactly who Melton as candidate and Melton as folk hero indicated he would be. There was a blindness that needs to be overcome. People need to start questioning, and asking for evidence. More are, thankfully, but there are still signs that trash talk gets too easily passed along.

Author

DonnaLadd

Date

2009-03-18T11:45:09-06:00
ID

144874

Comment

I see your point, eyerah. The truth is that the Democratic Committee should have stepped up four years ago and prevented everything that has transpired. I understand them not wanting it to happen again on their ticket, but I also see your point. It's a tough one. And with some people, Melton could gain sympathy votes from this. It even crossed my mind to wonder if he (or his) made it happen himself and then thought, "nahhhh."

Author

DonnaLadd

Date

2009-03-18T11:47:13-06:00
ID

144875

Comment

That's what I fear too. Melton's die-hards will see this as a conspiracy to keep him off the ballot. I still don't think, though, that he wil get enough votes to make it to a run-off or even get elected if he runs as an independent.

Author

golden eagle

Date

2009-03-18T11:59:57-06:00
ID

144877

Comment

i am by no means a king frank fan, but this is completely asinine. the homestead exemption is only one way of establishing residency, but is not meant to be conclusive. I think you could read this either way. In a practical sense, many people with multiple homes will file a homestead exemption in the state where that exemption is most generous; in this case, that would definitely be Texas. But where your homestead exemption is taken is also -- in the letter of the law -- meant to be your primary residence. If Melton claims a Texas home as his primary residence then that's cause for concern by his political party, no? Now, if I remember correctly, during the previous election it was also found to be true that Melton wasn't registered to vote in Mississippi, which was yet another mark against him re: residency. I believe he's righted that by now, so there's certainly *less* fodder this time around than last on the residency question. But it still seems within the purview of the party to decide, IMHO. (And considering his contempt for "his" party, it's not surprising they'd like to boot him.)

Author

Todd Stauffer

Date

2009-03-18T12:08:27-06:00
ID

144878

Comment

I also expect a higher turnout this time -- especially if Mr. Melton is on the ballot. No one but the JFP ever points out that he was elected with a really low turnout last time. There are many more choices this time.

Author

DonnaLadd

Date

2009-03-18T12:10:03-06:00
ID

144879

Comment

Ladd, don't under estimate Frank Melton remember during the trial he was so sick could hardly move around. Then came the hung jury and Melton is walking around strutting his stuff as if he was never sick. I would also like to add that I Crisler was also their when Harvey Johnson appointed the City Attorney this was also in that contract also. If you are running for the office of Mayor as Crisler is doing and you didn't have sense enough to read a legal contract binding the City of Jackson to Sarah O'Reilly Evans for 4 years and you want people to vote for your dumbness. Man I really can't believe he is really that dumb? Crisler is nothing more than a fip-flop and as far as leadership he has a major problem. He has None!!!

Author

Tony Davis

Date

2009-03-18T12:23:28-06:00
ID

144880

Comment

Tony, no one under-estimates Mr. Melton less than I do. Trust me. I am making no predictions about outcome, but I do believe there will be a higher turnout if he's on the ballot. I've always said it ain't over 'til it's over. And I highly doubt it's over.

Author

DonnaLadd

Date

2009-03-18T12:29:25-06:00
ID

144883

Comment

Todd, i understand ur point, but who can really argue that his primary residence isn't jackson? it's laughable and by no means is the intent of the rule, which is ultimately what a court would decide. i'm all for letting common sense (which i know isn't common) prevail and democracy rule. Plus, i don't want any controversy about it. Frank is too good at playing the victim and will only parlay that into something bigger...like a TV show on fox news or something. we all know how they like crazy black men who talk down black people. Ladd, i've only been in jackson for a little under four years ( i inherited frank), but it seems to me in the little time i've observed the king, he's crazy, but like a fox. that's the only way i can explain the fact that he's avoided conviction twice for a crime he's CLEARLY guilty of...

Author

eyerah

Date

2009-03-18T13:55:43-06:00
ID

144884

Comment

Tony David, For what it is worth, I was there on a Monday afternoon when SORE stated to the Council that hers was a "standard contract" and she was sorry it had been omitted from their packet. She would have the complete contract to them the next morning at Council Meeting. I do not understand how your comments make it through the approval process at JFP. Some are directly aimed at people and not incidents.

Author

Razor

Date

2009-03-18T14:49:01-06:00
ID

144886

Comment

Todd, i understand ur point, but who can really argue that his primary residence isn't jackson? If he did file his exemption in Texas, then he's the one making the legal claim that his Texas home is his primary residence. If that's true, I don't see how the the party could look past it a second time without being open to criticism from other candidates who don't claim that their primary residence is in another state.

Author

Todd Stauffer

Date

2009-03-18T15:44:18-06:00
ID

144888

Comment

Exactly right. Why does Mr. Melton get special privileges? This can, and should, set precedent. What I find is that he refers to Texas as home when it makes sense to for him. This should have been a much bigger issue four years ago than it was, but the Dems caved. It'll be interesting to see if they can make it stick this time around. I'm still rather stuck on the idea that they don't have to let him run on their ticket (remember, that what we're talking about) when he openly says he's not a Democrat. (By the same token, they shouldn't let me on their ticket, either!) If he can find another way to get on the ballot, fine, but why shouldn't they have that right? And don't they?

Author

DonnaLadd

Date

2009-03-18T15:51:23-06:00
ID

144889

Comment

Tony, Razor makes a good point about your comments. Some of them are personal attacks and unsubstantiated accusations. I'm going to be you in "moderate" mode so we will see your comments before they show up going forward. They will get through if you stay within terms of the user agreement. Thanks.

Author

DonnaLadd

Date

2009-03-18T15:59:49-06:00
ID

144891

Comment

...they don't have to let him run on their ticket That's a good point. I guess they don't have to, it's their party after all. I suppose it wouldn't seem so much like they were pulling a fast one if they weren't using the specious residency argument. They should just say you aren't a Democrat, you lied to our committee and we don't support your candidacy. Run, just don't run as a Democrat.

Author

WMartin

Date

2009-03-18T16:53:28-06:00
ID

144894

Comment

Didn't something like that happen with George Dale, though? I think they do kind of have to disqualify him with grounds. Good news is that residency is a good argument. Bad news is that the Mississippi Supreme Court is not widely known for its interest in good arguments, as it's an elected body more akin to a third chamber of the legislature than an independent judiciary and will probably do whatever the majority feels is most likely to get them reelected.

Author

Tom Head

Date

2009-03-18T17:21:15-06:00
ID

144898

Comment

iam starting to like crisler for mayor

Author

NewJackson

Date

2009-03-18T17:40:27-06:00
ID

144908

Comment

"If he did file his exemption in Texas, then he's the one making the legal claim that his Texas home is his primary residence." but todd, if you can show me where in the handbook it states that one has to claim their homestead exemption in Jackson to be considered a resident, i will yield to you, but i haven't seen it. homestead exemption is not the end all be all of this argument. his situation is particularly unique because his wife lives in Texas while he lives in Jackson, and if they file jointly, they do legally have the option of taking the exemption wherever they choose. but, again, who can legitimately argue that the man doesn't live in Jackson? look, i'm no king frank fan, but i do believe in fair and honest elections, free of shenanigans, whether it be by the Democrats or the Republicans. he is a (sometimes) tax paying citizen of Jackson, clearly lives in the house, and has for years. if that doesn't make you a resident then i don't know what does. i guess college students from out of state who stay on campus or rent apartments shouldn't be allowed to vote in Jackson Democratic primaries either, huh? or even run for office if they choose? it's silly and is clearly a political play by Rev Hightower who is open and honest about his desire not to see Frank as mayor. i've been living in Jackson for almost 4 years now, and i'm still waiting for common sense to prevail in this town (in politics and governance, not in general).

Author

eyerah

Date

2009-03-18T22:25:43-06:00
ID

144922

Comment

Until I learn more about the homestead exemption rule and how it affects a person's candidacy for office, I'm siding with Melton and others here on this issue. He clearly does live in Jackson and he also spends more time here than he does in Texas. Whether you like Melton or not, he does have the right to be treated as fairly as the other candidates. But I'll stay tuned and see what else happens.

Author

golden eagle

Date

2009-03-19T08:46:58-06:00
ID

144931

Comment

I'm with golden eagle here. I no Frank fan at all, but he votes here, pays bills here, owns a home here, and sometimes pays property taxes here. What's the difference between his situation and that of a renter? Is there a rule that if you don't own property in Jackson you can't run for Mayor?

Author

LKL

Date

2009-03-19T09:04:54-06:00
ID

144962

Comment

Is there a rule that if you don't own property in Jackson you can't run for Mayor? I doubt it. In fact, that may be downright unconstitutional.

Author

golden eagle

Date

2009-03-19T14:28:19-06:00
ID

144967

Comment

Eyerah, When in trouble, when in doubt, utilize the self proclaimed. legal documentation. Mr. Frank is a resident of Texas, as he himself certified to in a legal document. Had he filed a homestaed in both Texas and Mississippi, then imho, he might have a cse in his favor. Luckily he was too lazy to close this possible avenue of nullification of his regime by checking the appropriate box on his Hinds Co.tax receipt...oh I forgot, he hasn't paid his Hinds Co. taxes either.

Author

FrankMickens

Date

2009-03-19T15:18:01-06:00
ID

144970

Comment

It may be perfectly legal for the Democratic party to require it to run as a Democrat in the Jackson Mayor's race. It may not be legal to require it overall. Which means Melton should have run as an independent, which he can't do since the filing deadline has passed.

Author

Ironghost

Date

2009-03-19T16:29:32-06:00