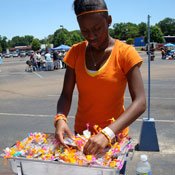 Sixteen-year-old Laurin Paris is using her fashion sense to get her to college.
"I want to be a designer when I grow up," Paris said.
The Murrah High School student is enrolled in the Jackson-based PRIYDE program (the Perico Institute for Youth Development and Entrepreneurship), which teaches young people financial and professional skills.
On June 6, Laurin and other PRIYDE students sold original products at tables around the Jackson Medical Mall parking lot during the PRIYDE Summer Break Festival. The purpose of the event was to get the community involved in the non-profit organization's Youth Asset Development Program, and to help the students raise funds for their savings accounts by selling their products. The institute also invited local vendors to sell their items, from watermelon slices to balloons.
Shaded from the 80-degree weather by an umbrella, Paris sat at a table behind a homemade sign announcing "The Flip Flop Shop!!" where she sold her original sandal designs for four dollars. She described going to Michael's craft store to buy inexpensive flip-flops and materials to decorate them with, such as rhinestones and tiny plastic flowers.
"I made the bows on these myself," she said, gesturing to a pair of dark flip-flops tied neatly with polka-dotted pink ribbons. Like any good salesperson, she was wearing her own product, black sandals with crinkled ribbons tied around them.
As a PRIYDE participant, Paris has set financial goals and started the small business to add money to her college savings account. She plans to study fashion at Clark Atlanta University.
'Make Your Own Money'
Chairman Charles Perry founded PRIYDE in 2000 in Washington D.C., but relocated to Jackson in 2007 because he saw a need in Mississippi for its programs. The goal of the institute is to get to the root of problems that youth face, many of which stem from financial instability in their families.
Its Youth Asset Development program is open to high school sophomores and juniors of all backgrounds, who meet once a month for 12 to 18 months to learn about college readiness, money management and entrepreneurship. The program started in January and currently has 25 students enrolled, half its capacity. It is accepting new students, and its rolling enrollment allows them to begin at different times throughout the year.
New students start by setting manageable savings goals, between $250 and $1,000, to reach by the time they complete the program. The Foundation for the Mid-South matches students' savings dollar for dollar, which they must use for college, trade school or a laptop computer.
The Summer Break Festival was the students' first opportunity to sell their products to the public. With the smell of an open grill, hip-hop music playing at top volume and games and contests throughout the day, it had the welcoming atmosphere of a community barbecue. The Jackson police and fire departments offered safety demonstrations.
The PRIYDE staff was onsite to support their students. Perry got on the microphone, encouraging the students to make a short announcement about the products they were offering.
"Let us know that you're an entrepreneur," Perry told the students. "Make your own money. That's the name of the game."
A Family Affair
Annie Ellis attended the Summer Break Festival to help her 15-year-old daughter, Jasmine, sell the beaded bracelets and frozen brownie pops that her daughter had made. Ellis said that Jasmine has stopped spending as much of her allowance as she used to because PRIYDE has taught her to save and manage her money. As a parent, Annie is required to attend classes at least once per quarter, and she enjoys the activities and games that encourage financial literacy.
"(PRIYDE) taught me that I can budget my money," Annie Ellis said. "It really helped me."
Because the organization found that many adults need financial education as much as young people, it will begin an adult class this summer. The Assets for Independence program—funded by the U.S. Department of Health and Human Services—will teach adults how to save money to buy a home, start a small business or enroll in higher education.
PRIYDE Executive Director Johnnie Hawkins says that about half of the students' parents stay through all the sessions, beyond their minimum obligation. In addition to participating in the activities, they are able to help the PRIYDE staff monitor the students' progress by seeing the monthly statements from their savings accounts.
"One hundred percent of the students are now 'banked,Ҕ Hawkins said, explaining that the term means having a savings account. "We probably had only one person who was banked before entering the program." Hawkins added that PRIYDE also works in the public schools to offer drug education and parent training.
Dwight Jones, a 17-year-old rising senior at Lanier High School, sold barbecued pork chops, ribs and hot links for $2 each at the Summer Break Festival. Jones, whose savings goal is $500, adds to his account regularly with the earnings from his part-time job with the city of Jackson. He recently switched from the environmental center to the police department, where he works in the office filing police reports.
A shy young man who usually ends his sentences with "ma'am," Dwight sums up his future plans in one word: "college." He plans to study engineering at Mississippi State.
As the noon sun rose higher in the sky, Perry got on the microphone again, announcing the three-on-three basketball tournament and thanking the festival's sponsors. He paused for a moment as he looked out on the crowd of high school entrepreneurs who were braving the summer heat to raise money for their education.
"Just remember," Perry said, "in life, you can do whatever you want to do."
For more information about enrolling in PRIYDE, or to make a tax-deductible contribution to the program, call 769-251-1408.