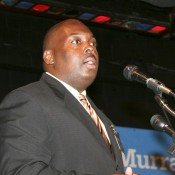 [verbatim] Newsweek magazine has named Murrah High School to its 2009 America's Top Public High Schools list. The schools are ranked on the number of Advanced Placement, International Baccalaureate and/or Cambridge tests taken by all students in a school in 2008 divided by the number of graduating seniors.
The schools represent the top 6 percent of all public high schools ranked in this way. Only two schools from Mississippi earned rankings on the 2009 Newsweek list: Murrah High School at 1058 and Oxford High School at 1269. This is the fourth year in a row that Murrah has made Newsweek's list.
"We appreciate this honor," said Dr. Freddrick Murray, principal. "This recognition is a testament to the work done by our teachers and students. Even when the national and state standards are increasing, Murrah teachers and students are stepping up to the bar and achieving success. The recognition by Newsweek and the recent College Board Inspiration Award that Murrah received—which went to only three high schools in the nation—reflect the high expectations being set here."
Murrah High School was honored with a 2009 College Board Inspiration Award and a check for $25,000 at a special celebratory assembly on May 14 at the school. College Board President Gaston Caperton visited the school to present the award. This annual award recognizes schools that have made great strides in improving the academic environment for all students while raising aspirations and preparedness for higher education. The College Board cited these reasons for Murrah's selection:
* Implementation of vertical teams of teachers who create aligned curricula and share effective teaching strategies
* Partnership with Education Services Foundation for student support services
* Collaboration with the University Medical Center through the Base Pair program, which gives students access to university faculty researchers
* The success of Murrah's AP program over the last five years-the number of AP students has increased by 54 percent, the number of AP Exams taken has increased by 74 percent, and the number of AP Exam scores of 3 or higher has increased by 36 percent
* The creation of a college-going culture that helps low-income students go to college, including the raising of the level of student expectation; encouraging students to take a rigorous curriculum; helping students identify the benefits of college; and providing information and hands-on assistance in planning and paying for college.
Previous Comments
ID

148719

Comment

This is awesome news! Why isn't the rest of the local press shouting this from the rooftops?

Author

Lady Havoc

Date

2009-06-16T08:42:13-06:00
ID

148720

Comment

Because it's good news about JPS...

Author

Jeff Lucas

Date

2009-06-16T09:18:25-06:00
ID

148721

Comment

I did see it last night on one of the local newscast. I was flipping, so not sure which one. Of course, they could have been filling space because the Johnson fund-raising event barred them at the last minute. (sarcasm off)

Author

DonnaLadd

Date

2009-06-16T09:26:33-06:00
ID

148722

Comment

I don't honestly watch the news much anymore, but I have been watching it the past couple of days and this is the only place I've seen it. And Jeff, that's what I was thinking, sadly enough.

Author

Lady Havoc

Date

2009-06-16T10:06:28-06:00
ID

148723

Comment

I did see it last night on one of the local newscast. I was flipping, so not sure which one. I feel like it was Fox 40. By the time we flipped it on everybody else was into weather and sports.

Author

Todd Stauffer

Date

2009-06-16T10:18:18-06:00
ID

148724

Comment

Let's put a name to some of those students. Like Jordan Flint, presidential scholar with a scholarship to Millsaps. Congrats to all the students, teachers and principal. GO MUSTANGS!!!!

Author

Bourree'

Date

2009-06-16T10:25:58-06:00
ID

148725

Comment

Congrats to Murrah! This whole state should be singing HIGH PRAISES for both schools! We only have 2 out of over a thousand in the country to make the list. We really should uplift those two! Congrats to Murrah teachers, students, and administrators!

Author

News Junkie

Date

2009-06-16T10:37:55-06:00
ID

148726

Comment

Congratulations to Murrah and Oxford. That's great news. I believe my adopted home state of Tennessee had 12 schools on the list. We had AP classes back when I attended JPS, but I have to admit that I know very little about the International Baccalaureate and Cambridge programs. Does anyone know how many schools in Mississippi have these programs?

Author

James Hester

Date

2009-06-16T11:04:45-06:00
ID

148727

Comment

Go JPS! According to the International Baccalaureate website (www.ibo.org), there are 9 schools in Mississippi that have the IB Program. 4 are high schools, 3 are middle schools, and 2 are elementary schools. Four of the schools are located here in Jackson. I had the pleasure of completing the IB Program at Jim Hill in 2000. It's a great program that places a great emphasis on writing. We wrote essays for every subject test except for math-related courses. I was beyond prepared for college!

Author

thirdcup

Date

2009-06-16T11:16:57-06:00