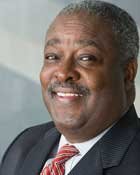 Voting patterns in last Tuesday's general elections tell a story about Jackson: Citizens were tired of voting, and the city's whites and blacks don't necessarily agree on who should be the city's mayor.
Democrat Harvey Johnson Jr. won by a landslide with 21,692 votes and more than 85 percent of all votes cast, according to the still-unofficial Hinds County numbers. Second-place finisher Rick Whitlow, running as an Independent this year, received 2,198 votes, just over 8.5 percent.
Whitlow, a former Republican, jumped the GOP ship along with Charlotte Reeves, another unsuccessful mayoral candidate. Together, the four trailing candidates, including Reeves, garnered just over 1,500 votes. The lone Republican running for mayor, George Lambus—whose campaign regularly issued high-shock-value, race-baiting statements—came in fifth with fewer than 300 votes.
Whitlow managed to win the majority of votes at four precincts, all of them in the largely white Ward 1. Johnson, who has long fought the stigma that white Jackson voters dislike him, received 65 votes to Whitlow's 160 in Precinct 33; at Precinct 34, he received 124 to Whitlow's 184; Precinct 35, 116 to 164; and Precinct 45, 148 to 213. Whitlow nipped at Johnson's heels in three other Ward 1 precincts (32, 46 and 78), and one Ward 7 precinct, 14, in Fondren.
None of Johnson's other challengers won a majority of votes at any of the city's precincts.
In the Democratic primary, Ward 6 Councilman Marshand Crisler won all of the Ward 1 precincts, with Johnson coming in third behind State Sen. John Horhn in all but two precincts. Many Crisler and Horhn supporters in Ward 1 switched their votes to Whitlow in the general election, or they simply stayed home. In Precinct 33, for example, 240 voters came out for the general election, while 474 voted in the Democratic primaries and 480 in the primary run-offs.
Jacksonians cast a total of 25,403 votes for mayor on Tuesday, with just under 24 percent of the city's nearly 106,000 registered voters showing up at the polls. Two Ward 2 precincts turned out a large number of voters, 81 and 83, with turnouts at 43 and 40 percent of registered voters, respectively. Many precincts, however, showed an anemic 10 or 11 percent turnout. A larger number of voters, 33,800, turned out for the Democratic primaries: 32 percent of registered voters.
Some voters expressed "voter fatigue" for the general elections, which was the third time at the polls in four weeks. The Democratic primaries were held May 5, the primary run-offs May 19, and general elections June 2.
Previous Comments
ID

148572

Comment

Evidently, Ward 1 realized that they couldn't block vote their candidate into the Mayors office and they just stayed home at ignored the general election. Harvey Johnson is now the Mayor of the City of Jackson. I wish him the best but he needs to realized that Jeff Weill a Repubican endorsed Crisler and he represent Ward #1 he really needs to watch his back with him and also Ben Allen. Harvey if you don't have the time to deal with who voted for who. Just go do your job and show them with actions and deeds and not words. It's time for us all to get back on board on the train to success.

Author

Tony Davis

Date

2009-06-09T10:19:52-06:00