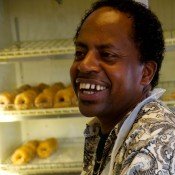 Local breakfast hero Mark Scurlock is opening a second location for his donut shop, Scurlock's Donuts, in the heart of downtown Jackson. Beginning the last week of August, the un-sugared masses downtown will be able to get their fix on the ground floor of the Capitol Towers, at the corner of Congress and Pearl Streets.
"Downtown is doing well and they don't have a bakery, as far as a breakfast place, in that area," Scurlock said. "We think we can be an asset to that part of town."
Like its current location on Robinson Road, the new downtown branch will serve a full breakfast—eggs, grits and bacon—along with Scurlock's earth-shakingly delicious donuts. Thanks to its placement on the corner of Congress and Pearl Streets, the downtown Scurlock's will have outdoor as well as indoor table seating.
The expansion is a sign that Scurlock's 20-year-old business is thriving, even in tough times.
"We were able to open up in a bad recession, so that's not so bad," Scurlock said.
Previous Comments
ID

149974

Comment

YAY Donuts!!

Author

andi

Date

2009-07-23T12:54:05-06:00
ID

149978

Comment

mmm mmmm good

Author

lanier77

Date

2009-07-23T13:56:14-06:00
ID

149980

Comment

a third business, taste of jamaica, scurlock's bakery and underground 119

Author

NewJackson

Date

2009-07-23T14:02:26-06:00
ID

149981

Comment

makes me smile to hear about yet another new business opening in downtown. way to go!

Author

awaykate

Date

2009-07-23T14:20:03-06:00
ID

149982

Comment

Three cheers for nearer-to-me doughnuts!!!

Author

Deirdra Harris Glover

Date

2009-07-23T14:28:01-06:00
ID

149983

Comment

SO EXCITED! DOWNTOWN IS GROWING FAST!

Author

Tell it!

Date

2009-07-23T14:32:41-06:00
ID

149984

Comment

Keep it coming!! The more we have the better. Should keep people rolling on into downtown!

Author

tye d.

Date

2009-07-23T14:33:17-06:00
ID

149992

Comment

Slap me silly, but I never had a donut from Scurlock's. I'd like to try it, though. BTW, I went to the new Jamaican joint in downtown last night...pretty good!

Author

golden eagle

Date

2009-07-23T15:42:26-06:00
ID

149993

Comment

We have some extra here if you want to run over and grab some!

Author

DonnaLadd

Date

2009-07-23T16:13:47-06:00
ID

149999

Comment

Oh no! Scurlock's will open downtown! There goes my disposable income. My only hope now is that Marc will not be able to hire enough staff to make all the donuts. I've been eating them more than ten years and never been disappointed in any way.

Author

Tommy

Date

2009-07-23T18:27:22-06:00
ID

150001

Comment

golden eagle: I'll try to bring you some. They are tasty, but very difficult (read: impossible) to fit into my diet right now. :( I'm thrilled they are opening downtown. They need a really good doughnut place.

Author

Lady Havoc

Date

2009-07-23T19:49:54-06:00
ID

150008

Comment

Sampled Marc Spurlock's wares at Best of Jackson and they were the best donuts I'd ever had, bar none. This decision will make me gain at least 5 pounds.

Author

Tom Head

Date

2009-07-24T06:08:49-06:00
ID

150015

Comment

Seeing as how I can throw a rock and hit that corner from my office, I expect to be a loyal customer.

Author

chip

Date

2009-07-24T09:01:05-06:00