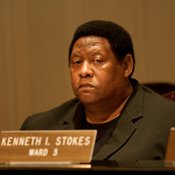 This morning, Ward 3 Councilman Kenneth Stokes pulled a resolution he submitted along with Jackson City Council President Frank Bluntson encouraging the city to approve up to $240,000 in extra payments to city and contract attorneys—including former City Attorney Sarah O'Reilly-Evans—for legal fees related to bond work. The fees are connected with work regarding a swap for water and sewer system revenue and revenue refunding bonds, which fell through.
"As concerns Miss O'Reilly-Evans, I'm not clear at all whether any legal services were performed by her to earn that fee," said Ward 1 Councilman Jeff Weill. "Since the swap was not executed I don't believe she would be entitled to a fee."
Council members said they were surprised in 2006 to find that they had approved an employment agreement for O'Reilly-Evans that allowed her to get paid twice for her work in preparing bond proposals.
The Jackson Free Press reported that year that a paragraph in O'Reilly-Evans' employment agreement allowed her to qualify for money normally paid to small-town, part-time city attorneys, letting her collect an extra 1 percent of any bond proposal she helped assemble, even though the city already paid her an annual salary of $113,000 as a full-time employee.
Her contract also did not stipulate exactly how much—or how little—effort she had to put to the task of bond work, only that she participate with attorneys contracted by the city specifically to handle the brunt of bond work. Council members were furious in 2006 after learning that O'Reilly-Evans stood to gain $70,000 on a $65 million convention center bond proposal. At least four council members claim they did not recall reading that portion of her employment agreement—which was less than four pages long.
"Some of us don't remember some sections of (the agreement), like the section allowing her to get extra compensation for working on bond projects, because we didn't have a discussion of that," said former council president Leslie McLemore in a 2007 interview. "O'Reilly-Evans makes the case that it was a part of the original contract, but some of us have our doubts. Nevertheless, with all of that said and done, we approved the contract."
Ward 7 Councilwoman Margaret Barrett-Simon, who is a returning council member this year, told the Jackson Free Press in 2007 that the majority of the council "(found) it shocking that we didn't see some of what was included there."
Bluntson and Stokes, along with Ward 5 Councilman Charles Tillman, defended O'Reilly-Evans' contract against the other four council members every time it came under dispute.
Former Mayor Frank Melton appointed O'Reilly-Evans as city attorney four years ago, and gave the council no indication of the dubious section in her employment agreement. She left the post in June, after the successful election of Harvey Johnson Jr. Acting City Attorney Pieter Teeuwissen, who stepped in from his deputy city attorney post after O'Reilly-Evans' departure, said the former administration had endorsed the extra payment, but alleged that Johnson does not support the resolution.
Johnson could not immediately be reached for comment, though Jackson Communications Director Chris Mims indicated that Johnson will be reviewing the situation before offering an official comment.
Johnson could veto a council decision awarding the added attorney fees, and the council would need a super-majority vote to override his presumed veto. Two council members, Barrett-Simon and Weill, likely would not approve the override or the extra expenditure of city money. The two new members on the council this year, Ward 2's Chokwe Lumumba and Ward 6 Councilman Tony Yarber, could vote either way.
(This story was updated shortly after posting)
(Updated to correct Mims comment)
Previous Comments
ID

149659

Comment

I would like to know how much of the $240,000 goes to Mrs. O'Reilly Evans and where thre rest of the money is going. Regardless, the former Mayor (RIP), the council, and Mrs. O'Reilly Evans made a major BooBoo with this. The City of Jackson is one of less than a handful of cities in this state that has a full time city attorney. It is unheard of for that person to receive additional compensation in a full time position. Everyone understands that the City Attorney of Toomsuba or SoSo who gets $3,000 a year to consult should receive extra compensation, but this is ridiculous for a person to receive a six figure salary to get such compensation. But I also think it is crazy for Jim Evans to live out in Eastover but represent the citizens of Georgetown in the house because he grew up there and has family property there.

Author

Powerman

Date

2009-07-16T13:03:48-06:00
ID

149661

Comment

It sounds like the first of many to come, "Show Down at the Karrell." I think that the rubber stamp days are over.

Author

justjess

Date

2009-07-16T13:37:22-06:00