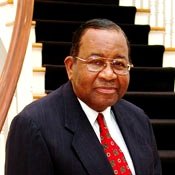 Ward 4 Councilman Frank Bluntson and Ward 5 Councilman Charles Tillman will now serve as president and vice president, respectively, of the Jackson City Council. The two nominated one another for their respective positions and received no opposing votes from the six-member council.
Ward 1 Councilman Jeff Weill said he was eager to work with the new president and vice president.
"We've got big issues facing the city, and I look forward to carefully working through each issue with the diverse personalities on the council to find some solutions," Weill said.
Both Bluntson and Tillman were part of a voting bloc—which included Ward 3 Councilman Kenneth Stokes—that regularly sided with former Mayor Frank Melton during the last administration, essentially backing the executive branch in almost every political disagreement between the mayor and the council.
Some speculate that the factions—between the Bluntson-Stokes-Tillman bloc and the two remaining council veterans—is as strained as ever. Ward 7 Councilwoman Margaret Barrett-Simon often sided with Weill and former council members Marshand Crisler and Leslie McLemore. Crisler and McLemore retired their council positions this year to pursue other interests, leaving a potential minority to stand against the united front of Stokes, Bluntson and Tillman. Bluntson and Tillman were expected to stretch for leadership positions on the council, but could not gauge the political leanings of the incoming council members, Tony Yarber and Chokwe Lumumba, who replaced the retiring members this year. With no means to assess how the new members would vote on council leadership, Weill and Barrett-Simon may have earlier decided to cast their votes in the name of unity and go with Bluntson and Tillman's wishes.
Weill would not confirm the theory, and Barrett-Simon could not be reached for comment.
Lumumba was a non-issue in the vote, in any case, having been temporarily removed from his seat at the advice of interim City Attorney Pieter Teuwissen, who pointed out that Lumumba's proof of bonding had not been secured at the time of the Tuesday vote.
State law requires council members be insured up to $100,000, but Teuwissen told reporters that the Independence Day holidays had been interfering with Lumumba's ability to get his bond in writing and in the hands of City Hall officials by the time of the July 7 meeting. Teuwissen's quote is odd in that council meetings containing new members habitually arrive on the heels of the July 4 holiday.
Sources at City Hall suspect Lumumba may have actually had a difficult time getting bonded—with numerous bonding companies rejecting his application—possibly due to his repeated stints in jail after speaking his mind on litigation matters. Lumumba's history suggests he is a very passionate attorney who is liable to speak out despite great professional risk.
Lumumba denied any difficulty in getting bonded, saying it was more a matter of timing. He said CNA Bonding Company had approved his application, but had merely failed to deliver their approval by 4 p.m. that day. The bond came through later in the evening.