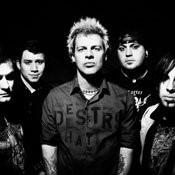 Sonorous indie-folk comes cheap this Thursday night when Washington, D.C.-based Frau Eva puts on its delayed ambience at the Eudora Welty Commons, 7 p.m. free. If you're a fan of the harmonious stylings of Beach House, Elliott Smith or Grizzly Bear, go hang out and give them a listen. Check them out at http://www.myspace.com/frauevamusic. The Commons is a cool writer's retreat, bookstore/coffee shop on Congress Street with interesting space worth checking out.
The big rock 'n' roll show this weekend is the Rock 93.9 Birthday Bash at Fire Friday night. On deck is Powerman 5000, Royal Bliss and Sugar Red Drive, 10 p.m. Powerman 5000 frontman, Spider One, is Rob Zombie's younger brother. The high-energy rock show will be a good one, with all your favorite Rock 93.9 deejays on hand to entertain. If you're 18-20 it's a $25 cover, and $20 if your 21 and up. Across the road in Hal & Mal's Red Room, popular roots-rock favorites Passenger Jones and nu-jazz band Telephant will perform Friday night at 8. Local blues/juke harp man Scott Albert Johnson & friends will be in the restaurant as well. Also on Friday, local alternative rockers Red Hill City and Everton return to Ole Tavern. Red Hill City has been working on new material for the show.
The legacy of the defunct Subway Lounge blues club remains in high esteem to this day. When all the other clubs closed, you could count on doors opening at midnight at the Subway. For decades, Farish Street has longed to regain its splendor as a historic music scene. In the old Field's Café building at 303 Farish St., F. Jones Corner is looking to bring back the howling blues scene to Jackson. Opening July 11, they'll also have jazz, folk and other diverse listening options. Check them out at fjonescorner.com and watch the music calendar for band listings. May it be a beacon for the rebirth of the Farish Music District.
Jazz aficionados should go to the Alvin Fielder Tribute Concert: "Polyrhythmic Democracy" at the Smith-Robertson Museum this Saturday, 6 p.m. free. Call 601-960-1457 for details. Also on the eclectic Saturday night lineup is folk/alt.-country band Bloodbird and the outlaw country of Shotzy & the Fifths at One to One Studio. It's 21-and-up to enter; $5 cover.
Tickets are on sale now for the Sweden-based country-blues sensation Beatrice at the Auditorium in Fondren next Thursday, $25. Infamous hard-rock band Lillian Axe returns to Fire next Friday night. Hip-hop icon Lil' Wayne's new protégé Drake is scheduled to perform at Touch Nightclub downtown next Friday as well.