Wednesday, January 14, 2009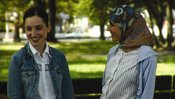 january 14, 2009
It is easy to be on the outside of a religion looking in and only see the negatives. That's especially true when you're peering into a fundamentalist, or "orthodox," faith where traditions, such as arranged marriages and head covers, can seem backward. We tend to see stereotypes, which reinforce our belief that "we" are better than "them."
The mischievous film "Arranged" goes beyond stereotypes about members of two religious faiths that are little understood in the United States: Islam and Orthodox Judaism. Directors Stefan Schaefer and Diana Crespo tell a complicated-yet-simple story through the eyes of two young first-year teachers in a Brooklyn public school.
One is an Orthodox Jew and the other Muslim. Among other requirements of their faiths, their own people expect them to hate each other. Or, at the least, stay far away from the other.
But they don't. In forming a fun, loving friendship, they teach us more about their own religions, and how love can overcome pretty much any division.
The two charming young teachers—played by Zoe Lister-Jones and Francis Benhamou—are drawn together because they clearly have more in common than differences. They both love teaching and children; they both have strong families; and neither feels constrained by her faith when it comes to making friends.
They are next-generation women growing up amid conservative faiths. The film, however, does not turn them against their traditions and their families to allow their friendship to flourish; in fact, quite the opposite. They find a way to build a relationship, while maintaining the beliefs and beliefs of their own faiths. For the most part, anyway. But when they test the limits—watch the film to see how—it was in a way to maintain their faith, and their sanity.
And to make sure they end up with the right men.
It was refreshing to watch a film about young women asserting their strength within the strictures of faith, but without being forced into a secular world. For me, the most enlightening part of the film came when Lister-Jones, playing the Jewish woman, briefly ventured into an alcohol- and sex-soaked singles scene, reminding us of the way many less-Orthodox and more "free" singles look for love in all the wrong places.
When her grating and offensive Jewish-but-not-Orthodox school principalדthere was a woman's movement, you know. I went through it!ԗberated the young woman for consenting to an arranged marriage, she threw back a poignant question: How is it better to look for a mate in smoky bars than through a community of faith?
"I have a choice! The community has a choice!" she proclaimed in response.
After watching the film, I was delighted to learn that it is based on the true story of a young Orthodox woman in Brooklyn who wrote the story and convinced the directors to take it on. Perhaps that is why the story seems so real and down-to-earth: because it is.