Friday, February 27, 2009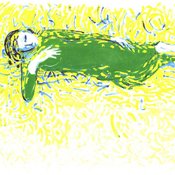 When people ask if I'm related to painter Andrew Bucci, I answer proudly, "Yes, he's my uncle!" It's difficult to hide my exuberance. He's a phenomenal human being and artist, and I'm one of his biggest fans.
In recent years, my interest in his art has deepened. As someone who tries to write for a living, I want to know more about his creative process (and I suspect there's a subconscious hope that some of what he has will rub off on me).
His style is unmistakable but never predictable. His compositions are at once spontaneous, balanced, kinetic and controlled. His lines and brush strokes constantly reveal new possibilities, no matter how many times I look at them. His colors are transcendental.
How does he do it?
Probing for answers makes one point clear: He's a funny guy. A typical interview starts like this:
"Where does your inspiration come from?"
"Desperation."
"What do you get from painting?"
"Tired."
My favorite part is the wonderful chuckle that trails each response.
Let me clarify: He enjoys discussing his art, but he also tends to avoid squishy testimonials about why he paints and "the meaning" of it all. Besides, it's our job to figure that out—and he makes sure we're thoroughly entertained in the process. It's one reason why the beauty and mystique of his paintings never seem to fade.
"I find that if I start something with a definite outcome in mind, it turns out to be a clinker," he told me over the holidays at my parent's home in Vicksburg. "I want it to be realistic but sketchy—reduced to a minimum in a way. Each piece is generally based on something real. I try to go for something recognizable, that has pretty colors and patterns. People respond to patterns."
I feel lucky to have grown up surrounded by his paintings. He has always been generous in sharing his artwork with relatives. I'm not sure how my family would have filled all those walls on our own (We were not necessarily purveyors of fine art), but over the years it made for some pretty original combinations. Imagine an amazing Bucci painting beside a 3-D portrait of "The Last Supper" or a poster of the Go-Go's.
I should mention here that he's not judgmental.
A few more interesting facts about my uncle: He never forgets birthdays. At 87 years old, he still makes his own Christmas cards. If you square off against him in opera trivia, he will win (but not gloat).
Another thing: He's also a weatherman.
During World War II, he was trained as a meteorologist and drew weather maps for the military at air bases in Europe. He was called back to active duty during the Korean War and served at an air base in Ohio. Thanks to the G.I. Bill, he was able to attend the School of the Art Institute of Chicago, where he earned two degrees in fine arts.
After finishing in Chicago in 1954, he returned to Vicksburg to pursue his vocation in earnest. He exhibited his work with the Allison's Wells art colony near Canton and in galleries and art shows across the state, but Mississippians weren't biting.
"No one would buy my paintings," he said. "And I couldn't get hired as an art teacher."
That's when his military connections delivered a solid Plan B. In 1955, he accepted a job with the National Meteorological Center in Greenville, S.C., and a year later transferred to a bureau outside of Washington, D.C. where he worked until his retirement in 1979.
The unexpected career turn ended up being a satisfying life balance: It provided a stable base that allowed him to concentrate on art in his free time. His productivity in those years was remarkably steady and prolific and has remained so ever since.
My uncle has maintained a strong fealty to the Mississippi arts community and still identifies as a Mississippi artist, regardless of his long-time Maryland address. Through the years he's kept in touch with friends and colleagues in the local art scene, and he continues to show his work almost exclusively in Mississippi galleries. (A notable exception is Cole Pratt Gallery in New Orleans.)
The Mississippi Arts Commission will honor him with the Governor's Award for Excellence in the Arts for lifetime achievement in the visual arts Feb. 26, but he has voiced some reluctance.
"I haven't lived in Mississippi in a long time," he said. "I think the award should go to someone who lives there."
His modesty runs deep, and while there's no doubt that his sentiments are sincere, he's soundly outnumbered by a whole bunch of Mississippians who respectfully disagree.
Now comes the hard part: finding something to wear. My uncle has graciously invited me to the award ceremony, and as such occasions dictate, a scramble for appropriate attire has ensued. I complained to him that it's too easy for guys: new jacket, new tie, problem solved. What advice could he give the niece who's still allergic to dressing up?
"You wear stripes," he said, "and I'll wear plaid."
In Jackson, Brown's Fine Art and Framing in Fondren is a great place to start for an introduction to Andrew Bucci. The gallery's collection of his artwork spans from the 1940s to the present, and much of it can be viewed at www.brownsfineart.com. The Governor's Awards For Excellence in the Arts will be held at 1 p.m. Feb. 26 at Galloway United Methodist Church in downtown Jackson.
Previous Comments
ID

144175

Comment

Here's a direct link to the pictures of Bucci's paintings on the Brown's Fine Art Web site. I'm impressed! This may be on my art blog soon.

Author

LatashaWillis

Date

2009-02-27T14:04:56-06:00