Friday, February 20, 2009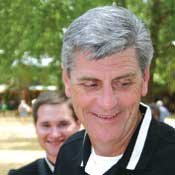 Millions from the American Recovery and Reinvestment Act will go toward Mississippi's struggling public education system, according to WXVT 15 in the Delta.
Lt. Gov. Phil Bryant said Barbour plans to use some of the federal funding for the Mississippi Adequate Education Program, a formula used to pay for elementary and secondary schools.
Mississippi's eight universities and their students are feeling the economic crunch along with the rest of the state. Between them, the schools have lost $38 million in state funding through Barbour's budget cuts, amounting to about 5 percent of their budgets. In addition, some 21,000 students are seeing cuts in their tuition grants of $43 each.
For next year's fiscal year, which begins in July, the cuts could be twice as deep, according to The Commercial Dispatch.
Mississippi University for Women must "put everything on the table," said President Claudia Limbert. Laying off employees, eliminating programs and reducing scholarships are among the options, she said, but such drastic action "is not the answer."
Limbert and other university leaders are hoping the state Legislature can come through with enough money to spare them from such cuts.
In its version of the state budget for next year, the democratically controlled Mississippi House gave back the Governor's cuts, but, if history repeats itself, the Republican dominated state Senate will vote to support Barbour.
Universities are also awaiting details on what they could get from the multibillion-dollar federal economic stimulus package President Obama signed into law Tuesday.
"We're all praying for that stimulus package to come our way," said Jackson State University President Ronald Mason.

Barbour has yet to announce how the federal funds designated for education--or any other purpose, for that matter--will be spent, according the WXVT story.