Wednesday, February 18, 2009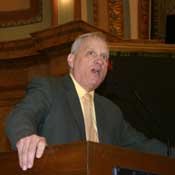 As last week came to a close, many 2009 bills met their death in the Mississippi Legislature due to the deadline for passing bills originating in their respective chambers.
The House passed a controversial voter ID bill last Wednesday that may not meet federal requirements. House Bill 1533, which requires Mississippians show state-issued ID to vote, survived with a 77-44 vote. Some House members claim the bill only made it to the floor through a breech of agreement between Republicans, who favor voter ID, and black Democrats who only agreed to let the bill out of committee if no one altered it to mandate photo ID.
Rep. Adrienne Wooten, D-Jackson, chided black representatives for allowing the bill out of committee.
Jackson Rep. Credell Calhoun, an African American Democrat who authored the bill, disowned the bill's latest incarnation.
The bill does contain provisions that return suffrage to first-time offenders of non-violent crimes. It also set the registration date back to three days before an election and makes voters eligible to cast their votes 20 days before the election.
Senate Republicans could remove language allowing early voting and late registration and keep the photo ID requirement.
Rep. John Mayo, D-Clarksdale, warned that the bill's requirement for state-issued voter ID is more restrictive than federal law, and may get snubbed by the U.S. Justice Department, which must approve the measure because of Mississippi's history of disenfranchising black voters.
The House also passed HB 433, which requires landlords to repair their rental properties, and HB 621, which creates a monetary claim for those wrongly convicted of a crime.
Children First?
The House also passed HB 1142, called the "Child First Act of 2009," which requires each public-school district to issue an annual report on graduation and dropout rates, test scores and millage rates, and publish the report in a general-circulation newspaper and on each district's Web site.
The law makes it possible for the state Board of Education to declare a state of emergency on a failing district, remove the superintendent and school board, and to abolish the district and put it under a state-run bureau for recovering school districts.
The bill also demands students maintain at least a 2.0 GPA to participate in extra-curricular activities, such as band and sports.
The House also passed HB 750, which eliminates the annual face-to-face recertification requirement for Medicaid recipients, and allows mail-in applications.
Pharmaceutical companies were nervous last week after the House acted on theories linking mercury in child vaccines to the state's growing population of autistic children by passing HB 455, which allows children to get a six-month exemption from pre-school vaccinations if recommended by a physician.
The House also passed a bill creating two pilot sex-education programs this year. The bill mandates that the Department of Education create a plan in conjunction with the state Department of Health for teaching scientifically accurate sex education and birth control.
The State Department of Education gets to choose which school will host the programs by July 2009, and will identify districts with the highest numbers of pregnancies among students, as well as dropout rates, urban or rural setting, geographical location, demographic profile and state accreditation level—with a preference for schools with an open desire for the program. The program will run from 2009 to 2012 and will emphasize birth control and the prevention of sexually transmitted diseases, and provide "social and cultural support services" for pregnant teens.
The bill met opposition from many Republicans who feared that sex education would further educate teens on the possibility of abortion. One amendment emphasizes that abortion will not be taught as a form of birth control, while another separates the students into male and female classes.
A Year of Killing
The Senate, meanwhile, was just as busy, though the bills the it killed were more notable than the survivors. It killed, for example, an amendment to the Balanced Budget Reconciliation Act that would have taken $76 million from the $365 million rainy day fund to cover the shortfall in education funding for 2009.
Senators also voted to remove almost all state employees from the oversight and protection of the State Personnel Board. Employee advocates say the new law will make it much easier to fire a state employee—which pretty much runs in line with the state's general disdain for workers' rights, according to union officials. Barbour advocated for employees' removal, arguing that the power to rapidly remove employees will make state government more efficient.
The Senate also dumped a bill that would have made public-records requests easier to maintain and would have put a stop to government officials penalizing information inquiries with inflated research costs. It also would have shortened the maximum response time from 14 working days to seven. Most states consider an average of five days mandatory.
Keeping in the vein of government secrecy, the Senate also voted to kill an omnibus bill that would have restricted agency heads from hand-picking contractors to handle the agency's advertising.
The Senate did manage to pass SB 2843 last week, a bill that reauthorized the Hurricane Damage Mitigation Program. The Senate even passed an amendment from Sen. David Baria, D-Bay St. Louis, requiring the wind pool to offer premium discounts for homeowners who improve the wind resistance of their homes.