Wednesday, February 18, 2009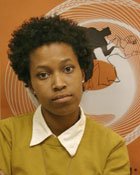 I had my first encounter with jazz—real jazz, the kind that washes over your body like a cool, gentle caress—when I was a high-school sophomore at Murrah High School. One Saturday morning, my mother dragged me out of bed to accompany her to the "homegoing celebration" of her friend's late ex-husband, John Reese, at the Smith Robertson Museum. I was reluctant—sleeping in late sounded far better than milling around a funeral talking to strangers—but she wanted company, and I wasn't doing anything, so we went.
As we entered the front doors of the museum, I was surprised to hear the roaring sound of music reverberating from the central gallery to every hallway and corridor of the small building. A bass, guitar, djembe, keyboard and microphone stand rested on a small, wooden platform stage in the rear of the main hall. "What kind of homegoing is this?" I thought to myself.
Most "homegoing celebrations," I had learned in my short youth, were funeral repasts, or in some cases just funerals, renamed something more cheerful to distract participants from the gloom-and-doom sentiment they were feeling. They weren't "celebrations," at least not like this one. They usually involved some kind words about the deceased person, a few songs, maybe a dance by the praise team. Tears were usually few, but the heavy somberness in the air compensated for their absence.
As we made our way into the main room, my mother led me around as she hugged and talked with people. She introduced me to people who had not seen me since "you were this tall," they would tell me motioning to their knees. I smiled graciously to each of these people as they re-engaged in conversation with my mom, and I peered around the room assessing the crowd.
The room of men and women exuded coolness. My mother must have known these people from her afro-wearing, poetry-writing, one-woman-revolution days, I thought to myself. She has changed a bit since, I imagine—I had only seen a glimpse of that time through photographs and reading her poetry—but in instances like this, I could see her in her element.
It wasn't too long before a pack of men walked up to the stage and grabbed the idle instruments. A woman with brown and gold dreadlocks followed close behind them, taking the mic. She talked about how Reese always said he didn't want a funeral, but a foot-stompin', music-playin' homegoing celebration that was fun—not somber. "You got to dig it to dig it, you dig?" she said, quoting a phrase he frequently used.
The music started, and I watched intently as the woman on stage closed her eyes and sang. Her deep, sultry voice was engrossing. She swayed slowly, smiling and flirting with the audience a bit, as she sang. They played just a couple songs, but I was hooked.
I looked down at the yellow program in my mother's hand to read the singer's name. "Cassandra Wilson," it read.
After that moment, I was obsessed with jazz music. Not the fake stuff—Kenny G, for instance, gross—but the deep-in-your-soul, make-you-want-to-dance, "I want to cry because it's so beautiful" stuff. I went home and listened to sample clips of all the songs on all her CDs on Amazon.com. I saved up for a few weeks, and decided to buy one of her CDs. I still remember the intensity of thumbing through the "W"s in the CD section of Target trying to find "Traveling Miles." I nabbed the very last one. It was only the second CD I ever bought with my own money. (Jewel's "Spirit" was the first.)
I listened to "Traveling Miles" every day for a while. It opened me up to so many different things. I had heard of Miles Davis before, but never really listened to his music, and after seeing Wilson had named her album after him, I thought I'd check him out. After I listened to "Kind of Blue," I knew why she loved him. From Davis, I began listening to Sarah Vaughn and Ella Fitzgerald and Carmen McRae and Eartha Kitt and Louis Armstrong and Dinah Washington. I wasn't your typical teenage music listener.
But it wasn't just music I discovered. It was while listening to Wilson's cover of "Time After Time" that I wrote my first poem. Sitting in my darkened room listening to the song through my jumbo speakers, I got this itch. I grabbed a piece of paper and a pen, and excitedly wrote. I filled every corner of that piece of notebook paper, jotting down sentiments about first love and yielding yourself to its beauty. I still have that piece of notebook paper to remind me of when I first became a writer.
From there, I began writing poems when I wasn't paying attention in class, and reading them at open-mic nights around town. I sat at my computer pouring my thoughts and feelings into lyrical sweetness at night. I was infected with the bug. I hadn't really known what I wanted to do with my life before then. I had toyed around with aspirations of being a photographer, or a marine biologist or a professor. But when I started writing, I just knew, deep down, that I wanted to be a writer.
After getting a little more inspiration from Toni Morrison—no one can write the profound words she does—I began researching colleges that met three criteria: good journalism program, a dance program and strong English department. I wrote my college essay about my first encounter with one of the loves of my life, jazz, and how I came to know it. I wrote about Cassandra Wilson, my muse, and how if I hadn't seen her wax poetic that day, I might have chosen a different path in life.
I am blessed to have experienced Wilson, and so is the city of Jackson. We're happy to have her here, as well as her immense talent, and hope she'll continue to help the arts flourish in our clubs, streets and schools. Her Grammy is well deserved.
Previous Comments
ID

143783

Comment

Thanks for doing this Maggie. Cassandra Wilson is a very very nice person. Not like regular nice, but nice for real. She deserves the grammy and she deserves to have this article done about her. We need to start celebrating our treasures more in the city and state. So Kudos, job well done (as usual).

Author

Queen601

Date

2009-02-19T16:44:09-06:00
ID

143992

Comment

"I am blessed to have experienced Wilson, and so is the city of Jackson." I could not agree more. I feel so enriched to know Cassandra (and Rhonda Richmond, while I'm at it). Her interpretations and stylings never cease to move or amaze me, and it's with good reason Time magazine named her "America's best singer" in 2001. Her contributions to jazz, Jackson and the world of music in general are boundless. Thank you for sharing.

Author

dawn

Date

2009-02-24T13:47:14-06:00
ID

143998

Comment

I heard Cassandra Wilson sing Bob Marley's in Central Park in NYC a couple of years ago like no one other than Bob could do it. I felt too proud to be from Jackson. The sister is overdue for some recognition.

Author

FreeClif

Date

2009-02-24T15:36:00-06:00