Wednesday, February 18, 2009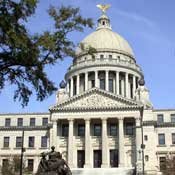 The Mississippi House passed the first draft of the $5 billion state budget for the coming year on Tuesday, according to an AP report appearing on News Channel 3, WREG Web site.
The deadline for draft budgets from both chambers is Feb. 25, and the Senate is also working on a draft. It is not clear if funds from the economic stimulus package are included in either version.
The entire state legislature has until March 27 to finalize a single budget plan.