Wednesday, February 18, 2009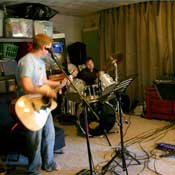 On a recent brisk Sunday afternoon, I met the Hardline Monks at their garage-turned-studio for a rehearsal before their Feb. 20 show at Mugshots. While they waited for the arrival of the remaining band members (Bobby Hansford, drums; Jamie Lamar, bass; Bret Kenyon, accordion, keyboard and cello), guitarist Nate Quarterman and vocalist/manager Cory Drake played me samples of the new Jaydiohead mashup, and explained the origins of the Monks. (The name comes from a news headline about Tibetan monks resisting arrest.)
The group of lively 20-somethings started out as an off-the-cuff band just trying to win a Battle of the Bands contest at Belhaven College in 2002. They ended up winning second place, and have been jamming together ever since. Voted Jackson's Best Cover Band of 2008, The Hardline Monks don't generally perform original songs. However, as participants in the 2009 RPM challenge, sponsored locally by the Jackson Free Press, the guys have to write and record an album's worth of songs in February. With just a couple weeks to go, they have completed three songs, and are well on their way toward a finished album Feb. 28.
Why did you decide to sign up for the RPM Challenge?
Drake: One of our favorite things to always do in the shows is we will make up a song for the audience. So I usually ask the audience, "OK, give me a song, style and three objects that have nothing to do with each other," and we'll make up a song right there. And we've always tinkered around in the garage with originals, but when it comes to being out in the clubs, we do almost solely covers. Maybe three songs out of 40 will be originals. … We do (covers) a lot differently than the originals. We put our own spin, whether we do the style differently or do some mashups. I would always classify us as a cover band, but with this new competition starting, we thought, "Let's give it a shot." It's good pressure on us to create an album in a month and see what comes of it.
When did you go from being a group of college guys having jam sessions to a serious band with gigs?
Drake: When we graduated college, we were all still in the same area, so we decided, "You know, we enjoy playing music so much; it's such an integral part of our lives."
Quarterman: But even then, we didn't do a whole lot of open-mic nights, and that's kind of what propelled us into having our own gigs. We'd go to Fenian's and play there, and Mugshots, whatever, and then people would be like, "Hey if your full band can come, we'll pay you." Last year, we had our most gigs ever.
What challenges have you had writing and recording the songs for your RPM album?
Drake: Lyrics, I think. We do real well with just making up music. Nate constantly makes up guitar riffs, and we find somewhere to put them—mostly in covers. To actually record (the new songs), and say, "This song is going to be about what?" seems to be our biggest challenge.
Quarterman: I think what has been cool about the process has just been that we haven't had one simple formula that will make it into the song. I think we have about six concepts with quite a few lyrics and music all put together … but none of them really came about the same way.
How would you describe the direction in which you're going with the album?
Drake: We want to give people a lot of different things. … We want (people) to listen to this one and think of, maybe, 1980s Cure style; you listen to this, and you get Peter Gabriel. We're trying to hit every kind of spectrum that we can, because that's what we do with our band normally. We play a little bit of everything because each one of us has a different music background, and we get bored if we stick with a style too long.
The Hardline Monks perform at Mugshots Feb. 20 at 10 p.m. Listen to their music at http://www.myspace.com/hardlinemonks. Read more at http://www.rpmchallenge.com/Jackson.