Monday, February 16, 2009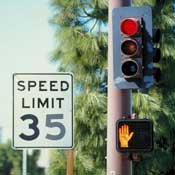 The Mississippi House sent a bill to the Senate today that will effectively outlaw red-light cameras. HB 1568 will restrict local law enforcement's use of cameras to assist in traffic control—such as the one installed at the intersection of Old Canton Road and Lakeland Drive.
In part, the bill reads: A civil or criminal traffic citation may not be issued as the result of automated recording equipment on state or county or municipal highways, roads and streets, and any evidence obtained from such use shall not be reported to the Department of Public Safety for any purpose, to any person or entity for the use on any credit report, or to any insurance company for insurance purposes.
The only exception to the law will be to enforce toll payments.
Previous Comments
ID

143629

Comment

I agree that this red light camera ideal is no good. If the camera cannot tell who is driving the vehicle then how do you give a ticket to the owner of that vehicle? Lest look at this from another point of view. Who will be responsible for the paying of traffic tickets when the vehicle owner is a car rental company? Who would pay for the ticket if the tags is a government car? How can you hold the owner of the vehicle responsible if the vehicle is being test driven from a car dealership? People should have rights and should not be held responsible for the act of other individuals. Give the ticket to the individuals who driving or make the car sho up in court to pay it's ticket for running a red light.

Author

Tony Davis

Date

2009-02-16T19:14:03-06:00
ID

143630

Comment

Really? Huh. Who would have thunk it. So did this mean that the cameras at Old Canton and Lakeland in Fondren aren't used to issue tickets right now? It feels like I've caught them going off at the wrong time (like when someone turns into the intersection from the Rainbow Co-Op parking lot) but have never been sure.

Author

Todd Stauffer

Date

2009-02-16T20:53:35-06:00
ID

143632

Comment

I think that I'm missing the logic behind this one- can't imagine anyone in the legislature being concerned about Big Brother...

Author

Rico

Date

2009-02-16T21:07:49-06:00
ID

143633

Comment

I wonder which legislator(s) got a red light ticket in Jacktown to prompt this response.

Author

Jeff Lucas

Date

2009-02-17T06:58:19-06:00
ID

143635

Comment

This is kinda comical. What I'm wondering is, as I recall, the cameras were set up as a deal where the city paid some up front and then the city and the company that installed the cameras would split the revenue from the citations. If the law passes, how much Jackson tax payer money will be wasted. I'd be interested to know if the contract has a penalty for pulling the cameras down prior to contract being fulfilled. As if the city needed help wasting money.

Author

ellis

Date

2009-02-17T08:35:35-06:00
ID

143636

Comment

I've always been leery about those cameras. I knew a guy who got a ticket in the mail. He was supposedly caught for speeding in Lafayette, LA. However, it was not his vehicle and it wasn't his tag either. He said he never even been to Lafayette. He successfully fought it. The bill will exempt toll payments. Are there any toll roads in Mississippi?

Author

golden eagle

Date

2009-02-17T08:37:47-06:00
ID

143639

Comment

Agreed baquan! People outside the city limits just want to work here, but they don't want to pay out one honest dime to help keep Jackson up. That burns me up. Sure the city is looking for ways to increase revenue. I have been hit from the right side by someone who ran a red light. It doesn't take a rocket scientist to figure out that the cameras could deter a good percentage of people from running red lights. Are we always going to be behind in EVERYTHING.

Author

lanier77

Date

2009-02-17T09:12:24-06:00
ID

143646

Comment

Baquan- I can understand the business owner's complaint. He is getting the ticket not his employeee who committed the driving offense. So it's going on the owners driving record and getting reported to his insurance company,most of them pull DMV reports every 6 months, and his insurance premiums can go up or they can refuse to rewrite his insurance policy because of the tickets. If the person who was actually driving got the ticket they would be ok, but with business owners, parents of teenage drivers, and people who have loaned their car out getting tickets for something they didn't do I think they are right to ban them.

Author

BubbaT

Date

2009-02-17T10:12:09-06:00
ID

143649

Comment

I'm no lawyer, but don't you accept responsiblity when you allow someone else to use your car. And it becomes your responsibility to follow-up with that person and get them to either pay the ticket or reimburse you. And as the parent of a teenage driver, I couldn't complain if my child got a ticket, becuase they are going to pay for that ticket. From an employer's standpoint, it makes no difference whether the camera caught his employee or the police pulled him over for running a light. What's the difference. And it does not go on the owner's personal driving record, but would it not become the liability of the business? Just asking?

Author

lanier77

Date

2009-02-17T10:50:19-06:00
ID

143651

Comment

Have you ever been to a large city? The UPS, FedEx, and DHL drivers park illegally all the time when making deliveries, and they get ticketed all the time for it. Do you think the drivers pay for the tickets? I highly doubt it! Who would want those routes?!? The company is responsible for things like that, and it is up to them to decide whether disciplinary action should be taken against the employee or not. In the package delivery business, it's just seen as miscellaneous expenses. As for the idea of traffic cameras, I do like how they allow for police officers to tend to more significant duties. The less traffic accidents, the more they can focus on other things. Also, I would like to see local auto insurance rates reflect the addition of the cameras, as they should decrease the chances of claims by some. It is difficult for me to argue against something that makes the roads safer and is funding the city's budget. I would like to see the contract between the city and the service provider to make sure that the city is not in an unbalanced, unfair contract and that the city is getting an appropriate percentage of the fines.

Author

chip

Date

2009-02-17T12:21:29-06:00
ID

143652

Comment

lanier- no it doesn't go on the company owner's personal record, because his business policy would/should be separate, (in most cases) I am almost sure any ticket given to a compamy vehicle will show up on their company policy if the insurance company pulls a DMV check, I will ask my wife who is commercial insurance agent to be sure when she gets back from lunch. I do know for sure that your personal driving record shows up on your employers policy because they have to list everyone who is going to drive a company vehicles. I almost got fired once years ago for getting a driving with supended license ticket in my own personal car and it showed up when the company's insurance did a DMV records check 6 months later and their premiums went up because of it. So a company could get it's insurnace messed up either way. If your teenager gets a ticket from a camera it goes on your driving record not theirs, because the ticket is going to be issued in your name because the car is registered to you. If they get a few of these camera tickets you could get your license supended and have never gotten a ticket. I'm no lawyer either but I think your resonsibity for loaning your car is to make sure they have a license, are sober, and you have liability insurance but you are not responsible for their traffic offenses, but I could be wrong. :) My point is that the person who actually commits the traffic offense is not getting the ticket, the register owner is, matter whether they were driving or not.

Author

BubbaT

Date

2009-02-17T12:25:33-06:00
ID

143653

Comment

The incease of safety with the use of cameras isn't always true. An article froma couple of years ago. http://www.newsnet5.com/news/11063550/detail.html "It's very clear that safety is not the issue. There are studies throughout the country that show accidents actually increase," Mendenhall said. Cities reporting increases: Greensboro, N.C. -- 40 percent increase Anne Arundel County, Md. -- 41 percent increase Marietta,Ga. -- 51 percent increase Ontario, Canada -- 15 percent increase Winnipeg, Candada -- 58 percent increase Pohlman also said rear-end crashes are skyrocketing. In Portland, Ore., there has been a 140 percent hike in rear-end collisions. In Virginia, a traffic camera pilot program was tabled after the study found that rear-end crashes were up 50 to 71 percent, injury crashes increased 7 to 24 percent, and total crashes were up 8 to 17 percent after the cameras were installed.

Author

BubbaT

Date

2009-02-17T12:33:49-06:00
ID

143654

Comment

I have also read the opposite. http://www.stopredlightrunning.com/pdfs/RLC%20effectiveness%20fact%20sheet2.pdf "Recent studies show that photo enforcement leads to a 25 to 30 percent reduction in intersection injury crashes." Fairfax, Virginia - 44% decrease Oxnard, California - 22% decrease New York City - 34% decrease Washington, D.C. - red light running fatalities were reduced from 16 to 2 in the first two years of red light cameras

Author

chip

Date

2009-02-17T12:49:01-06:00
ID

143655

Comment

Hey JFP, sounds like an investigation is needed.

Author

chip

Date

2009-02-17T12:50:10-06:00
ID

143656

Comment

We'll add it to the list. ;-)

Author

DonnaLadd

Date

2009-02-17T13:24:23-06:00
ID

143657

Comment

LOL- of course stopredlightrunning.com numbers are going to show a decrease in accidents. The U.S.Department of Transportation's study of Red light cameras show that right-angle/t-bone crashes decrease and rear-end crashes increase. http://www.tfhrc.gov/safety/pubs/05048/index.htm

Author

BubbaT

Date

2009-02-17T13:29:47-06:00
ID

143658

Comment

I didn't say my source was unbiased :) I can definitely see rear end collisions increasing after traffic cameras are installed. I wonder if it is an initial spike or if it plateaus... I have also heard of traffic signals being altered to allow for a shorter/longer yellow light. A shorter yellow than default would be dangerous and should not be considered. A longer yellow would allow more time to stop, but also more time to speed through... I would think that leaving the yellow light at default would be the best strategy, since everyone is use to that increment already.

Author

chip

Date

2009-02-17T13:55:58-06:00
ID

143659

Comment

If this camera-ticket system could be set up to guarantee due process as all other crimes, I would be fine with it. However, that was my problem under this system. Most posters above refer to them as "tickets." A ticket implies that a person has been accused of, or charged with, a crime. If this occurs, the accused is allowed to have his/her day in court, confront the accuser, etc. etc. If a police offers pulls you over and issues you a ticket for running a red light, you get a ticket and a day to come to court for an arraignment and trial. But this does not happen with the cameras. Instead, a "civil penalty" has occurred. You have no date in court. There is nothing/no one to cross-examine. If you do wish to protest, you are given an "administrative hearing," effectively waiving your constitutional rights (without ever having an opportunity to waive those rights), and the burden of proof is lowered to a simple preponderance. In other words, you're guilty until proven innocent, but without a true route to put on your case.

Author

Bulbs

Date

2009-02-17T14:00:59-06:00
ID

143660

Comment

Chip makes a good point: Being biased does not necessarily mean dishonest. I'm "biased" against Melton as mayor at this point, but I still tell the truth about him. It's good to go outside advocacy sources for info whenever possible, but often they can point you the right direction. Often the wrong: as in so many of the racist anti-immigration sites that people have quoted from here.

Author

DonnaLadd

Date

2009-02-17T14:11:52-06:00
ID

143661

Comment

Just messing with you. :) Right angle crashes are more fatal than rear end crashes. From the studies I have been reading most redlight running violations (non accident) occur within 2 seconds of the light changing,people trying to beat the light and most right angle/faltaly crashes happen 5 seconds after the light has changed from people being stupid not paying attention (cell phones?) and just flat out just running the light. So I can see cameras making redlight violations go down and increasing rear end collisions because people are panic stopping, but do they cut down on fatalities, cause cameras "can't fix stupid".

Author

BubbaT

Date

2009-02-17T14:22:24-06:00
ID

143662

Comment

Somewhere I was reading this morning ,if I can find it again I will post it, an article cited a Texas study that show increasing the yellow light time cut down on accidents more than the cameras. Chip- I heard/read the same thing about the yellow lights duration being change too. Also heard some cities shorten them to get more violations and raise revenues. Isn't the internet wonderful...LOL

Author

BubbaT

Date

2009-02-17T14:32:31-06:00
ID

143674

Comment

Weekly Standard on DC's Red Light Cameras Oh, and the "shorten the Yellow" trick? Documented in Italy, at least. Part two of that Weekly Standard series is about Yellow Lights as well. How long until Melton and his boyz make Yellows a microsecond? How many backwoods sheriff's can't use Radar as it is? Do you trust them with this technology?

Author

Ironghost

Date

2009-02-17T17:37:07-06:00
ID

143814

Comment

The arguments against the cameras are ridicules. Just look at the results in Jackson - close to a 70% drop in accidents over a year ago. New Orleans reports and 80% drop in violations. If the cameras save one life, or server injury, or even a costly accident... they are worth it. If you are upset about them flashing you, the answer is simple - don't drive dangerously and run the red lights...show the city they won't get a dime from you. We will all be pleased with that result.

Author

Insights09

Date

2009-02-21T11:15:30-06:00
ID

143815

Comment

More of the money should stay in the local areas.

Author

FreeClif

Date

2009-02-21T13:17:17-06:00
ID

143816

Comment

Insight- the U.S. Dept of Transportation study of Redlight cameras show the decrease in side impact crashes is negated by the increase in rear-end collisons the cameras cause. What has always been ridicules to me is the statement "if it saves one life it's worth it". While I hate to see someone die needlessly, it happens, people die taking baths on the average of 350 a year, what are we going to do, quit bathing cause it will save one life?

Author

BubbaT

Date

2009-02-21T13:26:05-06:00