Friday, February 13, 2009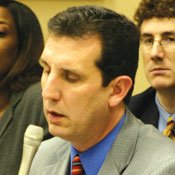 JFP Coverage of Defense Witness Christopher Walker
Full JFP Melton Blog/Archives/Tweets here
Follow JFP & Melton trial on Twitter
With court recessed until next Tuesday, defense attorneys and federal prosecutors attempted to reconcile disputes this morning over potential witness testimony and jury instructions in the civil rights trial of Mayor Frank Melton and his bodyguard Michael Recio. During almost two hours of discussion, Judge Dan Jordan said he would admit some testimony about drug activity at 1305 Ridgeway Street. He delayed any final rulings, however, and left most of the dispute over jury instructions unresolved until after he sees both parties' recommendations in writing.
The government wrapped up its case on Thursday, and defense attorneys John Reeves and Cynthia Stewart will call witnesses on Tuesday. Reeves declined to give an opening statement when the trial began. He did not say conclusively today whether he would give his opening next week.
Jordan indicated that he would allow defense witnesses to say that they bought, sold and used crack at the Ridgeway duplex and that they communicated that information to the mayor. The judge emphasized that witnesses would have to include statements given to the mayor during their drug testimony.
Jordan said he would not allow admissions of drug use at the duplex by Christopher Walker, a former resident at Melton's home, "if it's not linked to what he told Melton."
Stewart, Recio's attorney, has requested a writ from the court ordering transportation to Jackson for Walker, who is in prison in Oklahoma City for aggravated assault.
"I do not know if logistically speaking they can get Mr. Walker here or not," Jordan told attorneys. He added that records already contain Walker's probable testimony, which defense attorneys could use if Walker cannot appear in court.
Jordan said he would allow some testimony on the property's condition, but he stopped short of allowing descriptions that the house smelled like crack, which defense attorneys wanted to admit.
"Whether or not the house stank doesn't give you the right to tear it down," Jordan said. "I see zero relevance as to if the house was dirty or not."
The parties will compose jury instructions together and submit their draft to Jordan for review this weekend. They agreed on little at today's conference and Jordan will hear their points of disagreement Tuesday morning before calling the jury.
One point of contention will be how to instruct jurors to disregard irrelevant motives, such as the motive to fight crime.
"Mr. Reeves' defense is 'He (Melton) has all these things going on in his head,' " Prosecutor Mark Blumberg said. "Since that's the approach the defense is taking, it must be addressed."
Reeves, Melton's attorney, also revealed at the conference that ABC News' Nightline program has asked to interview the mayor during the trial for a profile feature. Jordan placed the defendants under a gag order limiting their public statements to simple assertions of innocence. Blumberg voiced the government's objection to the interview. Reeves suggested that the interview would not adversely affect the trial.
"The jury can't see news reports anyway, so they won't be influenced by it," he said.
Previous Comments
ID

143575

Comment

Is there any statute that allows for the Mayor's actions if there was drug activity at the house? Or is it a ploy for jury nullification?

Author

WMartin

Date

2009-02-13T18:03:55-06:00
ID

143577

Comment

No, I do not believe there is such a statute. Yes, I believe it is an attempt at jury nullification. What's kind of remarkable to me is that the defense would call Walker, who was dropped as a witness in the Batman Donelson case because he lied to a grand jury and because Melton had given him a credit card, car, money, etc., just making it look like he was indicted by the mayor to testify to what he wanted. And, incidentally, Walker told me—true or not; I couldn't say—that Melton asked him to lie in that case. But they want to call Walker to testify that he bought drugs in the duplex. Doesn't that open an interesting door for the prosecution on cross?

Author

DonnaLadd

Date

2009-02-13T18:26:03-06:00
ID

143585

Comment

Is "bad motive" or "evil intent" invalidated by being drunk? In other words, can a person who is drunk have intent?

Author

Razor

Date

2009-02-14T16:42:13-06:00
ID

143589

Comment

Indeed. If I were the defense, I would have deep misgivings about putting Walker on the stand. Looking at a list of witnesses for the defense that includes drug-slinging Melton mentees like Daniel Smith and Christopher Walker, the prosecution is going to go after their credibility with both barrels. If the jury comes to believe that these young men are lying to protect Melton, does their testimony help or hurt him?

Author

Brian C Johnson

Date

2009-02-15T10:24:34-06:00
ID

143606

Comment

This might be crazy but Melton legal team are planning on calling drug dealers and users all with criminal records and friends of Melton to say the house was a drug house? Melton should know that if these people tesify they will have no creditability. Where is the warrant? Why was JPD narcotic division wasn't called? Why wasn't there drugs found in the house when Melton made his first appearance? Why did Melton go back to the house a second time? How does tearing down one half of a duplex stop drug traffic? If this was a know drug house why wasn't seized through the proper procedures? Why pick that one house when Melton has named several different houses he said was also drug houses? Melton has lied and lied and lied and destroy the lives of dozens of his so called children, why? Melton had money, status,and a position as mayor and now look at him. The only thing he has left is his false ego and bogus reputation and now he is nothing more than a major embrassment to his family and to the Citizens of Jackson. Melton has moved fom the mouth of the South to the joke of the South. A pitiful end to a waste life, what ashame!!

Author

Tony Davis

Date

2009-02-15T19:08:53-06:00