Wednesday, February 11, 2009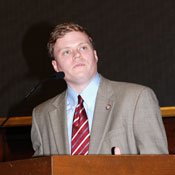 Republican Win On Voter ID
Senate Republicans succeeded in extending and tightening voter ID requirements for all Mississippians in a bill passed Feb. 4. Senate Bill 2548 originally passed Jan. 15 with an amendment from David Blount, D-Jackson, that would have exempted those born before 1946 from presenting some form of voter identification. In that amended form, the bill allowed photo identification, government documents bearing a name and address and social security cards as acceptable forms of ID.
Terry Burton, R-Newton, held the bill on a motion to reconsider, though, and succeeded last Wednesday in stripping Blount's amendment. The reconsidered bill passed with no age exemption and limiting acceptable ID to only photo identification.
The issue inflames passions, many of them linked to the intimidation older African Americans endured at the polls in past decades. Wednesday's debate on the Senate bill was no exception.
Speaking against Burton's motion to consider, Hob Bryan, D-Amory, warned that the bill would effectively disenfranchise older voters.
"Regardless of the intent of this legislation, the effect of it is to guarantee qualified voters will be denied their right to vote, because, among other reasons, their drivers' license has expired," Bryan said.
David Jordan, D-Greenwood, had harsher words for Burton.
"How do you feel creating a problem for a people who have had so many problems trying to vote?" he asked. "How do you feel? What is the decency in anyone who would do that to individuals?"
"I have no doubt that I am not creating a problem for anybody," Burton replied. "I'm simply trying to maintain the integrity of the ballot."
The Senate bill now moves to the House for consideration. The House will also take up its own version of a voter ID bill, one that seeks a compromise by offering provisions for early voting and same-day registration.
Fewer Unpardonable Pardons?
A routine House vote extending the mandate for the State Parole Board became more interesting with the addition of an amendment that would require the board to make a recommendation on any pardon applicant. The amendment, sponsored by Brandon Jones, D-Pascagoula, passed on a voice vote, and the amended bill passed with only one vote, from Greg Snowden, R-Meridian, in opposition.
Although the Parole Board's recommendation is non-binding, it offers an official opinion on any pardon or commutation of sentence by the governor. Gov. Haley Barbour has recently come under fire for pardoning convicted murderers, many of them domestic killers.
A Win For Innocence
The House passed two bills Feb. 4 that would, in some opinions, make Mississippi's justice system a little more just. House Bills 100 and 101, both sponsored by Cecil Brown, D-Jackson, provide DNA testing in capital crimes before and after conviction. HB 100 mandates state-administered DNA testing in capital cases and provides for an additional independent test for indigent defendants. HB 101 establishes a right for death row prisoners to file a post-conviction motion for DNA testing. Both bills passed with a unanimous vote. They now move to the Senate for approval.
Broken budgets
The House continued its battle against state unemployment last week by passing bills that create The Mississippi Poverty Reduction and Advocacy Office and the Dropout Recovery Program Task Force.
The House then continued to ponder school issues and passed HB 934, which provides more criminal penalties for assaulting school district personnel. Penalties could include a fine of up to $1,000 and/or imprisonment for up to five years for simple assault, or a fine of up to $5,000 and/or imprisonment of up to 30 years for aggravated assault.
The House is also looking into just how much of an impact the state's emerging immigrant population has on the poverty level, having passed HB 664, which creates a task force to study the issue.
HB 904, which gives state-based businesses an edge in bids for contract work, passed the house Monday. The law mandates that state-based businesses be given preference in public purchasing if the local firm's bid is within 5 percent of the otherwise lowest and best bid.
A Bold Reaction
The legal ramifications of HB 904 aren't clear until out-of-state bidders grab their attorneys, but the future of HB 1505 is just as uncertain. That bill would allow using 100 percent of state revenues for fiscal 2010 intercept the annual tobacco payment that the state is expected to receive this year and authorizes some budget freezes for equipment and other one-time purchases. The bill also raises about $175 million "for critical budget planning," according to House public information director Mac Gordon, who reports that state revenues "declined again in January as they have done for most of fiscal 2009, and the recession is deepening.
Previous Comments
ID

143644

Comment

This is what happens when Democratics, well thinking Independents and the target population of this kind of action fail to stand up and be counted. This is the same type of thing that happened and gave pseudo-legitimacy to the confederate flag. Former Mayor Harvey Johnson, Candidate for Mayor of the City of Jackson will be on radio this morning (10:00am). The station is 100.1 FM I just saw an invitation with many Republican sponsors for a fund raiser for Senator John Horn. These are some of the same melton supporters who did everything they could and succeeded in ousting Johnson: That group who could not deal with the fairness and inclusion of Johnson.

Author

justjess

Date

2009-02-17T09:54:13-06:00