Wednesday, February 11, 2009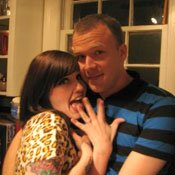 Chrissy Vessell received the best Valentine ever Feb. 14, 2008, when Billy Valentine became her husband.
The Jackson natives had dated for more than three years when Billy asked her to marry him. The couple was crossing the street on their way to a downtown art show when Billy suddenly stopped traffic by kneeling down in the middle of Capitol Street. He pulled a ring from his pocket and asked Chrissy, "Will you marry me?"
The proposal caught Chrissy off guard. Her first response was: "What are you doing? You're in the middle of the street!" Then, with cars honking all around, she accepted.
Chrissy, 30, and Billy, 34, decided on a short engagement—two months—and married on Valentine's Day. They couldn't pass up the opportunity to have an original wedding story, and they wanted to be married before Billy deployed to Afghanistan March 17. Billy is a first sergeant working in public affairs in the Mississippi National Guard.
A justice of the peace married the couple at Jackson's City Hall on Valentine's Day last year.
"There were several other couples (getting married that day), but I bet that none of them had the last name 'Valentine'," Chrissy says.
After the wedding and a simple reception at Hal & Mal's, the newlyweds had just a month together before Billy left for Afghanistan. Saying goodbye "was the hardest thing I've ever had to do, and the hardest thing he's ever had to do," Chrissy says. "I hope we don't ever have to do it again."
Although Billy expects the National Guard to give him a local assignment once this deployment ends, Chrissy says nothing is certain.
"You can't take anything for granted," she says.
There has been an ocean between the couple for nearly the entire first year of their marriage. They e-mail and instant message each other every day. "I can't even imagine what it's like for him out there, but it's no fun here, either," Chrissy says.
Billy is scheduled to return to Jackson shortly after Valentine's Day this year. In the meantime, Chrissy keeps busy as a self-employed artist and mom to Hannah, her 9-year-old daughter from a previous relationship. Chrissy currently has a show of her paintings and wood-burning art at The Ink Spot Gallery.
This will be Chrissy's first Feb. 14th as a Valentine. "We'll see if I get anything special," she said.
Do people make obvious jokes about your name to try and be clever?
They think it's neat. They say, "Is that really your last name?" People kind of think it's a rock 'n' roll name, Billy Valentine. I know he gets that a lot.
How will you and Billy celebrate Valentine's Day when he returns?
We're probably going to hibernate for a while, not even see anybody, probably just go out to dinner. Nothin' special this year; him coming home is enough.
Will you get each other separate anniversary and Valentine's Day gifts, or one for both occasions?
It'll probably be separate. I'm not sure what I'll get him, yet. I know he hasn't had a beer in a year, so I'll probably give him at least a 12-pack because he misses that.
It's nice that your anniversary is easy to remember.
Yeah, I told him, "If you forget this one, you're in trouble." (Laughs)
Are there any memorable valentines that you and Billy have exchanged?
He's made me stuff several times. I painted a portrait of him. He always gets my daughter really involved and makes (Valentine's Day) even more special for me. One time I got up, and they had cooked breakfast and had balloons and chocolate.
Do you have plans in mind for future Valentine's Days?
I see a vacation in our future for the next one, and maybe even this one. We haven't even had a honeymoon, yet. I want to go to Costa Rica, or just to the beach somewhere.
What's the best Valentine you've ever gotten?
Being married to him. I know that's so sappy. (Laughs)
Previous Comments
ID

143847

Comment

I am so happy for the two of you and especially grateful he is back! Here's to a lifetime together for you both!

Author

jdegroote

Date

2009-02-23T09:40:04-06:00